News
Survey: Danes' casual approach to Facebook not only jeopardises their security, but also their unregistered friends
---
This article is more than 1 year old.
Have you ever tried to track somebody down on Facebook and realised they're not giving much away?
For example, our experience at CPH POST has found it's far easier to find out information about people in Denmark than, for example, Germany.
It's very possibly because of their environment: friends, associates, educators, the media etc.
And now a new survey confirms that people in Denmark tend to be more carefree about their privacy than those in other countries.
READ ALSO: Children increasingly posting content with sexual undertones, warn police
Among the ten most vulnerable countries
Many people in Denmark happily use Facebook with no idea how their data is collected by the social media platform, according to a NordVPN survey.
Only 57.7 percent of the survey's respondents from Denmark were aware that their data was collected, and only 46 percent have knowledge about adjusting their settings to ensure their privacy – for example, using VPN connections, proxy servers and TOR browsers
In fact, Denmark is listed among the ten worst countries in the world by the report.
The other nine other countries were: Australia, Canada, Britain, France, India, Turkey, Saudi Arabia, Sweden and South Africa.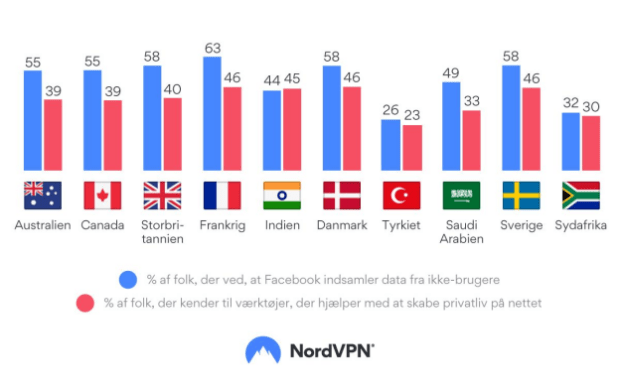 Obtaining data on people without accounts
Facebook is also able to store data about individuals who do not have accounts – something that the majority of Danes are unaware of despite Facebook chief executive Mark Zuckerberg confirming the capability in April 2018.
"Even if you are not an active user, or even have an account, your data and personal information are probably not as private as you imagine," commented Daniel Markusson, an expert in digital privacy at NordVPN.
"Maybe you think it does not matter much if your social network knows your IP address, workplace or phone number. But what if a cybercriminal knows about it? If we take Facebook's history with data leaks and security flaws into account (including the most recent one which took place in April 2021), then we can never be sure where our personal information ends up when we pass it on to Facebook."
Time to take the advice seriously?
Facebook, the world's most popular social media platform, currently has just over 2.85 billion monthly active users. In March 2019, Denmark accounted for 3.601 million of them – 61.5 percent of the entire population
But it also collects data from non-users: primarily from their browser history and from their friends' activity.
NordVPN (it's not doing the survey for free!), a long-established VPN service provider, advises Facebook users to use its Threat Protection function, which helps to block the platform's pixels and tracker cookies, thus stopping it from tracking you on websites that use its plugins.
For more of NordVPN's advice, check the factbox below.