News
How to help Ukraine in Denmark
---
This article is more than 1 year old.
If you feel helpless as videos and images of devastation pour out of Ukraine, or frustrated by the international response, read this guide to how you can take individual action to support Ukraine from Denmark.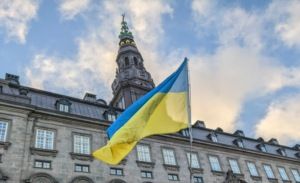 On Thursday, Denmark pledged to increase its contribution to NATO forces by deploying some 200 soldiers to Estonia, along with two F-16 fighter jets to police Poland's airspace.
Prime Minister Mette Frederiksen also announced that preparations would be made to receive Ukrainian refugees, while humanitarian aid would be sent to Ukraine and its border countries.
Take individual action
But you can support Ukraine through individual action too. If you're in Denmark, you can supply equipment to local aid organisations, donate to Ukrainian NGOs, sign petitions, submit artwork to raise awareness and inform yourself via trustworthy news sources.
This war is happening on our doorstep. Read on for information on how to take action.
Support Danish-based aid organisations: Bevar Ukraine
On Friday, the head of Danish NGO Bevar Ukraine, Andrii Kuzmyn, spoke at a demonstration outside Christiansborg (see photo below) to rally support for the organisation.
Bevar Ukraine is sending trucks full of medical cargo from Denmark to Ukraine. Since 2014 it has provided 54 trucks and two aircraft to different parts of the country, benefitting some 255 educational and medical facilities.
Already this year, Bevar Ukraine has sent three trucks to the Cherkasy, Donetsk and Ternopil regions with, amongst other things, hospital beds, wheelchairs, bicycles, blankets and nursing equipment.
Right now, according to Kuzmyn, the priority is camping equipment, long-shelf life food, hygiene items, heaters, and thermal underlays.
Donate to Bevar Ukraine by clicking here. You can make one-off contributions, or become a member for 100 kroner a year.
Support Danish-based aid organisations: The Danish Refugee Council
The DRC has 230 workers on the ground in Ukraine. The organisation co-ordinates with the UN's food program, distributes cash support and helps to shelter and provide emergency aid.
In Denmark, it will provide asylum counselling and delegate welcome receptions and support through its volunteer network to refugees arriving from Ukraine.
You can donate to the Danish Refugee Council here and sign up to become a volunteer here.
Support Danish-based aid organisations: Copenhagen International Volunteer Club (CIVC)
CIVC is a Copenhagen-based volunteer network that supports refugees and a broad scope of humanitarian initiatives.
"We are recruiting new volunteers to help with our work at the Danish Red Cross, as well as collecting, refurbishing and redistributing computers and phones to asylum seekers and refugees," explains the organiser, Andrew Madsen. Learn more and join the team here.
Overseas support: Medical supplies and humanitarian aid
Nova Ukraine provides citizens with daily necessities like baby food, hygiene products, clothes and household items. Donate here.
People in Need is a Czech organisation providing food, emergency shelter, drinking water, coal and hygiene items to over 200,000 people. With a population of over 130,000, Ukrainians are the largest national minority in the Czech Republic, according to Al Jazeera, and a large influx of refugees is expected. Donate to People in Need here.
The Ukrainian Red Cross dispenses a huge range of humanitarian support from training doctors to providing shelter. Donate here.
Romania borders Ukraine in the south-west. The Romanian Red Cross has launched an appeal called Humanity Has No Borders, which allocates resources to Ukrainian refugees who cross the border. Donate here.
Overseas support: Support the Ukrainian military
English-language newpaper Kyiv Independent has been platforming the work of Come Back Alive, a Kyiv-based charity that over the past eight years has garnered a reputation as one of the most trustworthy and accountable charities working for the military in Ukraine.
Come Back Alive provides Ukraine's military with auxiliary equipment, specialised software, drones, personal body protection, training and other supplies. Donate and see their financial reports here.
Help children affected by war: UNICEF Ukraine is repairing schools that have been damaged by bombings and providing care for children caught in the conflict. Donate here.
Support journalism: The Kyiv Independent was "created by journalists who were fired from the Kyiv Post for defending editorial independence". Donate to its Patreon or GoFundMe fundraiser to keep it broadcasting the truth.
Ukraine World is an independent English-language publication founded by volunteers who helped international journalists during the 2014 'Revolution of Dignity'. You can donate to its Patreon.
Read trusted news sources (see below): share the Ukrainian narrative of the war and counter disinformation by following and sharing trustworthy news sources.
Local support: restaurants, artists, tech help
Copenhageners: on Sunday March 6, locals-favourite Amager restaurant Il Buco is donating the day's turnover to the Danish Refugee Council to support its work in Ukraine.
What better excuse to enjoy Il Buco's locally-sourced organic menu, natural wine list and in-house bakery? Click here to book a table.
Ukrainian creative agency Port Agency has issued a callout for posters, videos and appeals to be published on its Facebook and Instagram platforms. Send submissions to hello@port.agency.
Lee Wood, a Brit based in Denmark, is accepting computers, phones, MP3 players, games consoles and games, which he will clean, delete, and install Windows 10 or 11 in English, or on older machines a version of Ubuntu, along with a Ukrainian language pack. Donations are welcome in the evenings (by appointment only via lee@midttech.com) or by post: GLS Pakkeshop, Midt-Tech C/O Lee Wood, Hammershusvej 72, 1tv, 8210 Aarhus V.
Petition support: Urging NATO and the Danish Parliament
A petition has been started to urge NATO to close Ukrainian airspace. This petition is directed to the European Parliament Committee on Petitions. Now, of the 27 European member states, 21 are in NATO. So, European nations comprise around two thirds of the alliance's total 30 members.
In absence of the ability to directly petition NATO, petitioning the European Parliament may be the most effective channel.
The portal for submitting citizen's proposals to the Danish government is here. Once a petition has been signed by 50,000 Danish residents with voting rights, it will be submitted to Parliament for debate.
If you want to fly the Ukrainian flag at a special event…
You may need to apply for permission from the Danish authorities. You can do so here. The rules are outlined here.
You do not need permission to display the flags of Nordic states (Denmark, Norway, Sweden, Finland, Iceland), the UN flag, or the European flag.