News
Danes heading to Ukraine to fight the Russians
---
This article is more than 1 year old.
Volunteers with little or no military training have gone to Ukraine to fight side-by-side with the soldiers against the Russian invaders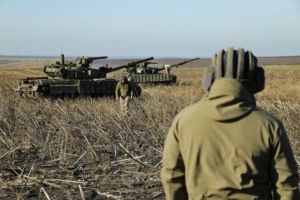 Several Danish citizens have heeded the calls of the Ukrainian foreign minister, Dmytro Kuleba, for non-Ukrainian military volunteers to join the conflict, according to TV2.
"It's not just the Ukrainians' fight – it's a battle for all of us," said Mads Emil Longhi, a jobseeker from Vejle.
With just three months' military service experience, he and several others have travelled by car through Germany and Poland to Ukraine.
Encouraged by Kuleba
The Danes were encouraged by Kuleba, who invited international volunteers to fight under Ukrainian command. "They are all welcome," said Kuleba.
In Denmark, PM Mette Frederiksen asserted there was nothing stopping Danes from going to Ukraine to fight.
"There's nothing legal to prevent people from traveling to Ukraine or from joining the conflict," said Frederiksen, who stressed that to do so is a personal decision.
"It's a choice each individual can make. This applies to both Ukrainians living here and others who believe they have something to contribute directly to the conflict," she said.
A warning from Denmark's Veterans
But Niels Hartvig Andersen, the chair of Denmark's Veterans, issued a warning.
"Think carefully. Lives can be lost if it goes wrong. Some are trained for this and some are not. Those who are not trained must stay away," he said.
For Longhi, the warning falls on deaf ears. "We're going over there to defend, not to attack. Attacking is up to the Ukrainian forces," he said.