News
Danish women have shortest wait in Europe to save enough for a deposit
---
This article is more than 1 year old.
It will only take them three years thanks to their high net income and the relatively affordable cost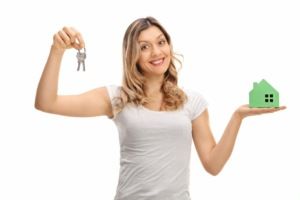 A new European-wide report suggests that Danish women are almost on a par with their male counterparts in terms of earnings.
The Uswitch report reveals it would take the average Danish woman just shy of seven more months than their male counterparts to save enough money to afford a deposit on their first property.
In Europe, only Romania (116 days) and Belgium (164) could better this.
A deposit in just three years
Perhaps more importantly, the survey reveals that Danish women have the shortest wait across the whole of Europe: just three years.
The calculations are based on the smallest possible deposit needed on a property purchase, which in Denmark is surprisingly affordable at 15,534 euros – the fourth cheapest behind Bulgaria (a rock bottom 6,936), Latvia and Portugal.
In Switzerland, 167,064 euros is needed, and in Norway: 74,070 euros. In Germany, France, Slovenia and Italy, deposits of over 40,000 euros are needed.
Surprisingly in the UK, a country where perceptions are often clouded by the expense of getting on the property ladder in London, the figure is only 19,218 euros.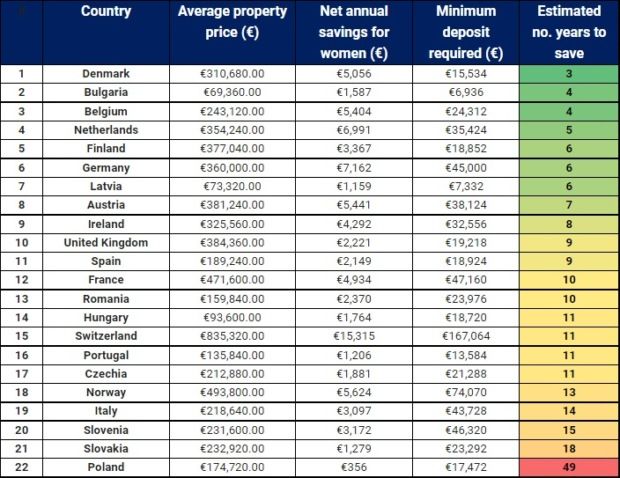 Ireland and the UK in top ten
With average net earnings of 5,056 euros per year, Danish women ranked seventh behind Switzerland (15,315), Germany, the Netherlands, Norway, Austria and Belgium.
Completing the top ten for the shortest time needed to save were Bulgaria (4), Belgium (4), the Netherlands (5), Finland (6), Germany (6), Latvia (6), Austria (7), Ireland (8) and the UK (9).
The bottom five, in preceding order, were Poland (49 years), Slovakia (18), Slovenia (15), Italy (14) and Norway (13).