News
Danes to vote in June 1 referendum on 'historic' rise in military spending
---
This article is more than 1 year old.
In the light of Russia's invasion of Ukraine, the government wants to raise Denmark's defence budget to two percent of GDP – a move they have opposed for decades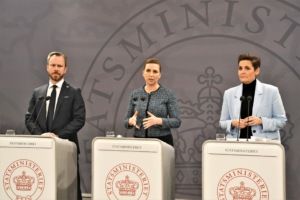 On June 1, Danes will be invited to the polling station to vote on abolishing the Danish Defence Reservation – a referendum that if approved would increase Danish military spending and allow Denmark to join EU-led conflicts.
PM Mette Frederiksen announced the referendum on Sunday, flanked by the party leaders from Venstre, Konservative, Radikale and SF.
"European security is under threat and Denmark must be equipped for the new situation. Russia's aggression demands a historic response. That's why the government and parliamentary majority have agreed to raise Denmark's defence and security spending permanently to 2 percent of GDP by the end of 2033," said the minister of defence, Morten Bødskov.
What is the Defence Reservation?
The Defence Reservation stipulates that Denmark does not have the right to vote in EU foreign and security policy relating to defence – though it is partly to broader discussions on European defence policy.
It prevents Denmark from participating in or funding EU military operations, as well as providing troops and military supplies to EU-led conflict zones.
If the Defence Reservation is scrapped, the defence budget will rise 'significantly' to support the rearmament of the Danish military and its contribution to EU defence missions.
A volte-face
Historically, Denmark has maintained a lower defence spend than other NATO members due to its extensive welfare state, which it argues dominates its domestic fiscal policy.
This has caused tension for decades – but it has heightened since 2014. After the Russian annexation of Crimea, the Obama administration formalised an understanding that NATO members would "aim to move towards" spending 2 percent of GDP on defence by 2024 – a call which was heeded by most of Denmark's neighbours in the Baltics and Scandinavia.
Still, in 2017 Denmark's defence spend was just 1.17 percent. After tense negotiations with his US counterpart James 'Mad Dog' Mattis, the then Danish defence minister Claus Hjort Frederiksen agreed to raise it to 1.3 percent by 2024 but dismissed a spend of 2 percent as "unrealistic".
The following year, Prime Minister Lars Løkke Rasmussen beat back US President Donald Trump's renewed demands to raise spending, contending that Denmark "paid its dues in blood" as an ally in Afghanistan and Iraq.
But yesterday, the Danish government changed its tone. "Over the last ten days, the world has changed," said Frederiksen.
What's going to happen?
Denmark's defence spending currently sits at 36.3 billion kroner a year – equal to 1.47 percent of GDP. The new budget will see an extra 18 billion kroner funnelled into defence policy per year.
Simultaneously, 7 billion kroner will be set aside over the next two years "for the Danish Armed Forces and to strengthen diplomatic and humanitarian efforts", according to Frederiksen.
So far, the government has agreed to fund defence spending by allowing a greater deficit on state finances.
"It's a financially responsible move. The Danish economy is in a good condition. The decision to draw from an increased state finance deficit means that the increased defence spending will not lead to a deterioration in welfare," said Frederiksen.
Towards a unified, militarised Europe
"Denmark must be fully involved in the development of European defence and security policy. That's what we need in NATO. That is what we in the EU must do. Russia's aggression on Ukraine threatens European peace and stability. Therefore, time calls for a gear shift," said Bødskov.
Mette Frederiksen was at no pains to labour the point: "On June 1, we strongly recommend that Danes vote in favour of abolishing the defence reservation."