News
Big health report makes for dour reading
---
This article is more than 1 year old.
People are increasingly anxious, more overweight and exercising less … but at least the kids have curbed smoking and drinking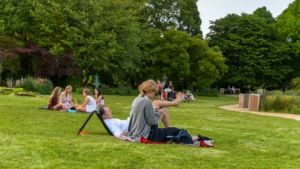 If you've not been feeling great lately, you can at least take solace in the fact that you're not the only one.
That is at least the case according to a new comprehensive health report compiled by Sundhedsstyrelsen health authority based on a survey of 180,000 people.
Overall, people in Denmark have become less healthy since the last report in 2017. People are increasingly anxious, more overweight and exercising less.
For Morten Grønbæk, the head of the National Institute of Public Health (SIF) and steward of the study – titled 'Hvordan har du det?' ('How are you feeling?') – what stands out in particular is poor mental health.
READ ALSO: Every tenth person in Denmark struggling with mental health issue
Youngsters have it harder
In 2010, the first report showed that 10 percent of the population had some kind of trouble with mental health. Today, the figure has increased to 17.4 percent, with youngsters aged 16-24 being hit especially hard.
In fact, 52.3 percent of young women experience high-stress levels. That's almost 12 percentage points more than five years ago.
Charlotte Møller, a psychologist who works to provide free psychological help to young people aged between 15 and 25, said that one reason might be that youngsters are never switched off.
"It is typical for young people that there are always many expectations in several important areas of their lives. They must perform in their jobs, excel socially and work out to look good. They're always switched on – either physically or online – and when they're constantly measuring themselves against everyone else, it can leave them feeling like they're never quite good enough," she told DR Nyheder.
Becoming heavy hitters?
Another ominous aspect of the report relates to more unhealthy diets and less exercise.
According to the report, 18.5 percent of the population has a BMI (body mass index) over 30, which is considered obese.
"It is very worrying to look at the drastic increase in the number of severely overweight Danes. Almost one in five are now severely overweight, and this is associated with a wide range of major health problems. We fear that it will soon approach US conditions, said Grønbæk.
READ ALSO: Health authority to revise recommendations to tackle teen drinking head-on
A bit of positive
There was at least some reason for optimism in the report.
Alcohol consumption and smoking have both declined. Initiatives in recent years seem to be bearing fruit and leading to fewer young people taking up smoking.
"In 2017, we had a shock when the figures suddenly showed an increase in the number of young smokers. This triggered a heated debate, which led to an action plan from 2020, where price increases, neutral cigarette packs, and smoke-free school hours in the country's secondary schools were adopted and implemented, among other things," said Grønbæk.
Some of the measures are very recent, while others have yet to go in effect so SIF estimates that a further decrease could be on the cards down the road.