News
Culture Round-Up: DR unveils plans for Påske-kalender TV show
---
This article is more than 1 year old.
But it's the end of the road for Nørrebro and Distortion, as organisers confirm most of the focus will be on the city centre and Vesterbro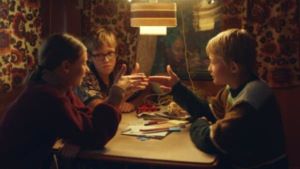 It's been 60 years since DR broadcast the nation's first ever Julekalender, an annual prime-time festive TV show that gets everybody in the mood for Christmas, so it's as good a year as any to launch a similar kind of series for Easter.
'Det Forsvundne Ravkammer' will consist of eight episodes, broadcasting at 20:00 on DR1 from April 10-17 (so Palm Sunday until Easter Monday), and hopes are high it could become a recurring series.
Creating a new tradition
"Fiction for the whole family is one of the things we at DR will be focusing on in the future, and the tone and content of 'Det Forsvundne Ravkammers' fits perfectly," enthused DR fiction manager Henriette Marienlund.
"Easter is a holiday that we want to create new traditions around in terms of gathering together families. The idea of ​​fixed fiction at Easter is an effort that we intend to stick to in the future."
DR is already planning crossovers between the universes of the Easter and Christmas shows, she added.
Indiana Jones vibe
The show apparently has an Indiana Jones vibe as three children search for missing treasure.
They get a lead in a forgotten German bunker from World War II – which is timely, as we'll all be heading there should World War III break out.
Among the cast is Safina Coster-Waldau, the daughter of 'Game of Thrones' star Nikolaj. 
Will TV2 jump onboard too?
Whether TV2, which takes it in turn with DR1 to broadcast a brand new Julekalender each year, gets onboard remains to be seen. After all, 'Påske-kalender' is practically a thing already. 
Who knows? In the same manner that retail has jumped onto festive seasons, so might television. Watch this space for a Valentine's Day or Halloween family fun series in the near future.
---
Denmark likely to miss out on all five Oscars, according to latest betting
'Flugt' may be second favourite to win the Oscars for best documentary and best animated film on March 27, but its chances are thought to be slim following its failure to land either of those awards at the BAFTAs on Sunday night. The favourites in each category are heavily odds-on, as is Japanese film 'Drive My Car', the favourite to win the Oscar for Best International Film, for which 'Flugt' is ranked third in the betting. Meanwhile, 'On the Mind', the Danish nominee for the Best Live Action Short, is ranked fourth, and Danish cinematographer Dan Laustsen, shortlisted for his work on 'Nightmare Alley', is ranked fifth.
DR compensation payouts to DR Pigekoret members condemned as risible
Kvinfo head Henriette Laursen has criticised the compensatory amount paid by DR to 22 former members of its girls' choir in relation to the abusive behaviour they were subjected to whilst members. The DR Pigekoret members received 25,000 kroner each. The abuse, which came to light last year, took place before 2010. At the time, Laursen called it "the biggest #MeToo case in Denmark" and she, among others, believes they deserve far more. "I think one should consider this a 'gross cases', because it concerns very young women and much older men. It is sexual harassment of a serious nature with consequences for their later lives," she argued. DR admits it would have liked to pay more, but could not do so as a public institution in case a judge decided on a much higher sum. For example, the Greenlandic 'experimental children' recently got 250,000 kroner each, and the Godhavn orphanage boys 300,000 kroner each.
Danes have coughed up almost a billion kroner for Ukraine, including 165 million for concert
'Sammen for Ukraine', the televised fundraising concert broadcast by DR and TV2, raised over 165 million kroner for the cause. It will be spent on emergency aid to Ukraine. An estimated 30,000 people gathered at Rådhuspladsen to watch the concert. Among the Danish artists who performed were former X Factor judge Sanne Salomonsen. The public are still invited to donate: via Mobilepay on 405042, by donating 150 kroner by texting 'HELP' to 1234, or via sammenforukraine.dk. According to the Red Cross, the public had already raised 750 million kroner for the cause ahead of the concert.
Distortion X confirms street party fans' fears: Nothing in Nørrebro and limited in Vesterbro
Ticket sales are now ongoing for Distortion X, the main focus of the annual street party festival, which will offer guests access to top hip-hop, EDM, house and trance acts playing in ticketed areas. As was reported last year, Distortion X has turned its back on the free entry nights in Nørrebro and Vesterbro – in fact, the former has been scrapped altogether in favour of two city centre Distortion X ticketed areas on Wednesday June 1: in Langebro and Rådhuspladsen. "The well-known free street party in Vesterbro [on June 2] is becoming more subdued," confirmed festival director Daniel Toghill last week. The Vesterbro area will border Ingerslevsgade, Den Brune Kødby and DGI-byen. On the same night, Rådhuspladsen will again host a Distortion X ticketed area. Entry to a ticketed area is 200 kroner per night, most close at midnight, and the age limit is 18.
Female musicians only accounted for 10 percent of music royalties in 2021 – Koda
Only 10 percent of the royalties overseen by Koda in 2021 went to female musicians, according to a report compiled by DR and Bandakademiet, which carried out in-depth interviews with 75 women in the Danish music industry. Based on the interviews, the report ('Kvinderne i musikken – en undersøgelse af kønsubalancen i den danske musikbranche') has ten concrete suggestions for addressing the barriers that cause the gender imbalance. The matter will be discussed at a meeting on Friday 25 March at DR Koncerthuset. 
Irish comedian Dara O Briain to perform at DR Koncerthuset in June
Following a few pre-pandemic sellout shows at Bremen, Irish comedian Dara O Briain, the host of the hugely popular UK series 'Mock the Week', is returning to Copenhagen to perform at DR Koncerthuset on June 15. He will be performing his 'So, Where Were We?' show. Tickets cost 295 kroner via koncerthuset.dk. 
Experts write off Denmark's chances of winning Eurovision – and the bookmakers too
Music experts have written off Reddi's hopes of winning  Eurovision – and so have the bookmakers, which rate their chances at 100/1. The all-girl band, made up of two Danes and two Swedes, upset the favourite, Conf3ssions with the song 'Hallelujah', to win the Dansk Melodi Grand Prix on March 5 with their song 'The Show'. Fuld Effekt, which CPH POST interviewed ahead of the show, finished sixth. In the final three-act vote-off, Reddi secured 37 percent of the viewers' votes, and their rivals 32 and 31 percent. It was quite a turnabout, as in pre-show voting Reddi didn't even make the top three. Long-time X Factor judge Remee was a contributing writer of the song, as he was with 2012 Eurovision entry 'Should've Known Better' by Soluna Samay, for which Reddi member Ihan Haydar played the drums. This year's Eurovision semis will take place on May 10 and 12, with the final scheduled for May 14. 
Denmark's only ever female foreign minister rubbishes aspects of 'Borgen'
Lene Espersen, the only woman to hold the position of foreign minister in Danish history, has rubbished certain aspects of the fourth season of 'Borgen', in which the central character Birgitte Nyborg holds the same position. One of Espersen's predecessors, Martin Lidegaard, worked as a consultant on the show to ensure it was realistic as possible, but Espersen is not impressed despite being a fan. She signals out four plot holes: a scene in which a politician directly gives a journalist an envelope, a private conversation between Nyborg and her Greenlandic counterpart, the scenario in which Nyborg and the PM are trying to sabotage one another, and Nyborg's dismay at finding out the company digging for oil is Russian. Espersen was foreign minister from 2010-11, so in office when the very first episode of 'Borgen aired.