News
Local Round-Up: Copenhagen sets up taskforce to help incoming Ukrainians
---
This article is more than 1 year old.
Elsewhere, more houseboats on the city's horizon and the Red Bull cliff divers will return to the Opera House rooftop this summer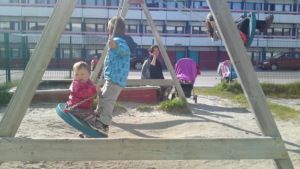 With the war continuing to rage in Ukraine, Copenhagen is welcoming around 100 Ukrainian refugees every day. 
Now, local politicians in Copenhagen want to set up a taskforce to help them acclimatise – particularly in relation to schools and kindergartens.
"The needs of individual families can vary incredibly," the city mayor for child and youth issues, Jakob Næsager, told TV2.
"Some are traumatised by terrible experiences and are not initially ready for kindergartens or schools. Others are more mentally prepared for their lives to develop during their stay in Denmark."
READ ALSO: War in Ukraine to impact Denmark's economy
Lots of variables
Næsager said that the city's action depends on how many end up coming and how long they stay. 
Currently, the municipality is working on getting pedagogues to take care of the youngest children so they don't have to spend all day in hotel rooms or the like. 
Some of the kids can still participate in digital teaching from back home in Ukraine, while others will be entered into introductory classes to prepare them for Danish public school.
"If they stay for six weeks, we do one thing; for six months it's another; and for six years it's something else," said Næsager.
Yesterday, Parliament passed a special law that will allow Ukrainian refugees to quickly get temporary residence to help them find work and education in Denmark.
About 3,000 Ukrainians have scheduled an appointment to apply for such a residence permit so far.
---
Life on water in demand
The city is looking to open up more waterfront space for houseboats in the future due to increased demand. City developer By & Havn has initially pinpointed several areas where an expansion of houseboats could be most feasible. These include Stejlepladsen in Sydhavn, along with designated areas in Islands Brygge, near Christiansholm, near Prøvestenen Syd, by Kronløbsøen in Nordhavn and by state-owned land on Holmen.
City to curb long-term parking
Local politicians are looking into the possibility of ushering in time-sensitive parking zones in a bid to reduce long-term parking in the city. The city wants the zones to be limited to a maximum of three hours in order to prevent commuters from filling up the streets with their cars. Initially, funding has been set aside for 15 of these zones, of which the first four will be established in Sydhavn, Vanløse, Østerbro and Bispebjerg.
Graffiti costing DSB millions
National rail operator DSB spent an exuberant 71 million kroner on removing graffiti from its S-trains in Copenhagen last year. DSB reports all graffiti to the police, and vandals risk up to six years in prison for spraying the trains with paint. Furthermore, perpetrators also risk huge compensation fines and if they are underage, they risk being removed from their parents' guardianship and placed in closed institutions. It costs DSB 100,000 kroner to clean graffiti from a single train carriage.
New Wolt concept in Vesterbro
On March 18, the city will see a brand new supermarket concept open up in Vesterbro. Food delivery service Wolt is behind the service, which will offer the quick delivery of around 2,000 supermarket goods within a 5km radius. Wolt Market, as it is called, will have a storage facility at Enghavevej 8C and goods ordered from there will be delivered to customers within 30 minutes. Alternatively, you can pick up your order at the facility. Wolt Market, which opened its first store in Aalborg in November 2021, plans to open another 15 locations in Denmark this year.
Opera rooftop diving to return
City dwellers will be able to enjoy the popular Red Bull Cliff Diving event once again this summer as the athletes return to dive off the roof of the Opera House. The event is back for the first time since 2018 and will take place on July 16. Access is free for the public as the divers twist and turn their way 27 metres into the city harbour, hitting the water at speeds up to 85 km/h. This year, the competition will also include an event for women.
Tivoli's Friday concerts back too
Amusement park Tivoli has announced that its popular Friday Rock event is back this summer, and a number of artists have already been lined up. It all kicks off on April 8 and so far 50 Cent, Tom Jones, Aqua, Mø, Dizzy Mizz Lizzy, L.O.C and Malk De Koijn are among those on the schedule. Purchasing access to Tivoli grants you entrance to the concerts, but tickets up close – the so-called inner circle tickets – go on sale on March 18.
Discount for pensioners going up
From July 1, the age limit to acquire discounts for pensioners on public transport will increase to 67. The change takes place as the current age limit for public pensions is adjusted. For those who currently have the discount but won't turn 67 by July 1, they keep their discount after the cut-off date if they order a personal travel card 'rejsekort' with a pensioner discount before then. The next planned increase in pension age is set to take place in 2030. Order a rejsekort at www.rejsekort.dk.
Otters might be back in north Zealand
After vanishing from north Zealand some 60 years ago, the authorities believe that the otter may have returned in recent years. They can't say for certain, but two otters were found hit by cars near Nivå and Rågeleje, while another was caught on film by a game camera near Arresø. It is hoped that the little predator has swum across the Øresund from Sweden and settled in the region. The regional authority will team up with the University of Copenhagen to attempt to investigate whether there is an otter population in north Zealand by setting up floating platforms in a number of streams and lakes in the area. The platforms, which have game cameras fitted to them, are sprayed with odours designed to attract the otters. 
Traffic preparing for Nordhavn Tunnel
The Vejdirektoratet road directorate has launched a series of initiatives in Copenhagen with the purpose of preparing for the construction of the Nordhavn Tunnel link that will connect Østerbro to Nordhavn. Among other things, signal-regulated traffic lights will be established on Strandvænget in Østerbro to ensure smooth access to the construction site. A new boat dock is also being constructed on the north side of Svaneknoppen, and a number of other areas are being cleared to make way for the tunnel.