News
National Round-Up: Non-EU refugees fleeing from Ukraine piling up in German border towns
---
This article is more than 1 year old.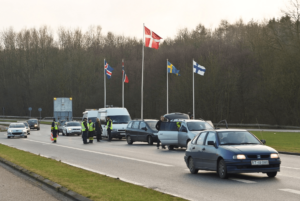 As many as 250 refugees fleeing Ukraine have been rejected at the Danish-German border since March 11 because they did not satisfy Denmark's requirement for entry.
Most are non-EU residents of Ukraine
It is thought that the majority are foreign nationals of countries outside the EU who have Ukrainian residence permits, who are seeking transit through Denmark on their way to Sweden or Norway.
Had they applied for asylum in Denmark, the result might have been different.
Ukrainians unable to show their passport have the option of applying for asylum or an emergency visa.
Politicians with different concerns
Many are congregating in German border towns like Flensburg, where local politicians are concerned about their welfare.
The integration and immigration minister, Mattias Tesfaye, stands by the rejections, arguing that he has "a responsibility for Denmark's security", according to DR.
Green light for Ukrainian nationals
In related news, Parliament has passed the so-called Ukrainian Law, a fast-tracked piece of legislation that gives Ukrainian refugees more or less the same rights as arrivals from other EU countries.
They will now be able to quickly get a two-year residence permit with the possibility of extending for another three, a CPR number, tax card and accordingly a job, as well as access to housing.
---
Death threat numbers have doubled since 2015
The number of reported death threats is rising in Denmark – and social media is partly to blame. Between 2015 and 2020 the annual number doubled from 2,971 to 5,558, according to the police. The percentage of digital threats over the period rose from 5 to 15. Many death threats occur within families. Death threats carry a maximum sentence of two years in prison, although most are punished with just a fine. Many protest their threat was non-serious – particularly in online comments when the accused claim they got carried away.
Recreational drug use among young people in decline due to pandemic
Recreational drug use among people declined during the pandemic – and particularly among youths, according to an annual report released by the Sundhedsstyrelsen health authority. Some 21.2 percent of youths aged 16-24 smoked cannabis in 2017, but this fell to 15.5 percent in 2021, according to the SUSY survey, which blamed the decrease on the closure of nightlife establishments during the corona restrictions, along with the assembly bans that resulted in fewer parties at private homes. The consumption of other normally popular choices, such as cocaine (down from 5.5 to 2.9 percent), amphetamines (1.7 to 1.4) and ecstasy (1.9 to 1.2), also fell. 
New variant of corona at large in Denmark, but numbers are in freefall
Statens Serum Institut (SSI) has confirmed that a new variant of corona, a hybrid of Delta and Omicron called Deltacron or Deltamicron, has been detected in Denmark. SSI said there is no massive concern and that there have only been a "small number" of cases so far – a figure that TV2 estimates is 100. Numbers continue to decline in Denmark: some 8,326 fresh cases of coronavirus were confirmed at 14:00 today. However, in other countries, the number of cases is spiralling again. The likes of France, Germany, the Netherlands, the UK, Italy, China and New Zealand are all reporting another surge. 
Record year for Pant returnables
The Pant deposit scheme, which enables shoppers to get money back when they return their bottles (typically 1 kroner for a beer; 3 kroner for a large bottle of soda), is thriving like never before, reports Dansk Retursystem. In 2021, some 93 percent were returned – the equivalent of 1.9 billion cans and bottles, which is 200 million more than in 2020. Up from 92 percent in 2020, the return rate is the equal highest in the world alongside Finland. It is estimated that 94 percent of all the returnables can be recycled – up from 90 percent in 2020. 
Second-best work-life balance in the world
Denmark has the second-best work-life balance in the world, according to research carried out by Small Business Prices that included 37 countries. Denmark benefited from having a high happiness score, a short working week (32.5 hours), a decent holiday allowance (25 days) and high average salary. The Netherlands topped the ranking, and Norway, Switzerland and Iceland completed the top five. The highest non-European entrant was Australia in 13th. Sweden ranked 10th. 
Løkke's party would probably win four seats in a general election, but who will they support?
Lars Løkke Rasmussen's new centrist party Moderaterne would land 2.2 percent of the national vote were there a general election today, according to Voxmeter. The share would give the party four seats in Parliament. Moderaterne has only been eligible to stand in the election since Monday, and Voxmeter's latest poll didn't include the party. However, it was able to post-analyse the figures and calculate it would get more than the 2.0 percent threshold needed to win seats. Rasmussen has not yet confirmed who he would support as PM. In the last election, he received over 40,000 personal votes – a performance only bettered by PM Mette Frederiksen.
Facebook takes action again Russian Embassy in Copenhagen
Facebook has removed misleading posts made by the Russian Embassy in Copenhagen. A spokesperson for the media giant confirmed to Reuters that posts made by several Russian embassies have been removed. It is believed the Russian Embassy in Copenhagen was one of 18 worldwide that said reports of Russia bombing a maternity and children's hospital in Ukraine were false.
Billion kroner+ tender to convert green electricity into hydrogen approved
Parliament on Tuesday approved a 1.25 billion tender to convert green electricity into hydrogen that can be used as fuel, contending that such deals are necessary if Denmark is to fulfill its goal of becoming a net exporter of green electricity by 2030. To achieve this, it wants to provide green fuel to aircraft, ships and trucks, both home and abroad. However, Dansk Energi contends it will need to quadruple its offshore wind production from 2 to 8 GW to achieve it. 
Aalborg Airport Lounge wins KLM/Air France accolade
Aalborg Airport Lounge has been named the best in the world for 2021 by a passenger survey of KLM and Air France customers. It was chosen from 162 airport lounges worldwide and the honour coincides with the 10-year anniversary of KLM's route linking Aalborg with Amsterdam.