Things to do
Performance Review: Rubbed up the right way by dark humour and strong ensemble – great props all round!
---
This article is more than 1 year old.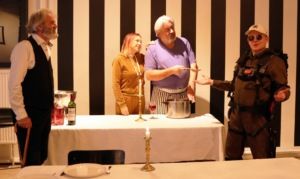 One of the measures of a good play is how much you're thinking about it the next day, and my thoughts were consumed by Fergal O'Byrne's 'Rub-A-Dub-Dub', which made its worldwide premiere at Krudttønden theatre last Wednesday, over the weekend.
If technology develops to enable us to live forever, could they keep it on hold until all the oligarchs are dead, I reasoned over my Saturday cornflakes. If Siri ends up taking human form, will we still be able to ask her rude questions with a straight face? And if the world is to rid itself of Grumpy Old Men (GOM), is euthanasia going a little too far?
Humour as dark as an eclipse on Pluto
If you hadn't guessed it already, 'Rub-A-Dub-Dub' is a dark comedy, and there were several times during the second of the two acts (running time: 85 minutes; no interval) when this reviewer was gripped by a demon, laughing his head off at somebody's, or something's, misfortune.
Of course it's hard to ascertain at such moments, when hilarity ensues the darkest notes, whether your convulsions represent a sole laugh amidst a sea of disapproval. Overall the audience appeared to love the play, but I couldn't help wondering how appreciative they were of the brilliance of the dark comedy at times.
Igniting the slow-burner
The first act was a slow-burner in contrast, and I questioned whether Claus Bue's direction could have been stronger in the presentation of Neil (Andrew Jeffers, who is best known for playing 'The Dame' in the Crazy Christmas Cabaret), the host of a reunion between three middle-aged friends, who spends the first half behind a kitchen island.
Alongside him from the start, Dan (Ian Burns), the GOM of the three, is meanwhile presented as somebody concerned about caffeine intake, sleeping arrangements and his back, and some of the jokes were lost a little in the initial exchanges.
It took the introduction of Bobbi (Sune Svanekier) to galvanise the affair. Everything about him was well thought out: his outfit, his demeanour, the props and his hair – a magnificently chosen wig, it has to be said. A splendid chase involving Bobbi and Dan left us hungry for more as the first act closed.
Star of the show: the strong ensemble
Her performance as SiSi, the replicant-Siri (the T-1000, but not quite the T-X; Bobbi has one of those at home), was mission accomplished for Dawn Wall: she made us believe in the future in which this play is set. She was never too robotic, or reminiscent of other humanoid AIs on screen, and the unexpected song she sang was delightful. Hers was an arc skilfully wrapped into the fabric of the play.
Burns and Jeffers are so familiar to Copenhagen audiences, it's easy to assume they're going to tap into the likeability that has served them so well over the years and potentially steal the show. It is a testament to their experience that neither did this, instead trusting the script to allow the complexity of their characters to slowly come through.
Their selfless performances enabled Svanekier to shine in what is an unforgettable role. On his watch, the comic beats were in safe hands. But overall, this was top notch team-work: as solid an ensemble as That Theatre has ever presented.
Rooting for humanity
So go and watch this play if you want dark humour at its best, or food for thought to mull over on your next cycle home.
Go and watch this play if during these dark times you're rooting for humanity.
Go and watch this play if you love theatre.