General
Spring is here … or at least to complete the week
---
This article is more than 1 year old.
Temperatures will top 16 degrees tomorrow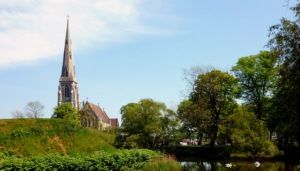 The Spring Equinox passed on Sunday, but that's never a reliable indicator that winter over. After all, Easter Monday on April 5 last year saw a blizzard hit parts of Copenhagen.
No, a better indicator is us: can we feel it in our bones that the weather is getting warmer and that the land is responding in appropriate spring-like fashion.
The answer today is a resounding yes!
Sizzling weather at the end of the week
Clearly temperatures are rising, and the evidence was on the pavements of the capital today, where everybody wanted a seat outdoors to enjoy their lunch in the sunshine. On some streets, even smokers had brought their office chairs outside to laze like lizards.
Today's top temperature in Copenhagen was a scorching 15 degrees and tomorrow looks set to top that with 16!
The heat will peak at 15:00, the time when most Danish workers call it quits for the weekend: no doubt with a beer overlooking the harbour in mind.
Next week will be colder though
However, don't make a schoolboy error and pack away your gloves and hat just yet.
It will cool down over the weekend, and then next week will be colder, with 6 degrees forecast for both Wednesday and Thursday.