News
Local Round-Up: Sweden wants Denmark to stop dumping toxic Lynetteholm sludge in Køge Bay
---
This article is more than 1 year old.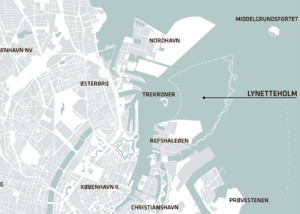 Sweden wants Denmark to stop dumping sludge in Køge Bay because it is harmful to maritime life.
Derived from the site to construct the Lynetteholm island in Copenhagen Harbour near Nordhavn, some 228,000 cubic metres of sludge have been taken to Køge Bay and dumped in the sea since January 6.
A further 2.3 million will be dumped over the coming years.
Swedish minister: It's detrimental to marine life
Annika Strandhäll, the Swedish environment minister, has confirmed she sent a letter on March 18 to the Danish government appealing to them to stop, as it was the government that gave the Copenhagen Municipality-owned By & Havn permission to go ahead.
Specifically addressed to the ministers for transport and the environment, Trine Bramsen and Lea Wermelin, Strandhäll argues that Køge Bay is an "inappropriate" site to dump contaminated sludge as it could "significantly affect the Øresund's and Baltic Sea's marine environment".
Local municipalities opposed too
The Danish municipalities of Greve, Stevns, Køge, Solrød, Vallensbæk, Brøndby and Ishøj have formed 'Fælles Front', a movement to stop the dumping.
Opponents contend the sludge contains harmful toxins and nutrients, including heavy metals such as mercury and excess nitrogen (thus contravening EU directives).
---
City Hall's leftover funds earmarked for climate, children and disadvantaged
Sophie Hæstorp Andersen, the lady mayor of Copenhagen, secured the necessary support on Tuesday to allocate unused funds from 2021 to three main beneficiaries: the climate, children and the disadvantaged. It is believed they will all receive three-digit million amounts. Among the actions prioritised are improving the safety of transport near schools, improving the safety of selected cycle paths, offering rent subsidies to the homeless and housing to people with mental illnesses, and spending 7.3 million kroner on giving the Sundbyvester Plads playground in Amager a green makeover.
Police concede they did not have the right to conduct random checks to see if bikes were stolen
Copenhagen Police did not have the legal authority to stop cyclists in February and check their bicycle serial numbers to see if they were stolen. In total, 3,800 cyclists were stopped and 30 charged. The police cited Section 77 of the Traffic Act as justification for stopping cyclists randomly, but now concedes that the law does not permit such checks. Instead, the police need to harbour a reasonable reason or suspicion to stop somebody. A City Hall survey last summer revealed that 20 percent of Copenhageners had a bicycle stolen within the previous year. In total, there were 14,429 reported bicycle thefts in Copenhagen in 2020, resulting in just 138 people being charged with theft.
City Hall back plans to permit outdoor seating in the street across the entire municipality
A majority at Copenhagen City Hall has backed plans to permit more outdoor seating at bars and restaurants across the city – specifically in the parking spaces outside the establishments. In 2020, City Hall introduced the concept to the city centre, but the pandemic hindered efforts to take advantage, and in 2021 only restaurants were allowed to do so. Some 2.8 million kroner has been allocated to helping bar and restaurant owners inhabit the parking spaces. First they must submit an application, as expanding won't be possible on roads where parking is over a certain demand. Permission from the police is also needed. Owners must pack up their outdoor seating by 22:00 to ensure neighbours are not kept awake by any rowdiness.
Electric scooter company signs deal with Frederiksberg Municipality
Electric scooter company Bolt has concluded a deal with Frederiksberg Municipality to operate in the enclave. Over the next few months, it will release 125 electric scooters, which will be available to rent from selected parking zones co-designed by Bolt and the municipality. The scooters can be easily found and booked via the Bolt app. The municipality chose Bolt, which also operates scooters in Copenhagen and Odense, because it is the ideal partner to support its green ambitions with its sustainable service. Bolt is one of Europe's leading electric scooter operators, overseeing a fleet of more than 130,000 in 170+ cities in 20 countries.
Amager Fælleds Venner reports environmental protection agency to ombudsman
Amager Fælleds Venner (AFV), the group opposed to plans to build extensively on the public common, has made an official complaint to the ombudsman regarding the conduct of Miljøstyrelsen, the environmental protection agency. Its complaint accuses Miljøstyrelsen of "completely grotesque" double standards, detailing how the agency has ridiculed AFV's efforts to document the presence of every single protected great newt, but failed to intervene when Copenhagen Municipality removed seven 'kvasbunker' – garden waste piles that serve as habitats for the reptile.
Vanløse church destroyed in fire will be rebuilt
Hyltebjerg Church on Ålekistevej in Vanløse was pretty much destroyed by a fire on Monday night. The remaining structure is unstable and this has made it hard for investigators to establish the cause. However, they suspect the fire was caused by an electrical fault. The church's pastor was able to rescue key artefacts as he fled the church along with the entire choir. A day after the fire, the local authorities agreed the church should be rebuilt.
Three public harbour pools to remain open until September 30
The summer bathing season is being extended by an extra month at the Islands Brygge, Fisketorvet and Sluseholmen harbour pools. In recent years, higher early-autumn temperatures have justified having swimming pools open at the public's disposal, and all three will remain open until September 30. City Hall has found an extra 700,000 kroner in its budget to meet the costs.
City Hall to plant another 100 trees in Fælledparken
City Hall has confirmed plans to plant 100 trees in Fælledparken – partly to replace trees blown down in the recent storms. The authorities will also chop down a few trees, considered too old or riddled with disease, to make way for the new arrivals, but nowhere near as many as 100.