News
International Round-Up: Danish Foreign Ministry accused of illegally silencing China protests
---
This article is more than 1 year old.
Elsewhere, Denmark sees a surge in asylum applications from Russian defectors, and PM Mette Frederiksen is straining at the EU leash to send offensive weapons to Ukraine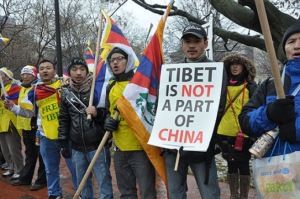 A new report from the Tibet Commission has accused the Danish Foreign Ministry and the Security and Intelligence Service (PET) of flouting the constitution by pressuring Copenhagen Police into quelling anti-China protests during Chinese state visits.
It criticised the Foreign Ministry for the lengths it was willing to go to "maintain a good relationship with China" by "pandering to Chinese wishes that visible anti-Chinese demonstrations and expressions of opinion should be avoided during official visits from China".
The report concludes that the Foreign Ministry put considerable pressure on PET and Copenhagen Police to meet Chinese wishes and in some cases actively facilitated it.
"Reprehensible" behaviour
In general, the Foreign Ministry's handling of Chinese visits to Denmark is characterised by a "culture in which the desire to avoid offending Chinese guests was prioritised over the Constitution and the European Convention on Human Rights", states the report.
"This culture was recognised and operated on a management level in the Foreign Ministry."
The commission slammed the Foreign Ministry's "reprehensible" behaviour and accused it of withholding relevant documents during the first Tibet Commission to protect the former Foreign Ministry chief of staff, Martin Bille Hermann, who currently serves as Danish ambassador to the UN.
---
Denmark joins global initiative to prosecute Russian war crime perpetrators
During his visit to New York, Jeppe Kofod, the foreign minister, along with his counterparts from Albania, Colombia, the Marshall Islands, the Netherlands and Ukraine, presented a new initiative with the UN to bolster the evidence gathering and prosecution of Russia's human rights and international law violations during its invasion of Ukraine. Denmark also made a new contribution of 700,000 kroner to the International Criminal Court (ICC).
Danish PM ready to send offensive weapons to Ukraine
In a speech to NATO members on Thursday, Ukrainian President Volodymyr Zelensky thanked leaders for the donation of defensive weapons and appealed for offensive weapons to attack Russian forces. While it's yet unclear whether NATO will be forthcoming, Denmark has already donated some 2,700 anti-tank weapons to Ukraine, and PM Mette Frederiksen has stressed Denmark's compliance. "Denmark has the will and desire to help Ukraine further with weapons," she said.
Uptick in Russian asylum applications
In March, 25 Russians sought asylum in Denmark. This brings the 2022 total to 32 applications, compared with 17 during the entirety of 2021. In Russia, it is now a criminal offence to refer to the Russian invasion of Ukraine as 'war', while President Vladimir Putin refers to his critics as "scum" and "traitors". Venstre foreign affairs spokesperson Mads Fuglede called for an EU-wide discussion regarding the protection of defected Russian soldiers and citizens.
Ukrainian President make live Denmark address on Tuesday
On March 29 at 12:30, President Volodymyr Zelensky will address Danish MPs via a live video-link. Zelensky will give a briefing on the situation in Ukraine and thank the Danish people for the support they have shown his country. The broadcast will be available on Parliament's TV channel and website.  
Denmark and Australia launch tech ambassador network to support national security
Last week, Denmark and Australia launched a global network connecting cyber and tech ambassadors from more than 20 countries to support collaboration between governments and frontrunning digital tech companies. The network aims to "curb the autocratic forces that abuse technology and ensure that all of humanity reaps the benefits of technology", according to the foreign minister, Jeppe Kofod. Denmark and Australia were among the first countries to appoint a cyber or tech ambassador, whose role is to examine the impact of technology on foreign and security policy in partnership with the tech industry.
Danish foreign minister meets UN secretary-general for Ukraine tête-à-tête
Last week, the foreign minister, Jeppe Kofod, met with the UN Secretary-General António Guterres in New York to discuss the war in Ukraine and the international response. Denmark has made significant contributions to the UN's efforts in Ukraine since the Russian invasion began, donating 105 million kroner in humanitarian aid. Denmark has also donated 150 million kroner in macro-financial support to the World Bank through the Financing of Recovery from Economic Emergency (FREE) platform that supports Ukraine's economy. 
Crown Prince couple in Netherlands on green business schmooze-fest
On June 20, Denmark's Crown Prince Couple will visit the Netherlands with a Danish business delegation to promote partnerships in green energy and digital medical technology. The pair will attend a conference in The Hague, visit a selection of companies and research institutions in Rotterdam and Leiden, and attend an official dinner held for key figures from Danish and Dutch organisations. The Netherlands is facing a major green transition in the energy sector, so the royal trip will seek to consolidate the close relations between Denmark and the Netherlands to support the positioning of Danish companies in the Dutch market.
International development funds redirected to Ukrainian refugees in Denmark
Denmark has officially designated Ukraine as a 'neighbouring area', freeing up another 2 billion kroner to support Ukrainian refugees on Danish soil. The funds will be sourced from the development aid budget that currently benefits Mali, Bangladesh, Burkina Faso and Syria – among others. This is "standard practice", according to the development minister, Flemming Møller Mortensen. "Denmark has become a neighbour of a country at war. That is why we have a special responsibility to help," he said.
Massive American warships in Nordhavn are totally normal
Since Monday, two US destroyer – named Donald Cook and The Sullivans – have been moored in Nordhavn, Copenhagen. According to the captain of the Donald Cook, Matthew Curnen, their presence of the warships has nothing to do with the war in Ukraine and is a "planned, routine event". Likewise, the defence minister, Morten Bødskov, commented that "there is nothing unusual about it" in response to rumours that they are a show of strength and a deterrent to Russia.
Kuwait man banned from making large donations to Danish mosques
Rashed Bin Saad Rashed Alolaimi from Kuwait has become the first person to be banned by the Danish Immigration Service from donating over 10,000 kroner to mosques in Denmark. The immigration and integration minister, Mattias Tesfaye, cautioned against naivety: "People don't donate large sums to religious activities in Denmark 'for fun'. Donations from anti-democratic forces must be stopped before they succeed in creating division and hatred in Denmark."