News
Business Round-Up: Report exposes four Danish pension funds with millions invested in mining company accused of using lethal force  
---
This article is more than 1 year old.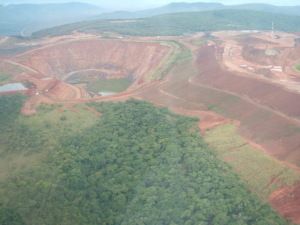 Four pension funds hold hefty investments in a gold mining company accused of using lethal force to protest its assets in North Mara in Tanzania, reports Danwatch.
Together, their shares in the Canadian mining company Barrick Gold are worth 73 million kroner.
Dozens of Tanzanians have been killed trying to obtain small pieces if gold from surplus rocks at the North Mara, including a nine-year-old girl.
Barrick Gold is due to appear in the UK High Court accused of using lethal force to protect the gold mine it owns.
Known issues
This is not the first time that Barrick Gold's operations in Tanzania have been accused of serious human rights violations. The North Mara mine – close to the border with Kenya – has for years been keeping locals out of the mining area, often with the help of police brutality.
According to RAID – a British NGO specialising in business and human rights – police forces have killed 75 people and injured 287 at the mine since the Canadian company bought it in 2006.
"Investors must now either use their influence to pressure Barrick Gold or divest their assets. They can't just rely on the company's own information," RAID head Anneke Van Woudenberg told Danwatch.
Crime in Tanzania, Danish money
With just under 30 million kroner, Velliv has the most invested in Barrick Gold, followed by Sampension (22.5), Lærernes Pension (11.0) and Lægernes Pension (10.3).
"We have previously been in dialogue with the company about controversies related to the North Mara mine and have noted that they have taken several initiatives to rectify these issues," wrote Lægernes Pension spokesperson Peter Rasmussen in an email to Danwatch.
"We have subsequently learned that the company has sustainability challenges in other parts of their business. We are currently considering whether we want to remain invested in the company."
Until January last year, the pension company P+ also had Barrick Gold in its portfolio. But it has since sold its shares, partly because of the conditions at the North Mara mine.
---
Shops announce further price rises on groceries
The Salling Group – the owner of Bilka, Føtex, and Netto – has confirmed that it is chiefly due to the rising energy costs of both suppliers and stores that it has been raising its prices. At Bilka and Føtex on Monday, the majority of its prices went up by as much as 5 percent. Energy costs have added an extra 70-80 million kroner to Salling's monthly bill. Some products have risen more than others. The price of sunflower oil has shot up 41 percent in the last year and pasta by 24 percent. Butter is 15 percent more expensive than five weeks ago.
Kristian Jensen quits Foreign Ministry role
Kristian Jensen's appointment as a special envoy Foreign Ministry, where he was charged with securing Denmark a seat on the UN Security Council from 2025 to 2026, was an unpopular one with diplomats, as former MPs rarely make the crossover. So they will be happy to know he is becoming the CEO of Green Power Denmark at the end of April. Green Power Denmark was established on 23 March 2022 through a merger of Dansk Energi, Wind Denmark and Dansk Solkraft. The organisation currently has two offices in Copenhagen and offices in Aarhus and Brussels. Jensen, the former foreign minister, described this as a ''dream job in every way".
Large surplus in public finances
In 2021, there was a surplus of 58.7 billion kroner on public finances. This is a strong improvement compared to 2020 when there was a deficit of 4.3 billion kroner. The surplus is partly due to an increase in revenue of 32.5 billion kroner from corporate tax and 18.9 billion kroner from VAT. In addition, revenue from the pension yield tax was high in both 2020 and 2021: at 48.2 billion kroner and 63.1 billion kroner respectively. The taxation of frozen holiday funds provided the state with extraordinary tax revenues of 20.4 billion kroner in 2020 and 11.9 billion kroner in 2021.
One in five 15 to 64-year-olds outside the labour force 
In 2021, 755,000 people aged 15-64 were outside the labour force. This corresponds to one in five people – the lowest share in the last ten years and down from 778,000 in 2020. Nearly a third, around 226,000 of them, say they want a job, of which 47 percent are students and young people under the age of 20. 
Vallensbæk has the youngest cars, and Ærø the oldest 
The average age of a private car in Vallensbæk Municipality was 7.6 years at the beginning of 2022. On Ærø, the average age is 13.6, with Samsø close behind on 13.4. The average across the whole country is 9.4, while the average for company cars is 4.5. The number of electric and plug-in hybrids doubled between 2020 and 2021. At the beginning of 2022, they accounted for 4.5 percent of private cars and 14.5 percent of commercial vehicles. There are six times as many cars on Danish roads than in 1962. In 60 years, the number has climbed from 470,000 to 2,787,600. 
Real estate wealth continued to grow in 2021 
Danish homeowners' total wealth in relation to property ownership increased by 239 billion kroner in 2021 to reach 4.399 trillion kroner. This means that every property-owning family – excluding condominiums – saw an increase of around 165,000 kroner in 2021. This is almost double the rise in 2020 (87,000) and four times the 2019 increase (43,000). Property wealth increased most in the Capital Region, Zealand, and Central Jutland, while it increased least in North Jutland. 
Unusually high inflation in both Denmark and Sweden 
Inflation is at a record level in both Denmark and Sweden, according to last week's figures.  In Denmark, inflation was 4.8 percent in February. You have to go back to 1989 to see a higher figure. The Swedish inflation rate was 4.3 percent in February 2022 compared to the same month last year – the highest monthly inflation recorded since the financial crisis in 2008. Rising electricity, fuel, and food prices, chiefly due to supply disruptions caused by the corona crisis and poor crop yields, have had a significant impact. Inflation in the coming months looks set to be even higher due to the War in Ukraine. 
Velux owner sets record for both top and bottom line 
VKR Holding – which owns window manufacturer Velux, among others – ended 2021 with record revenue of just over 26 billion kroner following a 15 percent increase, yielding a profit of almost five billion kroner after tax (up 35 percent). Its CEO, Mads Kann-Rasmussen, said the result was ''very satisfactory'' in light of the challenges it experienced in the supply chain – which included delays and higher prices for raw materials.
Anders Holch Povlsen from Aarhus is no longer Denmark's richest man 
According to Bloomberg's latest list of the richest people in the world, Anders Holch Povlsen is no longer the richest man in Denmark. He held the title last year, but he has now been overtaken. In mid-2021, the businessman had a personal fortune of 84 billion kroner. But apparently, his fortune shrunk during January. Instead, the richest man in Denmark is now Niels Peter Louis-Hansen, a co-owner of the Coloplast empire, a family business that markets healthcare products and services. He is 283rd on Bloomberg's list, nine places above Povlsen. 
Well-known Danish auction house now in foreign hands 
After 75 years of being a family business, Bruun Rasmussen Art Auctions have been sold to Bonhams, one of the world's leading auction houses, which has offices in London, New York, Los Angeles, Paris, and Hong Kong. Since 1948, the Bruun Rasmussen family has sold art, design, antiques, jewelry, wristwatches, and collectibles from the auction room at Bredgade 33 in Copenhagen. Chairman Jesper Bruun Rasmussen said he ''struck the biggest and most momentous 'hammer blow' in Bruun Rasmussen's history''. His hopes are that Bruun Rasmussen's Art Auctions will gain access to a wider international clientele. Although Bruun Rasmussen is now in foreign hands, the family is still to be found in the auction house on Bredgade and at the head office in Nordhavn. The name will only see the addition of '– Part of the Bonhams Network' as a change.