News
Business Round-Up: Consumer council chair concerned about loan sharks on Facebook
---
This article is more than 1 year old.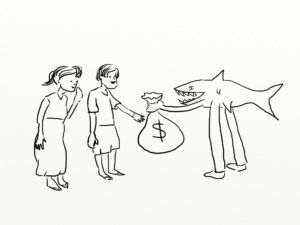 Anja Philip, the chair of the Forbrugerrådet Tænk consumer council, wants more action to prevent consumers from falling prey to loan sharks operating on Facebook.
Legislation introduced in 2020 has made sure that loans can only be offered with a maximum annual interest rate of 35 percent, causing around half of all quick loan companies to leave the Danish market.
Previously some loans came with annual interest of 700-800 percent.
Needs to be enforced
However, the offers are still available via Facebook and this concerns Philip.
"We have no doubt it has been good to get the legislation in place," she told TV2. 
"Now we just have to have it enforced, and also on Facebook where we can unfortunately see that some people take advantage of the opportunity to give expensive loans there."
---
Danfoss asked to explain why its component is in Russian military vehicle
Danfoss has been asked to explain why a seized Russian military vehicle inspected by Ukrainian troops was found to contain one of its solenoid valves. The inspection revealed the vehicle contained parts from a number of Western companies. Danfoss has denied contravening sanctions, suggesting the valve is relatively old, more generally found in air conditioning and cooling systems, and most likely produced in one of its factories in Denmark or Poland. The Danish Business Authority has launched an investigation to see if any sanctions have been violated. Danfoss has several factories in Russia where it derives a turnover of more than 2 billion kroner a year.
Ørsted hopeful of pan-European refusal to pay Gazprom in rubles
Ørsted has revealed it is involved in a pan-European response to Russian gas giant Gazprom to refuse to pay its gas bill in rubles. President Vladimir Putin last week ruled that gas contracts would be shredded if they are not paid in rubles, but Ørsted is hopeful a joint approach will make the Russians back down. Ørsted is contractually obliged to pay Gazprom for its gas, but in dollars or euros – and this is reportedly the case with 97 percent of all major European customers. In related news, wind turbine manufacturer Vestas, window manufacturer Velux,  construction company Aarsleff and paint manufacturer Hempel have all confirmed they are withdrawing from Russia.
Dansk Erhverv: Ukrainians with job offers need to be fast-tracked
Dansk Erhverv wants Ukrainians with job offers to be fast-tracked when it comes to being allocated a CPR number or temporary residence permit. They should, contends Dansk Erherv, be promoted to the front of the queue to ensure they can start work as quickly as possible. They are therefore calling for an official fast-track scheme. Jysk is among the companies whose efforts have been frustrated by the slowness of the authorities. 
Gas bill crisis has hit a seventh of Danish homes, reports Danmarks Statistik
Danmarks Statistik figures confirm that one in every seven Danish homes has a central heating boiler fired by natural gas, thus underlining the extent of the energy price crisis that has hit many people this past winter. Some 412,000 homes are heated by gas boilers – close to a seventh of the nation's 2.78 million homes. While the figure is 4,800 fewer than last year, it is 17,600 more than in 2010. The gas boilers are particularly popular in north and east Zealand, where they are found in a third of all homes. In Dragør, the percentage is 69 percent. Bills have also soared for those connected to gas-fired district heating systems.  
SAS announces new services after bumper March
SAS has reported a significant increase in passengers for March. In total, it serviced 1.14 million passengers – a 360 percent increase on the same month last year and the highest monthly figure since the pandemic started. The passengers travelled a total number of 1.71 billion km – a 538 percent increase. To capitalise on the boom, SAS is introducing more direct routes this summer, and its focus is very much on the Mediterranean countries of Spain, Italy and Greece. Among the European destinations mentioned are Santorini, Heraklion, Corfu, Tivat and Pärnu, while a new service to Toronto has also been confirmed.
Bang & Olufsen revenues continue to increase, but it still can't make a profit
A global shortage of components failed to halt the good run of luxury electronic goods manufacturer Bang & Olufsen, which has declared a double-digit growth rate for the seventh quarter in a row. Its quarterly turnover for the three months ended February 28 was 775 million kroner – 77 million better than the same period a year ago. However, the company declared a loss once more due to spiralling costs, high inflation and the knock-on effects of global uncertainty. With nine months gone of its 2021-22 fiscal year, it is sitting on a loss of 26 million kroner on turnover of 1.9 billion.
Easter holiday home rentals through the roof
This year has smashed the record for holiday home 'Easter' rentals. Because Easter's date is never fixed, Danmarks Statistik has instead compared reservations in March and April to previous years and concluded that 2022's total of 63,000 booked weeks is an all-time high. Germans, who accounted for 48,000 of the total, often take two weeks because the Easter holiday is longer (from April 4) than in Denmark. They especially favour north Jutland.