News
Danish News Round-Up: Ministry likely to rescind church's right to veto wind turbines following decision in Viborg
---
This article is more than 1 year old.
In other news, Dansk Flygtningehjælp does revoke Nadia Nadim's ambassadorship, which is news to her, as she maintains the relationship ended years ago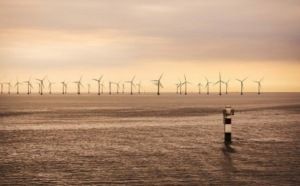 In late January, Information newspaper reported how the Danish Lutheran Church has vetoed plans to build wind turbines on ten occasions since 2017. 
It has the right to object to anything that might disrupt a view from a church, providing it is within 3 km.
Niels Vium, the official behind the decision, proudly told media in 2015 that the "green wave is an excuse that wind turbine owners have used to generate money", and that he sees it as his responsibility to prevent companies from capitalising on these initiatives. 
READ MORE: Church on a level footing: but some of its views are a bit lopsided
Likely to set precedent
But now the minister of the interior and housing, Kaare Dybvad, has lifted a Viborg Diocese veto against the construction of six wind turbines at Bjørnstrup, and it is believed it might set a precedent given the country's need for more energy to wean itself off Russian gas. 
"The planning of wind turbines and solar cells must have more speed," declared Dybvad.
"And therefore I believe we must look at how we can in the future make the process more uniform and transparent in relation to the Diocesan authorities' right of objection, so we avoid green projects being unnecessarily delayed."
---
Making Denmark better equipped to solve the world's problems
Danish entities hope the establishment of a pilot project, the SDG Landing Pad, will enable Danish innovation to provide more solutions to global challenges. The collaboration, which will focus more on drawing input from small and medium-sized Danish companies, is keen to offer solutions in the areas of sustainability and the green transition, healthcare and health crises, and digitalisation. "When we have to solve some of the most complex challenges that not only we, but the whole world face, research and innovation are crucial," commented Jesper Petersen, the education and research minister. "We are good at this in Denmark, and with the SDG Landing Pad, we must get even more out of our international collaborations and innovation efforts for the benefit of the Danish economy, for the Danish business community and for the important progress for people, climate and society that lies in the UN's World Goals." SDG Landing Pad has been formed by Industriens Fond, Innovation Centre Denmark, Foreign Ministry, Education and Research Ministry, CLEAN, Life Science and DigitalLead. 
Anders Holch Povlsen still the wealthiest individual in Denmark, confirms Forbes List
Contrary to the findings of the Bloomberg List of the richest individuals in the world, Anders Holch Povlsen is still the wealthiest person in Denmark, according to the more prestigious Forbes List. Bloomberg ranked Povlsen 292nd with 84 billion kroner, nine places below Niels Peter Louis-Hansen, a co-owner of the Coloplast empire. However, Forbes ranks Povlsen at 135th with wealth of 91.6 billion kroner – almost 3 billion kroner and 26 places higher than last year. Also on the Forbes List of the 2,500 wealthiest people in the world are Louis-Hansen, together with fellow Coloplast heir Benedicte Find, Lego owner Kjeld Kirk Kristiansen and various other members of the family, Nordic Aviation Capital founder Martin Møller Nielsen and LINAK supremo Bent Jensen. Tesla founder Elon Musk topped the ranking, followed by Amazon founder Jeff Bezos. L'Oreal heir Françoise Bettencourt Meyers is the world's richest woman.
Refugee council tell Nadia Nadim she is no longer worthy of being its ambassador
Dansk Flygtningehjælp, the Danish refugee council, has informed celebrated footballer Nadia Nadim that she has been dropped as one of its ambassadors due to her taking up a similar position with the men's 2022 World Cup in Qatar. As a refugee from Afghanistan herself, Nadim is an inspiration to millions – not least because she recently qualified as a doctor whilst holding down a pro career in countries such as the US, France and England. "After an amicable dialogue with Nadia, we have made a mutual choice to end the collaboration," Dansk Flygtningehjælp told BT. "We were not consulted regarding her decision [on April 1], which we obviously think is problematic and not in accordance with the human rights values ​​we at Dansk Flygtningehjælp fight for every day." Nadim sees it differently, claiming via Twitter that her last and only work for Dansk Flygtningehjælp took place in 2019 in Kenya. "To come three years later and say that the collaboration has stopped is equivalent to me saying my contract with Manchester City was terminated today. The 'collaboration' stopped automatically," she wrote. Meanwhile, in connected news, Nadim won't be taking part in the 2023 World Cup home qualifier today against Azerbaijan. Should the Danes win, they will qualify if the suspension of their only serious group rivals, Russia, is upheld. 
Confirmation: over 20,000 Ukrainians have applied for a temporary residence permit
The Danish Immigration Service has confirmed that more than 20,000 Ukrainians had applied for a temporary residence permit as of Sunday. Many more applications are expected. So far, 3,683 permits have been granted. A special law fast-tracked through Parliament in March granted the Ukrainians with the same rights as people from EU member countries. Over 100,000 are expected to arrive in Denmark after fleeing their country following the Russian invasion. In total, 4.5 million have fled – mostly women and children. 
More leeway given to farmers to produce energy crops to address demand
Energy crops used to produce biogas, which in Denmark tend to be principally maize, are bad for the environment because they overly absorb nutrients and emit greenhouse gasses and nitrogen during cultivation and usage. For that reason, the national limit on energy crops was to be reduced from 12 to 8 percent of all arable land this August. But now the parties behind the bill have agreed to continue with 12 percent in light of the demand to reduce Denmark's dependence on Russian gas. Nevertheless, the limit will be decreased to 6 percent in August 2023 and 4 percent a year later – as previously agreed.
DMI marks 150th anniversary of 'since records began'
When the media tells you that it's the warmest, coldest, windiest or wettest since records began, the date in question is 1872, the year that Danmarks Meteorologiske Institut (DMI) was founded. Accordingly the weather forecaster celebrated its 150th anniversary on April 1, the exact date it was launched with four employees who performed manual measurements. Today from its HQ at Lyngbyvej 100 in Copenhagen it has a team of 300.
Record number of patents submitted by Danish companies last year
The number of European patent applications submitted by Danish companies is at a record high, according to the European Patent Office (EPO), which received 2,642 in 2021 – an increase of 9.2 percent on 2020. Leading the way was wind energy, medical equipment, such as hearing aids, and life science – which together accounted for around 40 percent of the patents. Denmark is the third most innovative country per capita with 454 applications per million inhabitants. Only Switzerland and Sweden manage more.
Vejdirektoratet: Roads best avoided on Thursday afternoon and Friday morning
The Vejdirektoratet roads directorate warns the public to perhaps avoid using the roads on Maundy Thursday between 13:00 and 18:00 and Good Friday between 10:00 and 14:00. Meanwhile, rail delays are expected due to engineering work, many ferries are selling out due to fewer holiday services, and the airports expect longer queuing times than normal, so it is best advised to arrive 150 minutes before departure.