News
Luca knows how: Copenhagen-based chain forces its way into European top 50 pizza list
---
This article is more than 1 year old.
At number 35 in the rankings, Pizzeria Luca has three locations in the capital region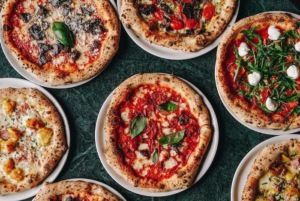 Four of the entries in the top ten of The 50 Best Pizzas In Europe, an annual list compiled by Big 7 Travel, are Neapolitan, and so too is a Danish arrival in the rankings.
There are three outlets of Pizzeria Luca in the Danish capital region, which has been ranked 35th on this year's list: Gammel Strand 42 in Frederiksberg, Rosenvængets Allé 6 in Østerbro and Gammel Jernbanevej 20 in Lyngby.
"When it comes to pizza in Copenhagen, Luca Platania and his wife Salla have really upped the ante. In fact, they're so popular that there are now three outposts in Copenhagen and as many branches in Finland," applauds Big 7 Travel.
"Devotees of traditional Neapolitan pizza, they leaven the dough for 72 hours to create a perfectly chewy, crunchy crust and a deliciously soggy bottom. There's a good range of red and white pizzas on offer, but for something extra special order the Pizzeria Luca Sharing Menu – a little bit of everything from the kitchen for the whole group."
Still the 'Bæst' in Copenhagen
Nevertheless, the Platania Family have some way to go to match Bæst in Nørrebro, a regular on the list that this year is number seven – last year it finished second.
Browse any international list of the best pizzas in Europe and you'll find Bæst near the top of every list. Why? For starters, the team sources every ingredient straight from the farm, including organic meats and homemade mozzarella," explains Big 7 Travel.
"Then they slide the freshly-prepared pizzas into a wood-fired oven and onto your plate a few minutes later. It's a casual dining spot, but every pizza is made with real care and passion."
The list is a collation of reader suggestions, online reviews and Big 7 Travel's editorial team. Topping the list is Naples' only official entry – so there could be many more – 10 by Diego Vitagliano Pizzeria, followed by Peppe Pizzeria in Paris, Seu Pizza Illuminati in Rome, La Pizza è Bella in Brussels and Via Toledo Enopizzeria in Vienna.