News
Local Round-Up: Does Copenhagen have a realistic hope of hosting the Olympics?
---
This article is more than 1 year old.
In completely unrelated news, there was very nearly a plane crash at the city's airport on April 8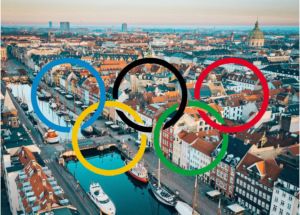 Helsinki did it in 1952. And Stockholm in 1912. And while Oslo hasn't hosted a Summer Olympics, Lillehammer held the winter edition in 1994.
The closest Copenhagen has got to hosting five rings is its famous City Lakes, and they're not exactly circular.
But according to Mia Nyegaard, the city's culture and leisure mayor, 2036 has a nice ring to it.
Cheapest, smallest, most sustainable
"I have previously been met by sceptics who have said: 'It cannot be done, and it will be too expensive.' I have been a little provoked by that, and therefore I say now: What if we can do it well? What if we dare to put it as our vision and then see if it can be done," she told Berlingske. 
Nyegaard envisages Copenhagen holding "the cheapest, most sustainable, and smallest Olympics ever".
To be fair, she'll have a hard job matching the frugality of the 'Austerity Games' held by London in 1948. 
DR expert: Denmark has a slender chance
Henrik Liniger from Berlingske tells the newspaper that a bid is "leaning on the unrealistic side" in terms of all the facilities needed: an Olympic stadium, an Olympic Village, and countless venues as multiple games need to be held simultaneously in the likes of football and handball.
Nevertheless, he concedes that a sustainable bid could hold some appeal. After all, restrictions are not as stringent as in previous years, and the hosting is normally carried out by the whole country, not just the city.
"So compared to before, it may have become more realistic, but it is still a huge event that will cost a lot of money and require a great number of facilities – which I cannot see in Denmark today," he said.
---
Incoming Lisbon flight comes close to crashing at Copenhagen Airport after aborted landing
Havarikommissionen, the Danish accident investigation board, has adjudged an aborted landing by a TAP Air Portugal Airbus A320 arriving at Copenhagen Airport from Lisbon on April 8 to be a 'serious incident'. The daylight incident involved a plane with 109 people onboard (seven crew, 102 passengers), and shortly after the aborted landing, the crew found themselves struggling to steady a plane that was veering to the left, or climb to an acceptable altitude. It reportedly came close to hitting the airport's perimeter and some buildings in Maglebylille. It emerged that one of Engine 1's four doors was unlocked, which rendered the engine at idle thrust – thus providing insufficient power to climb as expected. The crew made adjustments and were able to land 20 minutes later. Subsequent checks confirmed the plane made no contact with the ground during the difficulties.
Could Kødbyen be sold to private developers to avoid billion kroner maintenance bill?
For the time being, Copenhagen Municipality remains the owner of Kødbyen, the city's former meatpacking district, which over the last 15 years has been transformed into a hive of restaurants, bars and nightclubs. However, the area includes a lot of buildings, and they need maintenance, which is why City Hall's finance committee is meeting next Tuesday to consider whether it is time to start selling it off. Rambøll recently carried out an inspection and an estimated 1.2 billion kroner will need to be spent over the next decade. However, the city mayor, Sophie Hæstorp Andersen, a long-time resident in the area, appears to be against any sale. She argues that Kødbyen also includes a great many centres that look after vulnerable people, such as drug addicts.
Refshaleøen residents concerned about polluted waters caused by Lynetteholm construction
City development authority By & Havn has assured locals in Margreteholms Havn on Refshaleøen that heavy grey residue washing up on its shore, a direct result of the ongoing work to build the artificial island of Lynetteholm, is nothing to be concerned about. The duvet of clammy foam has transformed local waters into a lunar landscape, complain locals. Generated by the construction of the dams needed to complete the first phase of the building work, when sand comes into contact with water, By & Havn has confirmed the foam is not toxic. Nevertheless, locals are adamant they will no longer bathe in their local designated area.
Pollutants clean-up at Copenhagen Airport underway, but could take 70 years
The industrial use of Perfluorooctanesulfonic acid (PFOS) and Perfluoroalkyl and Polyfluoroalkyl Substances (PFAS) has been common for around 80 years, but they are now considered global pollutants. This month, a bid to free Copenhagen Airport of the pollutants began, which could take up to 70 years. Technology company Kemic Vandrens is co-ordinating the clean-up. The source of the pollutants, in the airport's case, was foam used by firefighters – almost entirely in training exercises.
Gambling companies face advertising ban on Copenhagen Metro
Gambling adverts will no longer be permitted at Metro stations, it has been ruled. Following pressure from the Metro's owner municipalities, Copenhagen and Frederiksberg, Metroselskabet has confirmed that its board unanimously backed the ban – a stance in line with Copenhagen Municipality's pledge to ban betting ads on all public transport in the capital. In 2020, 48 percent of all gambling addicts were aged under 25. In 2005, seven years before the liberalisation of gambling that lifted the state's monopoly on betting, the figure was 7 percent.
A million and rising: Copenhagen Metro smashes weekly passenger record
The Copenhagen Metro has smashed its weekly passenger record. Some 1.06 million people used the service in Week 14, surpassing a previous record set in 2019 by a margin of 30,000 people, confirmed Metroselskabet. During the pandemic, numbers plummeted, but more passengers have returned since the restrictions ended in early February.
Two new stops to open for Copenhagen Harbour bus
Two new stops are opening this Sunday for the Copenhagen Harbour bus. They will be located at Islands Brygge Syd and Enghave Brygge, which bus operator Movia notes are in areas where new homes are being built at a great rate, but currently have poor local transport options. Enghave Brygge in Sydhavn is approximately a kilometre further inland from the Fisketorvet shopping centre. A further harbour bus stop at Orientkaj in Nordhavn is due to open later this spring.
City Hall in favour of handout for newly-arrived Ukrainian refugees
Copenhagen Municipality is investigating the possibility of giving Ukrainian refugees a cash handout to support themselves while they wait for their temporary residency to come through. Earlier this week, a majority on its Employment and Integration Committee backed a proposal to investigate the possibility. Enhedslisten has suggested 200 kroner every day per adult and 100 kroner per child. 
More repairs needed for Copenhagen cyclist and pedestrian bridge
Copenhagen Municipality has confirmed it intends to spend a further 17 million kroner on Inderhavnsbroen, the City Harbour bridge that takes cyclists and pedestrians from Nyhavn towards Christiania. Defects have been found in the mechanism that enables the bridge to be opened to allow large sea vessels to pass. The 180-metre long bridge opened in 2016. 
Fish supper's off: Anglers to be told they can't catch cod in Copenhagen Harbour
The Danish Veterinary and Food Administration has submitted a proposal to ban anglers from catching cod in Copenhagen Harbour due to concerns the fish contain toxic levels of mercury. The levels of mercury exceed EU limits, contends the administration. 
Sustainable housing debate in Lyngby next week
A sustainable housing debate is taking place at Lyngby City Library on April 27 at 19:00. Among the panelists are Simon Kjær Hansen, the global director of the C40 Cities association whose books include 'Et forsvar for storbyen' (a defence of the big city), and Peter Schulz Sørensen, the author of 'Ta' byen tilbage' (take the city back). Attendance is free, but registration is necessary via lyngbykultur.dk. 
Final week to vote in Copenhagen Light Festival photo competition
Visitors to Havnegade near Inderhavnsbroen can until April 29 view the 50 pics shortlisted by the Copenhagen Light Festival Photo Competition. The winner will be the photographer who receives the most votes via the festival app. This year's light festival, which consisted of 53 installations, welcomed 350,000 visitors in February. Its media coverage drew in an estimated 395 million people worldwide.