News
International Round-Up: Strong evidence for Russian cyber attack on eve of war, says Danish foreign minister
---
This article is more than 1 year old.
In related news, a leak of foreign fighter names and personal details includes five Danes, although one of them is now deceased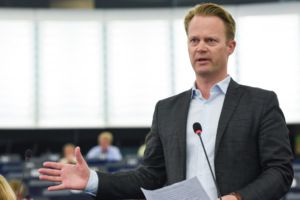 Russia has been accused of orchestrating a destructive cyber attack on satellite equipment used by US-owned satellite company Viasat on 24 February – the same date it invaded Ukraine.
It is believed the attack had the aim of paralysing the communication channels of the Ukrainian Armed Forces.
Certainly, tens of thousands of Europeans, including many Ukrainians, lost their internet, and 5,800 wind turbines in Central Europe were affected.
However, it is not believed any effects were felt in Denmark.
Based on credible information
According to the foreign minister, Jeppe Kofod, the claim is based on credible information.
"This attack once again exposes Russia's total lack of respect for international rules and norms. And it clearly underlines why we need to strengthen international co-operation to combat the cyber threat. The attack had significant consequences, not only in Ukraine but also in several EU countries. That is completely unacceptable," he said.
"From the start, Denmark has worked for the toughest possible sanctions against Russia, and we will continue to do so. Russia's reckless use of cyber weapons against critical infrastructure in Ukraine deserves to be met with international condemnation."
---
Russian cemetery on Bornholm vandalised ahead of Victory Day
Vandals desecrated the 'Russian cemetery' in Allinge on Bornholm over the weekend. The cemetery's caretaker arrived on Sunday morning, one day ahead of Russian Victory Day on May 9, to discover that the words "Eternal fame for the Ukrainian heroes who sacrificed their lives in the fight against Russian occupiers" had been daubed in blue and yellow paint on the obelisk bearing the names of the Russians who died liberating the island from the Nazis in 1945. Normally, a wreath is laid at the cemetery by the Russian Embassy to mark Victory Day, but this year there was no visit. Bornholm was eventually liberated in 1946 because their Russian liberators stayed for a full year after defeating the Nazis.
Danes have raised well over a billion kroner for Ukraine relief
Denmark has raised well over 1 billion kroner in aid relief since the War in Ukraine broke out – precisely 1,369,486,164 kroner according to the latest figures. A quick survey conducted by DR of the country's 14 largest aid organisations confirms the support has been overwhelming. "It surpasses everything we have seen in recent times in connection with disaster fundraising," noted Merete Gotsæd Falkenstrøm from Save the Children. "The amounts we have collected have been historically high," concurred UNICEF Denmark secretary-general Susanne Dahl. The Red Cross has led the way with 553 million kroner collected.
Denmark prepared for Russian turning off the tap
Following Russia's decision to cut off gas to Poland and Bulgaria last week, Denmark is making preparations for the same thing happening to Denmark, according to Dan Jørgensen, the minister for climate and energy. "We have for some time been forced to prepare for what will happen if the gas is shut down. Either because Putin is shutting down the supply, or if we in the EU, as part of the sanctions, are not buying gas anymore," he said. Putin wants all European energy companies to pay in rubles for the cash in order to strengthen the currency. The European Commission, though, is adamant they should pay in euros or dollars, like most are contractually permitted to.
Five Danes among Ukrainian-based foreign fighters leaked
A leaked document revealing the names of 470 foreign nationals signed up to fight for the Ukrainian Foreign Legion includes five Danes, although one was killed in fighting last week. Another is a Dane who didn't end up fighting because he failed to be admitted, reports TV2. The list has been circulated on Russian media channels. In addition to their names, the birth dates and passport numbers of each fighter are also listed. In total, 45 different countries are represented. Leading the way were Georgia (84), the USA (48), Belarus (41), Israel (33), Canada (33) and France (30). The Danish Foreign Legion has knowledge of 22-23 Danish fighters currently in Ukraine.
Strong support for Sweden and Finland to join NATO
Prime Minister Mette Frederiksen has said it is up to Sweden and Finland whether they join NATO, but if they do, they will have Denmark's full support. Following a Indo-Nordic summit last week attended by Indian PM Narendra Modi and the Nordic countries' leaders, Norwegian PM Jonas Gahr Støre added that should Sweden and Finland want to join, then his country, Denmark and Iceland would advocate that the approval be made "on the same day". Finland might reportedly express an interest on May 12, according to various media reports.
Denmark donating 35 construction machines to Ukraine
The Ministry of Trade and Industry has confirmed that 35 construction machines will be sent from Denmark to Ukraine to help with ongoing clean-up work. The shipment, which will commence on Monday, will take a few weeks to arrive. It will include trucks, excavators and trailers. In total, the shipment has been made possible thanks to 40 million kroner in funding, of which half came from the Danish state. "We are very grateful for the Danish help in this case," noted Mykhailo Vydoinyk, the Ukrainian ambassador.
Foreign minister pays three-day visit to under pressure Bosnia-Herzegovina
The foreign minister, Jeppe Kofod, visited Bosnia-Herzegovina from May 5-7, where he met both the president and the foreign minister, as well as the mayors of the cities Sarajevo and Mostar. Top of the agenda were the increased tensions and separatist tendencies in the country – a threat to the peace established by the Dayton Accords in 1996 following the war in the region, which is partly blamed on Russia's active support for Republika Srpska's secession. Kofod accordingly visited the EU's peace-stabilising EUFOR mission, which is in charge of the military implementation of the Dayton Accords, mentioning that Denmark could soon take on a role should the country vote to end Denmark's EU reservation of defence.  
Development minister warns of devastating drought in Ethiopia
Flemming Møller Mortensen, the minister for development aid, has warned that an ongoing drought in Ethiopia could have catastrophic repercussions for the region. Mortensen personally visited the area near the town of Gode, where the rainy season has delivered little this year. Due to a lack of food and water, many families have taken refuge in camps, but the amenities are basic and conditions harsh. "Based on my visit I will look at how we can help further. We simply have to do that," said Mortensen. In October 1983, drought-stricken photos from the region shocked the world into action, including the organisation of the Live Aid concert two years later.
Denmark formally hands over NATO leadership in Iraq
Denmark has today formally handed over the leadership of NATO's mission in Iraq to Italy. At a ceremony in Baghdad, Lieutenant General Michael Lollesgaard, the Danish commander of the NATO mission, completed the formalities. Along with his close staff and bodyguards, he will return to Denmark this month. However, a fair number of Danes will remain – particularly advisers and those who work in security. Denmark assumed the leadership in November 2020.