News
Nature Round-Up: Man charged with starting wildfires in Central Jutland is leader of local fire station
---
This article is more than 1 year old.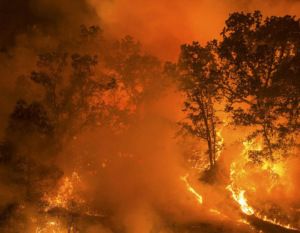 Around 40 wildfires have erupted in nature areas near the central Jutland town of Egtved in the past two months, prompting an investigation by local police.
Finally, East Jutland Police arrested a 50-year-old man this week who has been accused of deliberately starting 11 of the wildfires. He has been charged with multiple cases of arson. 
'Egtved Man' a fire chief!
Under interrogation at Kolding Court, it transpired that the accused man is a leader of the local fire department. The accused man pleaded not guilty and denied the allegations. 
Fortunately, the fires did not result in any casualties or destruction of property – but they still posed a great risk to nature, especially in light of the currently dry weather. 
---
Killer whale surprisingly departs Limfjorden
Experts had expected a killer whale apparently stranded in Limfjorden for weeks to die. But this morning, it suddenly left the shore it had been lying still on and swum away. The whale was found alive a few hours later in the Limfjord off Rærup Bådelaug northeast of Aalborg. Naturstyrelsen consultant Ivar Høst had not expected the whale would depart as it had not been eating and hydrating much during the past weeks.  
Giant penis flower expected to bloom on Thursday
The amorphophallus titanum, also known as the penis flower, is expected to bloom in Botanical Gardens in Copenhagen tomorrow. The penis flower usually blooms every 15 years, but thanks to special care in the Botanical Gardens, it blooms every other year. The flower is known to have the largest unbranched inflorescence in nature, which can grow by up to 10 cm per day according to Statens Naturhistoriske Museum. When it blooms, it can only handle standing solid for one day and it has a rotten smell. When it blooms, it usually attracts thousands of visitors and international media. It is called a penis flower due to its phallus-like structure, but it is also known as the corpse flower in Indonesian culture due to the bad smells it releases. 
Study concerning possible Kattegat bridge postponed once again
Environmental concerns continue to dog plans to build a 40 km-long bridge across the Kattegat bridge between Jutland and Zealand, and now a preliminary study of implementing the bridge, which was set to be completed by the end of 2021, has been postponed for a second time. The Vejdirektoratet traffic authority explains that necessary calculations concerning traffic, climate, socio-economic gains and environmental consequences have still not be made. However, the study is close to completion. Many concerns have been expressed about the bridge's negative impacts, including high CO2 emissions, noise pollution and disruption of cultural and nature areas.
'Bright Nights' of summer return to Denmark
The 'Bright Nights' are here again. They first started in Skagen on April 28, arrived in Copenhagen on May 5, and then reached Gedser, the country's southernmost point, on May 9. They will continue throughout the summer and will end on August 4 in Gedser, August 8 in Copenhagen, and August 15 in Skagen. During this period, the sun does not go 18 degrees below the horizon line, meaning the light from the Sun's rays will be visible in the skies during the night. These nights are also referred to as twilight nights.