News
Danish News Round-Up: Supermarket chain owner to freeze prices of basic items over the summer
---
This article is more than 1 year old.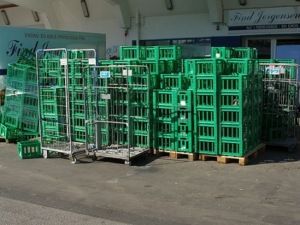 While the Ministry of Finance predicts inflation will end 2022 at just over 5 percent, food prices are expected to increase twice as fast.
So it is comforting to learn that the Salling Group is placing a price ceiling on everyday basic products such as oatmeal and milk – 100 at Netto, and 200 at Føtex and Bilka – which will remain in place from June 1 until October 28.
Salling will decide by November 1 whether to continue with the ceiling. Should inflation fall, then the prices will follow.
100 million loss on milk alone
"The price cap is a guarantee that customers can navigate until the end of October because there are so many prices that have gone up due to inflation," Per Bank, the CEO of Salling Group, told TV2.
Salling Group estimates the freezing of milk prices could cost it 100 million kroner alone.
According to Danmarks Statistik, consumer prices in April were 6.7 percent higher than the same month last year.
---
Kristendemokraterne saviour to step down barely three years after saving the party
Isabella Arendt, the young politician credited with rejuvenating interest in the Kristendemokraterne party shortly before the 2019 general election, has stepped down as chair. Arendt, who has just turned 29, has followed Jens Rohde and Kristian Andersen, the party's biggest profiles, out of the door. The party has been recently divided over policies regarding abortion. Kristendemokraterne, which has not held representation in Parliament since losing all four of its seats in 2005, won 1.7 percent of the national vote in 2019 – an improvement of 0.9 percentage points and just 0.3 shy of gaining representation. 
Trial of half-Danish bow and arrow man begins in Norway
The trial of a Danish-Norwegian man, who is charged with killing five people on a 34-minute rampage in the small Norwegian town of Kongsberg on October 13, began today. Espen Andersen Bråthen has pleaded guilty to the killings, along with 11 charges of attempted murder. It was initially reported that Bråthen killed some of his victims using a bow and arrow – and it is true that he fired off a few shots. However, it later transpired that he stabbed them all. Bråthen, who has a Danish mother, grew up in Norway. 
MPs to vote on whether former defence minister should be prosecuted
Claus Hjort Frederiksen, the former defence minister, could be prosecuted for revealing state secrets, it has been confirmed. Specifically, he would be charged with violating section 109 of the Penal Code regarding the unauthorised disclosure of highly-classified information. The exact details of the charges are only known by a handful of people. One of them, the Attorney General, recommends bringing charges against the former Venstre minister, and now the matter will be voted on by MPs. Accordingly Venstre, Dansk Folkeparti, Nye Borgerlige and Liberal Alliance have called for more transparency, as the voting MPs will know none of the details. The justice minister, Mattias Tesfaye, has told DR he thinks Frederiksen should be prosecuted. Already, a great number of former ministers, including ex PM Anders Fogh Ramussen, have said he should not.
Proposal to introduce EU majority voting unlikely to be backed by unanimity, reason experts
Scepticism has greeted a proposal from Ursula Von der Leyen, the president of the EU Commission, that the EU could make faster decisions were majority votes needed to pass new treaties (but not on matters of defence or security) instead of outright unanimity. In order to bring in the new legislation, outright unanimity would be required, and herein lies the problem, points out TV2 correspondent Divya Das. The foreign minister, Jeppe Kofod, and French President Emmanuel Macron have already said they think it is a bad idea.
Paracetamol poisoning admissions continue to rise
Some 70 children have already been admitted to hospital with poisoning issues caused by the painkiller paracetamol. The number reflects a continued increase that began in 2020 when admissions rose from 156 to 173, and then last year when the number shot up to 294. According to the Ministry of the Interior, the number of children and young people receiving psychiatry rose by 12 percent between 2018 and mid-2021 – an increase blamed on the pandemic.
Net immigration rose by over 10,000 during first quarter
Some 24,025 people immigrated to Denmark during the first quarter of 2022 – some 25 percent more than the average seen in the same period over the last five years, and 72 percent more than last year, when the total only came to 13,996. Danish repats accounted for 15 percent of the total, the largest of any nationality group, followed by Romania (8), Ukraine (7) and the US (6). The immigration resulted in a net gain of 10,142 people, meaning the population now stands at 5.884 million. Further Ukrainian arrivals will most likely result in another rise in the second quarter.
Former US ambassador comes lowly fourth in bid to become senator
The former US ambassador to Denmark, Carla Sands, has failed in her bid to win a seat in the Senate. She took just 5.7 percent of the votes in the primary election in the state of Pennsylvania, trailing three of her Republican colleagues by a huge margin. All four were bidding to replace Pat Toomey.