News
Esbjerg could become NATO maritime hub
---
This article is more than 1 year old.
Good size, location and proximity to airport makes west coast city a frontrunner when it comes to deploying ships into the Baltic Sea region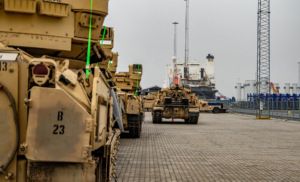 Esbjerg has long thrived on maritime business.
From headquartering Denmark's oil production to its fishing fleet, the west coast city has a rich history in relation to maritime industry.
But soon, it could become ground zero for a different kind of maritime industry … the military sort.
The defence minister, Morten Bødskov, is in the city today to look into the possibility of Esbjerg Harbour becoming a NATO maritime hub. 
READ ALSO: Denmark to be the home to a new NATO centre
Location, location, location
NATO has expressed an interest in using the harbour to deploy allied forces to the Baltic Sea region and it satisfies many parameters due to its size, location and proximity to airports and rail links.
It's also situated near motorways and several big military bararcks, which would allow for good accommodation facilities.
"Russia's terrible attack on Ukraine has made it clear that Denmark needs to live up to expectations that we can offer hosting support for allies moving through Denmark," said Bødskov.
Should the idea attract political support, it is expected that the harbour will be ready for NATO forces by the end of 2023.
The news comes just a month after it was revealed that Copenhagen will host a NATO test centre and acceleration site for quantum technologies in the future.