News
First female-majority police graduate class: Trainer expected cliques, but instead they really clicked
---
This article is more than 1 year old.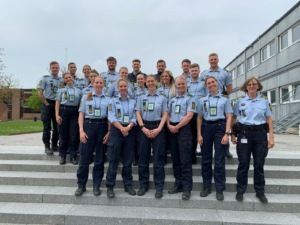 Men are used to being outnumbered by women in university, the modelling world and cheerleader squads – but the police?
The last thing you'd expect your first day at police cadet school is to find out that football has been cancelled as an extracurricular activity and the gents is now just a single cubicle.
Well, something similar has happened at Brøndby Police Academy recently.
On May 25 a class of new police officers will graduate with a female majority – the first time in Danish history, in fact!
Rising number of women enrolling
Of the 22 students in the 3rd semester class PBU3-21-4-02, 12 are women, according to a release from the Rigspolitet national police force. 
It is, of course, unusual and not reflective of the national numbers, but there are signs that the gender balance is becoming more even.
Up until 2018, women only made up a quarter of the recruits admitted to training, but that number has been climbing fast of late: from 24.4 percent in 2018 to 31.2 percent last year.
The percentage of police chiefs who are women has also been rising: from 5.8 to 7.7 percent over the same period.
A less harsh tone in the classroom
Their teacher Grethe Bach Pedersen, who has 22 years of experience as a trainer, was initially concerned that having more women in the class might be a bad thing.
"I must admit that I first thought: 'Oh, no, it will be like a hen house with lots of cliques and slyness'," she said. 
But the contrary has been true, as the gender balance has had a very positive effect. The gruff tone, typical of a male-dominated classroom, has been replaced by a more positive atmosphere geared towards hard work, structure and inclusiveness – and absolutely no cliques.
"There is respect and an inclusiveness, and no-one is left out. Sometimes the men do something by themselves in their free time, which I can easily understand, but so do the women," added Pedersen.
A better work ethic than men?
Two of the students, Emilie, 23, and Martin, 27, shared their experiences with the Rigspolitet reporter. 
"Maybe I'm a bit biased, but it's also an experience I have had on previous school courses: I generally think that we women are better at receiving classroom instruction and have a higher work ethic than men. We prepared and hardworking. Because we are so many women here in the class, there has been an expectation that we are all well prepared, and that is super good," said Emilie.
Martin is not so sure. He thinks the class has more benefited from their recent internships, which have enabled the class to "see something in one another that we might not have been able to before".
Furthermore, both attribute the excellent learning environment to their teacher, agreeing that "Grethe is probably the most important factor in why we are so happy with our class. She is razor sharp and good at bringing us together as a unit. Her enthusiasm is contagious and motivates us."