News
International Round-Up: Denmark hits vaccine donation milestone, but it hasn't been easy!
---
This article is more than 1 year old.
Elsewhere, the world is hardly a cakewalk right now, and the Foreign Ministry has been busy making tough calls that ultimately condemn nations such as Russia, Afghanistan and Israel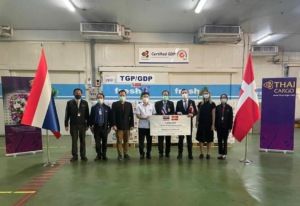 With a donation of more than 1.2 million COVID-19 vaccines to Thailand, Denmark has fulfilled its goal of donating 10 million vaccines worldwide.
The 1,266,000 Moderna-Spikevax vaccines arrived in Thailand last Thursday. According to the health minister, Magnus Heunicke, Denmark will continue its efforts to find recipient countries for its excess doses.
Finding countries to take vaccines becoming a challenge
Despite this success, efforts to donate excess vaccines to developing countries are becoming increasingly difficult. Earlier this month, Danish health officials said that 1.1 million expiring doses would have to be discarded as efforts to donate them to developing countries had failed.
According to Statens Serum Institut, the difficulty in finding recipients is a result of declining demand, an insufficient rollout capacity, and vaccine hesitancy among developing countries.
---
Israeli settlements called barrier to peace
Denmark has signed a declaration calling on Israel to halt its construction of settlements in the West Bank. The declaration, signed by 15 European countries in all, contends that Israeli settlements are a violation of international law and a barrier to lasting peace. Along with Denmark, the other signatories were: France, Belgium, Finland, Poland, Germany, Greece, Ireland, Italy, Luxembourg, Malta, the Netherlands, Norway, Spain and Sweden.
Talks with China come up short
The Danish foreign minister, Jeppe Kofod, has talked on the phone with the Chinese foreign minister, Wang Yi. The talks, which took place as a follow-up to a meeting between the two ministers in China in November 2021, centred on the War in Ukraine. Kofod called on Beijing to use its influence in Moscow to help bring the war to an end. Yi, while calling for a peaceful resolution to the conflict, emphasised Chinese neutrality.
Worries mount over women's and girls' rights in Afghanistan
In a joint statement, the foreign minister, Jeppe Kofod, has called on the Taliban to reconsider restrictions on women's and girls' rights in Afghanistan. He was joined by the foreign ministers of Australia, Canada, Denmark, Finland, Germany, Italy, Japan, the Republic of Korea, the Netherlands, New Zealand, Norway, Spain, Sweden, the United Kingdom and the United States.
Denmark and Germany to increase co-operation on climate change
In Berlin, the foreign minister, Jeppe Kofod, recently met with his German counterpart Annalena Baerbock to discuss the strengthening of Danish-German co-operation on climate change and green energy. The meeting also dealt with links between climate policy and security policy – especially strategies to reduce German dependence on Russian oil and gas through renewable energy development.
Russia absent at Council of Europe meeting where its actions are condemned
The foreign minister, Jeppe Kofod, recently attended the annual meeting of the foreign ministers of the Council of Europe. With Russia having vacated its seat on the council, talks were dominated by the War in Ukraine. Kofod emphasised the need to support efforts to document Russian human rights violations and provide financial support to the Ukrainian resistance.
Growing humanitarian crisis in the Horn of Africa
With the Horn of Africa facing the prospect of its worst drought in 40 years, Denmark has contributed 140 million kroner to UN and other humanitarian aid programs. The money comes as 17 million people in Kenya, Somalia and Ethiopia are experiencing food shortages, and 7 million children under the age of five are at risk of malnutrition.
Trump's ambassador to Denmark flops in US Senate race
Carla Sands, who served as the US ambassador to Denmark under President Trump, has been beaten in a primary election in the state of Pennsylvania. Earning just under 6 percent of the vote, Sands trailed three of her Republican party colleagues. A recount has now begun to determine which of the two leading contenders – Dave McCormick and Mehmet Oz – will be the party's candidate in November's midterm elections.
Danish citizen sentenced to death in Nigeria
A Danish citizen has been sentenced to death by a court in Nigeria after being found guilty of suffocating his wife and daughter in their shared home in Lagos in April 2018. Peter Nielsen denies guilt, and the Danish and EU authorities have issued a statement against the death penalty in response to the judgment. There are currently around 3,000 prisoners on death row in Nigeria, but the country has not executed the death penalty for several years, leading many legal experts to say the execution is unlikely to take place.
EU improves trade terms for Ukrainian exports
The EU has implemented a one-year freeze on tariffs and tariff quotas for goods imported from Ukraine. The foreign minister, Jeppe Kofod, has declared Denmark's support for the decision, calling it a necessary measure to protect the Ukrainian economy and send a message to Russia about the EU's willingness to support Ukraine.
Danish Foreign Ministry cutting back foreign property ownership
The Foreign Ministry has made plans to offload a number of its residences in New York, including the chief residency of the Danish UN mission in the city. The home reportedly has a price tag of 52 million kroner, and the proceeds from the sale will go the Danish treasury. State properties in Tanzania and Argentina will also be sold, as Danish embassies in the countries are closing.