News
Danes warned about complacency in today's EU reservation referendum
---
This article is more than 1 year old.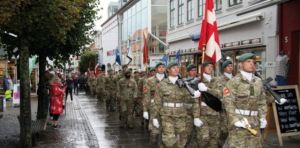 Voting stations opened across Denmark at 08:00 this morning for the EU reservation referendum.
One crucial question will greet voters: "Do you vote 'yes' or 'no' for Denmark to participate in European co-operation on security and defence by abolishing the EU defence reservation?"
Polls close at 20:00.
READ MORE: Danes to vote in June 1 referendum on 'historic' rise in military spending
Enhedslisten still hopeful of an upset
With a little less than 12 hours to cast their vote, some politicians are still hopeful they can change the minds of many citizens. 
Among those taking to the streets for some last-minute canvassing this morning was Mai Villadsen, an MP for Enhedslisten, one of just three elected parties that supports maintaining the opt-out that Denmark has held since 1993.
"If you believe the polls, then it will take something close to a miracle, but the polls have been wrong before, so I still have hope," she told DR.
"We have seen before that many doubters in these referendums have ended up voting 'no' because they were worried about what they were getting into. Of course, I hope that will happen today."
The other two major parties in favour of maintaining the opt-out are Dansk Folkeparti and Nye Borgelige, and in general it is believed that blue bloc voters support their cause more than red bloc voters.
READ MORE: Danes overwhelmingly in favour of lifting Danish Defence Reservation
Many might not vote due to 'certainty'
While recent polls and the bookmakers strongly agree that the reservation will be comfortably abolished today, Roger Buch, an election researcher at the Danish School of Media and Journalism, is not so sure.
He warns that a great number of voters can become complacent when a vote looks like a one-horse race.
"If it seems to be a clear 'yes', it could mean that people who want to vote 'yes' think it has already been won and that they therefore do not have to vote," he told DR.
"On the contrary, it can also have a mobilising effect when people who want to vote 'no' see that it is leaning in that direction."
The defence reservation is one of four EU reservations currently held by Denmark. The vote is only open to citizens of the country, so the absolute majority of foreigners can't vote.