News
Culture Round-Up: Two-thirds of printed newspaper subscribers are pensioners
---
This article is more than 1 year old.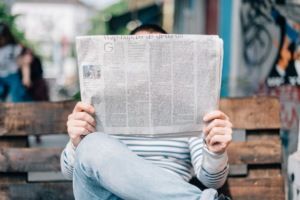 Just 14 percent of adults in Denmark (700,000 people in total) have a subscription to a printed newspaper, compared to 11 percent who subscribe to an online newspaper, according to Kulturvaneundersøgelsen, the cultural habits survey covering the first quarter of 2022. Some 6 percent subscribe to both.
The results indicate it is only a matter of time before digital news subscriptions become more popular, as most print readers are over the age of 55.
Overwhelmingly read by the retired
Among the 16-24 age bracket, only 6 percent have a subscription to either, compared to 50 percent of those aged 74+.
Some two-thirds of all printed newspaper subscribers are 64+, four-fifths are 55+, and one-eleventh are under 45.
With online newspapers, two-fifths are 55+ and two-fifths are under 45.
Rapidly changing media consumption habits
Once retail sales are factored in, it emerges that 25 percent of the population read a daily printed newspaper, compared to 31 percent in 2018 and 60 percent in 2012.
Among the other findings, it emerges that 17 percent of adults read foreign newspapers (printed and online), three-quarters watch the news on television, almost half get their news from free newspapers or websites, 45 percent listen to the radio or podcasts, and two-fifths regularly get news via social media.
---
New media deal in place with focus on democracy and embracing the digital age
Thanks to support from all of its red bloc allies, the government has unveiled a new 2022-25 media agreement that places democracy at the forefront, as well as embracing the digital age. "The agreement must help to ensure strong independent media in a digital media reality; strengthen local and regional journalism; create a significant boost for the Danish public service, audio, television and film; and adapt media responsibility to a digital age," explained the government. Among the highlights are a new 6 percent culture tax for streaming services; greater democratic control of the tech giants and an updated framework for media responsibility so the public are better protected on social media; more support for startups, media development and innovative business development; more quality content for children and young people; more support for district magazines and weekly newspapers; and an extra 100 million kroner a year for DR, whose chair Marianne Bedsted promised would give the broadcaster "a foundation to work further with the core task of bringing Danes together on the important things: our democracy, our culture and the Danish communities."
Cannes triumphs for trio of films with Danish involvement
'Holy Spider', a home-produced film set in Iran about a serial killer that was helmed by Danish-Iranian director Ali Abbasi, was among the winners at the Cannes Festival, as its star Tsar Amir Ebrahimi was honored with the award for best female actress. It is the fifth acting award won by a Danish film since 2000, following the successes of Björk for 'Dancer in the Dark' (2000), Charlotte Gainsbourg for 'Antichrist' (2009), Kirsten Dunst for 'Melancholia' (2011) and Mads Mikkelsen for 'Jagten' (2012). Meanwhile, two Swedish films co-produced by Danes also enjoyed success. 'Triangle of Sadness' won the Palme D'or, while 'Boy from Heaven' won the award for best script. Per Damgaard Hansen from Coproduction Office and Monica Hellström and Signe Byrge Sørensen from Final Cut for Real were the respective co-producers. All three films were made with support from the Danish Film Institute.
Copenhagen Cooking named the second best food festival in Europe
Copenhagen Cooking, the ten-day event that traditionally takes over the capital every year over the last two weeks of August, has been proclaimed the second best summer food festival in Europe in a ranking compiled by the global travel site Big 7 Travel. The Aarhus Food Festival placed 16th. Criteria for selection included must-try dishes, festival history and attendance numbers. "This is where you get the very best of Copenhagen gastronomy," purred Big 7 Travel about Copenhagen Cooking. "The theme this year (Aug 19-28) is 'Breaking with New', which ties in nicely with the city's reputation as pioneers in food and innovative thinking." It is also a fan of the Aarhus Food Festival (Sep 2-4): "It's a celebration of all things food – particularly Nordic flavours, innovations, and dishes. Come along to get involved in sausage making, getting creative with cabbage, bread making, and schnapps seasoning!"
New company aims to improve presentation skills of academics – particularly scientists
Few comedians resist the chance to lampoon the science community and their unsparkling presentation skills. From Kevin's teacher in 'The Wonder Years' to the boffins on BBC2's Open University, they take the brown suit, copious amounts of facial hair, 1970s approach. But now in Copenhagen, two well established Australian actors are dragging them kicking and screaming into the 21st century. Kevin Kiernan-Molloy, who is well known to city audiences thanks to his roles in the Crazy Christmas Cabaret and Why Not Theatre Company productions, and Michael Worthman – one of the stars of the recent That Theatre Company drama 'Extremophiles' – have launched Resonate with the ambition of teaching acting skills and techniques to non-actors (mostly aimed at science and tech companies) who want to improve their presentation skills. Find out more at resonatecph.com.
Nikolaj Coster-Waldau's daughters in sexually explicit new DR show
DR has a potentially landmark series making its debut on Friday that addresses many issues relating to sexuality and boundaries. 'Salsa' – which stars Safina and Filippa, the daughters of Game of Thrones star Nikolaj Coster-Waldau – could end up being one of the most talked-about series of the year, not least due to its explicit sex scenes. Lea Helmuth, the 'intimate co-ordinator' on the series, told DR it was important that the less experienced actors were able to "distance themselves from their private lives". The plot of the show revolves around two young women who use a sex app to evaluate their partners' performance in bed. The first three episodes will be available from DRTV at 06:00 tomorrow morning.
Go-ahead to redevelop tunnel company's workshop into huge Nordhavn culture and business centre
City Hall has approved plans for a new centre for business, culture and innovation in Nordhavn that will together be realised by By & Havn, NREP and Unionkul. Named 'The Tunnel Factory', building work will now commence on renovating a huge 1990s hall belonging to Øresund Tunnel Contractors, which measures 261 by 125 metres. It is expected the 27 metre-high hall will be divided into three floors, and that the total floor space will be 70,000 sqm. Some 4,5000 sqm will be used to build 400 new homes. The rest will be accounted for by a concert house, culture house, offices, restaurants, rehearsal rooms and studios. The completion date is 2025.
Father John Misty and Tove Lo among stars to confirm Copenhagen concerts
US indie star Father John Misty has confirmed he will be playing at KB Hallen on 2 March 2023. Tickets costs 425 kroner and are available from billetlugen.dk. Other musicians to recently announce concerts in Denmark include: Swedish dance music star Tove Lo (Nov 18; Store Vega; 330kr, ticketmaster.dk); US rapper Zack Fox (Aug 19; Lille Vega; 200kr, ticketmaster.dk), British youtuber and author Daniel Howell (13 May 2023; DR Koncerthuset; 295kr, koncerthuset.dk), comedian/actress Fortune Feimster (September 26; DR Koncerthuset; 295kr, koncerthuset.dk) and author ALOK (July 17; DR Koncerthuset; 295kr, koncerthuset.dk).