News
International Round-Up: Refugees struggle to find work in Denmark, but fare better in Norway and Sweden
---
This article is more than 1 year old.
Elsewhere, Denmark is under fire for its involuntary IUD program in Greenland last century and agreements are made with the US and Iceland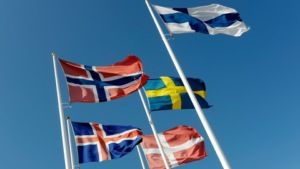 Refugees in Denmark may face a tougher time when it comes to finding work, at least in comparison to those in neighboring countries, according to a new report by the Nordic Council of Ministers and the Norwegian Institute for Urban and Regional Research.
The study, which examined how Nordic integration policies affect the entry of refugees into the labour market, considered a total of 280,000 adult refugees who settled in Denmark, Norway and Sweden between 2008 and 2019.
Denmark lagging in refugee employment and education
According to the study, refugees are more likely to find work in Sweden or Norway than in Denmark.
The report also shows that refugees in Sweden and Norway are paid better than in Denmark, but that refugees in all three countries earn less than the average income. 
Denmark may also behind in education, according to the study's findings.
While Sweden and Norway have relatively high education enrollment for refugees during the first years in the country,  Denmark has very few refugees enrolled in education during their initial years.
Instead, many refugees in Denmark are involved in unpaid job training.
---
Greenland seeking justice for forced birth control practices of past
The Greenlandic parliament has unanimously adopted a bill that asks Denmark to investigate its pregnancy prevention practices of the mid-to-late 20th century. From the 1960s and up until 1975, thousands of contraceptive devices were placed in women and girls in Greenland in an effort to curb population growth. The practice has been criticised as a violation of human rights and many women alive today remain traumatised by their experiences.
EU minimum wage agreement sealed, despite Danish opposition
The EU Parliament and European Council have reached an agreement to ensure minimum wages are adequate to ensure a decent standard of living throughout the union. Denmark and Sweden have opposed the directive, viewing the measure as an unnecessary interference in its collective bargaining-based system of wage determination. Nicolas Schmit, the European Commissioner for Jobs and Social Rights, has said that the Denmark has no reason to worry about the agreement affecting the country's way of doing things.
Denmark working with Iceland to keep eyes on the Arctic
The Danish defense minister, Morten Bødskov, has signed a letter of intent with the Icelandic foreign minister to exchange data and strengthen surveillance in the Arctic. Bødskov said that the "extraordinary situation of war in Europe" has made surveillance in the Arctic an important part of the Danish armed forces' work. 
Danish foreign minister meets with US Secretary of State
Jeppe Kofod, the Danish foreign minister, traveled to the US to meet with Secretary of State Antony Blinken on June 2-3. Among other things, the two officials discussed the situation in Ukraine, NATO expansion and strengthened Danish-American co-operation. During his visit, Kofod also met with members of the White House's National Security Council, think tanks, and representatives of Danish companies in the US.
Denmark and US to work together on quantum technology
Denmark and the US have signed a joint statement on co-operation in Quantum Information Science and Technology (QIST). Quantum technologies have applications in health, communications, transportation, and renewable energy technologies and according to Lone Dencker Wisborg, Denmark's ambassador to the US, "it is crucial that democratic governments take the lead in ensuring the responsible development and use of quantum technologies.
Charges brought against British man for fatal ship collision
A British citizen has been charged with negligent manslaughter for his role in an at-sea collision that cost two Danish sailors their lives. The collision, which took place in December of last year, occurred in the Baltic Sea between Bornholm and the Swedish city of Ystad. Copenhagen Police allege that the 30-year-old was under the influence of alcohol at the time of the incident and sailed off after the collision without providing assistance to the Danish crew. The case will be heard in the City Court in Copenhagen on June 16, with a verdict expected on June 23.
Plans announced for first Faroese prison
Danish PM Mette Frederiksen has signed a letter of intent with Faroese PM Bárður á Steig Nielsen to develop a new prison there. The project is meant to improve prison conditions in the Faroe Islands and is expected to be completed by 2030. It will allow Faroese prisoners to serve their sentences in the Faroe Islands, rather than in Denmark.
Parliament supports Swedish and Finnish NATO membership
The Danish parliament has announced its full support for the NATO aspirations of Sweden and Finland. Jeppe Kofod, the Danish foreign minister, called it "a historic day for Danish foreign policy."  Finland and Sweden formally applied to join NATO in May. Some NATO officials have said that the  countries could be granted official membership in mere weeks, while others say the process could take up to a year.
EU tells Apple to fall in line with common charging port
The EU will require all new mobile phones, tablets and cameras sold within its borders to have a common charging port by the fall of 2024. The provisional agreement will force technology companies such as Apple to join other major smartphone makers who have widely adopted USB-C as a universal port in recent years. According to the European Commission, the measure has the potential to save consumers up to 250 million euros a year.