News
Venstre's "lighthouse" Uffe Ellemann-Jensen dead at 80
---
This article is more than 1 year old.
Tributes flood him following the news the long-serving foreign minister and Venstre leader has succumbed to cancer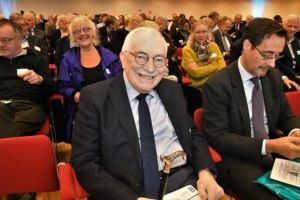 Tributes have been flooding in from across the political spectrum following the confirmation yesterday morning that Uffe Ellemann-Jensen, one of Denmark's true heavyweight politicians of the late 20th century, has died at the age of 80.
Uffe, the father of current Venstre party chair Jakob Ellemann-Jensen, led the party for 14 years until 1998, but despite serving as foreign minister from 1982 to 1993, he never made the final step up to the premiership as many expected.
Last year it was reported that a bout of the coronavirus very nearly killed Uffe, but in the end cancer was responsible – a disease he had been battling for several years.
On Thursday, another of his children who has served as a minister, Karen, left the political festival Folkemødet with the explanation that her father's condition had worsened.
A lighthouse among politiciansc
PM Mette Frederiksen and two-time Venstre premier Lars Løkke Rasmussen have led the tributes. The latter described Uffe as his biggest inspiration.
"Uffe was a lighthouse who many in my generation navigated to when we were young. He was the reason why I myself chose to become politically active with the Venstre party," said Ramussen.
"He always played it smart at a time when Venstre was a very, very small party that did not have a grip in the cities at all. So I owe Uffe everything – and there are a lot of people in my generation who do."
Frederiksen praised his wit, warmth and great courage: "Now that the war is back on the European continent, his voice for a strong, secure and democratic Europe seems clearer than ever."
"He lived a long and fantastic life in which he both experienced and influenced more than most," added his son, Venstre leader Jakob, via Facebook.
"I've been lucky to have a father like him. He was busy when I was a kid, but he was always a presence when he was home."
More than a footnote
Ellemann-Jensen is best remembered for his long stint as foreign minister from 1982 to 1993 as part of the Konservative-led Poul Schlüter Administration.
His tenure as foreign minister coincided with many historic developments on the international stage, including the Cold War, fall of the Berlin Wall, collapse of the Soviet Union and when Denmark voted against getting the Euro.
During this time, Denmark became embroiled in the 'Footnote' period when a Parliament majority, led by Anker Jørgensen (Socialdemokraterne), forced the Schlüter government to convey a foreign policy that it did not agree with.
Countless times, and much to his consternation (as well as that of the Reagan administration), Ellemann-Jensen was dispatched to NATO meetings with footnotes illustrating opposition to various points in his back pocket.
Parliament issued Ellemann-Jensen around 80 'noses' – its way of expressing discontent with a fellow politician – because the majority didn't feel that he conveyed the footnotes loyally.
Ellemann-Jensen referred to these as being 'honour noses', as he felt the footnotes represented Denmark absconding from its NATO responsibilities.
In the Baltic Region, however, he will always be fondly remembered.
Under his foreign affairs stewardship, Denmark became the first country to officially establish diplomatic ties with Latvia, Lithuania and Estonia as the Soviet Union unraveled in August 1991.
Inches from becoming PM
Despite his political prowess and popularity, he never did become PM, but he came agonisingly close.
In fact, no Danish politician has ever come as close to becoming PM without managing to do so.
In the General Election in 1998, Ellemann-Jensen was one single mandate from becoming PM and he famously since stated: "If only 87 voters on the Faroe Islands had voted differently."
It ended up being the last time he ran for election as the head of Venstre.