News
2022 Tour de France: There's no race like home!
---
This article is more than 1 year old.
The Tour de France is a globally celebrated sporting and French cultural event. Here's what the French in Denmark have to say about the race coming to their host country
It's one of the most iconic sporting events in the world. When it comes to cycling, nothing else comes close. It's the Tour de France and it's here in Denmark.
What started as a marketing stunt for a French newspaper is now an event that some say transcends sport. It's a celebration of history, a symbol of unity and an unassailable source of national pride. It's a testament to the indomitability of the human spirit.
For many French living in Denmark, it's also about the memories. Of the caravan – the string of decorated vehicles trailing the peloton and tossing caps and other trinkets to roadside crowds. Of the rush as a throng of cyclists race past faster than one can comprehend. Of an old French man sitting in front of his television on an early summer afternoon.
A historic first
This year, when the Grand Départ takes place in Copenhagen on July 1, it will be the northernmost start for the prestigious cycling race. It will also be the first time that the Tour de France has visited Denmark in its 118-year history.
Over its entire 23-day duration, riders will complete 21 one-day stages covering approximately 3,500 kilometres. The race will have legs not only in Denmark, but also in Belgium, Switzerland and of course France.
In France, in Denmark, across Europe, and around the world, people will be tuning in. In recent years, more than 60 percent of people in France have watched at least some of the Tour de France on television, as well as around half of all people in Denmark and – according to the race's organisers – billions more around the globe.
The French in Denmark
There are 6,900 French people living in Denmark, according to Danmarks Statistik. Most live in the major cities, and over half are between 20 and 39 years old. For at least some of these French living here in Denmark, the Tour's arrival in the country they now call home is reason to celebrate.
CPH POST spoke to six French expats now living in the country's capital: Vincent Bourquin, Alexandre Garioud, Sébastien Conan, Magali Michaut, Louis-Marie Richard, and Thomas Guillo.
Coming from all over France, their relationships with their country's iconic cycling race are different, but they all have something to say.
---
Vincent Bourquin
Age: 27
Hometown: Besançon
Profession: Content manager
Length of time in Denmark: 1 year
All-time fav cyclist: Bernard Hinault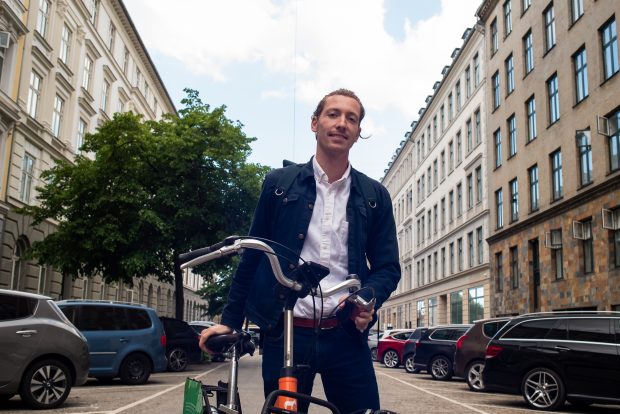 Vincent Bourquin hails from Besançon, a city in France's historic eastern region of Burgundy, where "we have good cheese, good ski mountains, and good cyclists." Since spending a few stressful years in the French startup scene, he has lived in Helsinki, Stockholm and, for the past year, Copenhagen, where he works as a content manager for the popular bike sharing service Donkey Republic. He is also the man behind L'instant nordique, a French-language blog dedicated to travel and culture in Scandinavia. The Tour de France coming to Denmark represents a culmination of Bourquin's French heritage, love of Denmark and passion for sport.
What's your history with the Tour?
I have really good memories of going with my family, waiting on the roads for a couple of hours with friends, drinking, eating, playing football, hanging decorations, painting the road and waiting for the caravan to come.
What does the Tour mean to you?
It's a really social event. You show up there to see the cyclists, but you also go there to feel the atmosphere. There's Dutch people, German people, people from all over the world, in the middle of nowhere in France. It's so great. So, I have fantastic memories and, for me, I would say that the Tour de France really begins the summer season. As long as I haven't received my shot of the Tour de France, I don't feel the summer has started yet.
Why is the Tour worth watching even for those who aren't fans of cycling?
It's not only about the sport, but usually in the French TV programs, they also highlight the villages, and they talk about the culture. So, you really get to know your own country by just looking at this event. It's a really nice way to feel and understand how diverse France is, because you're jumping from region to region, and you say: "Oh yeah, I've never been to this place. I'm going to write it down and put it on my bucket list for next year." It's super inspiring.
What does it mean to have the Tour come to you here in Denmark?
Exciting is too small a word, compared to how I feel inside. I've been counting the days for six months. I know that sometimes having expectations that high can lead to disappointment, but I know that I won't be disappointed by the Tour de France.
What do you think the Tour coming here means to the Danish people?
When you look at how the Danish people are talking about the Tour de France, and how they support their teams – it could be football, it could be handball, it could be other things – they're really passionate people, in a good way! So, I know they will welcome so greatly the Tour de France Grand Depart in Copenhagen, but also all the way during the three days here in Denmark. I'm 100 percent that the roads will be packed!
---
Alexandre Garioud
Age: 32
Hometown: Valencin
Profession: Doctor
Length of time in Denmark: 12 years
All-time fav cyclist: Bernard Hinault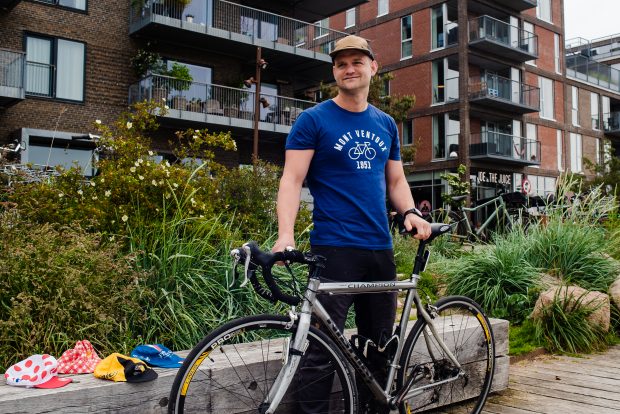 One of Alexandre Garioud's earliest memories of the Tour de France is the victory of legendary Danish cyclist Bjarne Riis in 1996. And in fact, his ties to both Denmark and the Tour have always been strong. With a Danish mother and a French father, he grew up in Valencin, a small commune in southeastern France. He spent many of his summers visiting Denmark and watching the Tour on television or making his way to the Alps to see the race in person. Now, after living in Denmark for 12 years, he is married, working as a search and rescue/intensive care physician, and raising his 6-month-old daughter.
What's your history with the Tour?
I've always been a big fan and I became an even bigger fan in my teenage years and in my early 20s. Every summer, I went to see the tour in the Alps, and every year it became bigger. We ended up partying for two days even before the Tour arrived!
What does it mean to have the Tour come to you here in Denmark?
The tour coming to Denmark is amazing for me. Ever since I finished my studies, I have been unable to be in France for the summer for professional reasons, so having the tour coming to me is going to be great! And also, it's a great gift for the Danes!
How will you follow the Tour this year?
We're going to be on the road for three days, starting in Copenhagen, then going to Roskilde and Nyborg, and finally to Jutland. This may be a once-in-a-lifetime opportunity for me to experience the tour in Denmark!
What will it mean to you to have your daughter with you for the Tour this year?
I want to stand alongside the road where they are going to ride by, hold my daughter and try to transmit that passion. And trust me, it won't be the last time that she'll see the tour. We'll go to see it again because these guys are amazing! The amount of dedication and willpower and abnegation of pain you need – I think that is something everybody can learn during life. And these are values I want to transmit to her: the pure joy of the tour. When they ride by up a hill: that thrill you get; that adrenaline kick – I would love to share that with her.
How will following the Tour be different with a baby?
We'll just take it as it comes, but of course it will be different. Beforehand I just needed a sleeping bag and a pair of underwear… and beers! Now you need diapers, the bags, the changing stuff. It will be more challenging, but we want to make it work. We are just so happy. It'll be fine. I'm not worried.
Who are you rooting for?
I really hope that at least one Dane manages to win a stage. That would be awesome for Danish people and Danish cycling fans. And there's some good contenders!
---
Sébastien Conan
Age: 42
Hometown: Vannes
Profession: Mechanic
Length of time in Denmark: 8 years
All-time fav cyclist: Bernard Hinault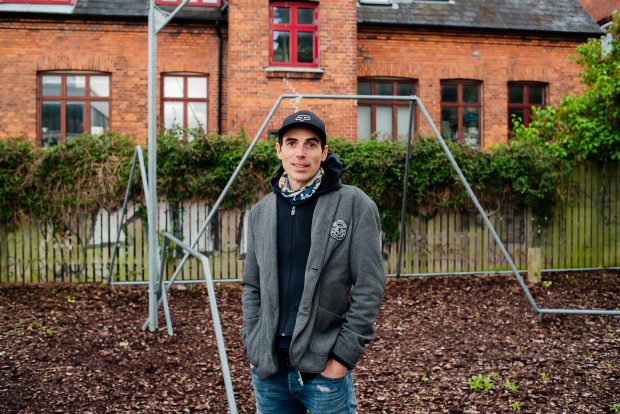 Of the eight years that Sébastien Conan has lived in Denmark, most were spent working in a job he had grown tired of. Last year, he made a change, leaving the IT field to begin working as a bike mechanic in Copenhagen – an ambition he had held since the mid-90s. His passion for cycling predated even that dream, instilled in him by his father, who took Conan every year to see the Tour de Bretagne – the famous cycling race in the French region where he grew up. Today, working in a job where he appreciates the simple satisfaction of putting a smile on a customer's face, Conan is thrilled by the arrival of the Tour de France in Denmark, and he is eager to share the experience with his four-year-old son.
What does the Tour mean to you?
It's the yellow jersey, of course. It's my passion. It's my upbringing. It's my roots. It's really part of me. It's about history. It's about the challenge. It's about some people who can push themselves to do this really crazy race. It's just amazing.
What are your fondest memories of the Tour?
I remember the old days – the 1980s and the 90s – when what we call the caravan came about. They used to have a custom car, and they gave away a lot of stuff. And when you're a child, you don't really care about the cycling to be honest. You just want to be there on the side of the road to get a cap, t-shirt, candy, chocolates, and all those kinds of things you brought home and were so proud of as a child.
What does it mean to have the Tour come to you here in Denmark?
I'm really happy, and I feel privileged to be in Denmark right now … this is the one time that they are coming to Denmark, so I just want to see everything I can. It's going to be amazing, and I really can't wait! It's what you love and it's coming to you, and it's amazing. How can you expect that? It's just a huge opportunity.
What will it mean to you to have your son with you for the Tour this year?
Since he was a child, I've tried to push him on the bike … on the Friday, the first of July, when they begin the Tour in Copenhagen, my girlfriend and I will take him around to show him how fun it is. I want to share with him the atmosphere.
What does it mean to have a job related to your passion for cycling?
I'm doing something more simple, but what I learned in Denmark is that sometimes you need to be happy with what you do instead of just working for the money. I've been working too much for the money and not thinking about happiness. And now, I prefer happiness.
So Denmark's provided that?
I think in Denmark the way they think is that it's not about what job you do, it's about who you are. As long as you're a good person, it doesn't really matter what you do. It's just about who you are deep down.
---
Magali Michaut
Age: 40
Hometown: Cergy-Pontoise
Profession: Scientist
Length of time in Denmark: 5 years
All-time fav cyclist: No idea!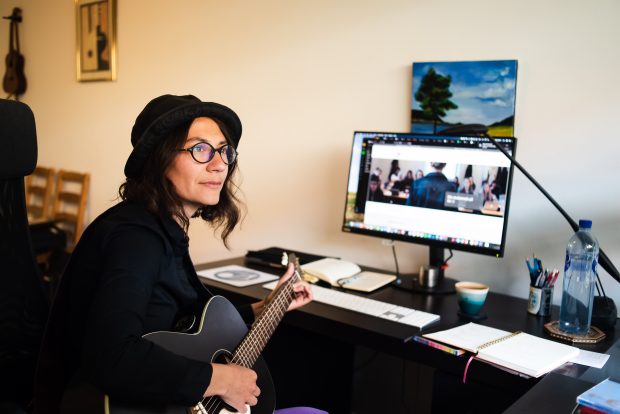 Magali Michaut, the founder of the association Les Chansons Françaises au Danemark, wears many hats. Besides her signature black pork-pie, she dons the cap of singer-songwriter, multi-instrumentalist and PhD-holding bioinformatics specialist. She grew up in the suburbs of Paris and has since lived in the UK, Canada and the Netherlands. She does not consider herself a cycling fan, but she is passionate about bringing a bit of French culture to her new home. Magali, who recently released her first album, 'Impressionniste', will be playing French folk songs at Fælledgården when the tour kicks off on July 1.
What's your history with the Tour?
I generally don't follow the Tour de France very much. Though there are quite a lot of people in France following the cycling or the landscapes or the visiting friends aspect, my family was never really too much into it.
So, what memories of the Tour do you have?
Some years ago, I was living in Palaiseau in the south of Paris. My boyfriend at the time was very interested in the Tour de France, and the Tour was going on not very far from our place, so we biked for maybe half an hour and waited for it to pass. We saw them for five minutes and then they were gone, but it was really fun!
As someone who isn't a big fan of the Tour, is this year any different?
There's the expat factor. In a way, when living abroad, I sometimes get a little more enthusiastic about French-related stuff. I think it is similar with the Tour de France. It is part of the French culture and, now being in Copenhagen, it's part of both. I live in Copenhagen, it starts in Copenhagen, and it's French-related, so it's nice to be part of it and share in the event and the excitement.
What's the deal with this concert you're playing on the first day of the Tour?
I was contacted by Fælledgården. It's a nursing home in Copenhagen. I'm going to play there on July 1 for the people at the home who cannot go to the start. I will play French songs so they can appreciate some French culture and feel part of the fun.
Is Denmark home?
It's a very interesting question. It's been more than 15 years that I've been abroad, and I really have several homes. My family sometimes notice that I say "we" when I speak with them about Denmark, so I can say "we" about Denmark or Danes or what happens in Denmark, and I can say "we" about what happens in France. So, for me, it's really like I have several homes. It's just different types of connection, but when I come back here to Copenhagen, I come back home.
---
Louis-Marie Richard
Age: 25
Hometown: Rennes
Profession: Dentist
Length of time in Denmark: 6 months
All-time fav cyclist: Lance Armstrong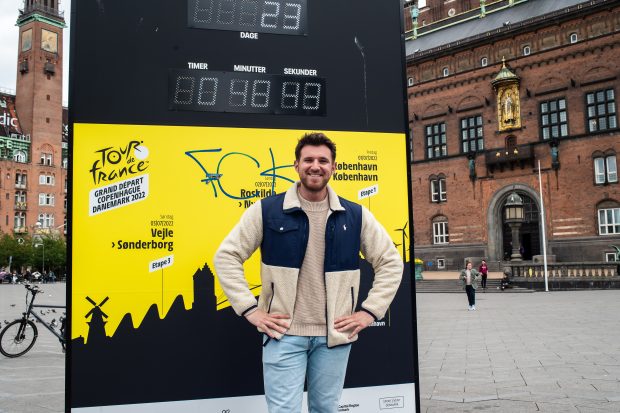 Louis-Marie Richard moved to Denmark for love, but he is staying for the people, work-life balance, and fulfilment of a years-long dream to live in Scandinavia. Born in Brittany, the northwestern region of France known for its cider, sailing and impressive architecture, he moved to Denmark just a few months ago and is now working as a dentist. He does not consider himself a diehard fan of cycling or the Tour – he is one of those to associate it with an old French man napping in front of the television – but he has fond memories of the famous race, and he is eagerly awaiting its arrival in Copenhagen.
What's your history with the Tour?
I feel like I have always grown up with the Tour de France every summer. My father didn't really watch it, but I spent most of my holidays at my grandparents' place, and that was what my grandfather used to watch every afternoon.
Have you ever seen the Tour in person?
I went one day to the Tour de France in Brittany, so I went with my grandfather, and I remember waiting for five hours just to see ten bikes, driving so fast. It was just ten seconds, but I was happy with that.
Have you continued to watch the Tour as you've grown older?
When I was a teenager, I wasn't really interested in it. I kind of stopped watching it until five years ago, when I went to Norway for an internship and the people there were so fond of the Tour de France. I was off at three every day, and I used to just watch the Tour de France and take a nap, and it reminded me of a lot of memories, so then, afterwards, I was very happy to spend the following summers at my grandparents' place watching the Tour de France with my grandfather. It was kind of like a new beginning.
What other memories do you have related to the Tour de France?
During the summer holidays, we went to Mont Ventoux – which is one of the most famous stages of the Tour de France – and we tried to climb the hill on our bicycles, and that was a very good memory, because it was so fucking hard! And when you see the people do it, it looks quite easy.
As someone who has only recently made the move to Denmark, what does it mean to have the Tour come here now?
I'm very proud of it. I'm proud that the Tour de France will be in Copenhagen. I'm proud to be French. Sometimes, I don't want to be French, I don't want to feel French, but when it comes to such big events, I'm very proud to be French. I'm planning to go there with the jersey of the national team, and I will try to gather some Danish friends to go there, and I'm hopefully going to meet some other French people.
---
Thomas Guillo
Hometown: Saint-Just-Saint-Rambert
Age: 22
Profession: Driver
Length of time in Denmark: 8 months
All-time favourite: Chris Froome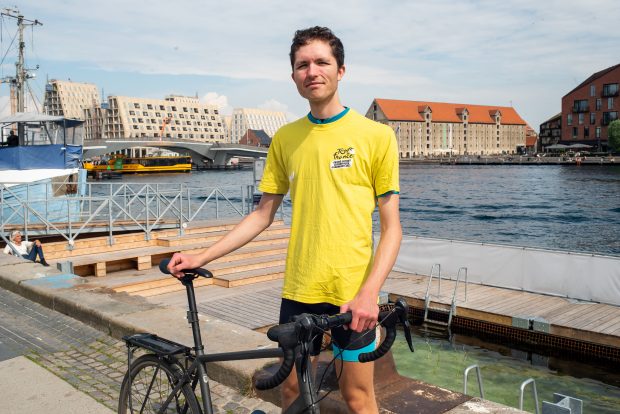 In his early years, Thomas Guillo watched the Tour de France on television to escape the scorching summer heat. When he developed a passion for cycling later in life, he identified himself as a climber, finding pleasure in the burn of an unrelenting uphill ride, and in the testing of his limits. Guillo has now been living in Copenhagen for a few months, working for a cargo bike delivery service and finding satisfaction in the country's welcoming atmosphere for cyclists. Despite coming from a town on the outskirts of Saint-Étienne, which has hosted the famous race 25 times since 1950, he will be seeing the Tour in person for only the second time in his life here in Denmark.
What's your history with the Tour?
In the summer, when it's very hot in France and you want to keep the heat outside of the home, I'd just watch the cyclists suffering in the heat on the TV.
What did you like about the Tour before you started cycling?
I really liked back then, when I was not cycling, just watching the landscapes. The commentators on the TV showed the historic sites, the beautiful landscapes … you get to see France from another perspective.
What's it like coming to Denmark as a cyclist?
One thing I noticed immediately is that it's so much safer than anywhere I've been riding before. The infrastructure is great. The people are respectful, driving well, and the cyclists are riding well as well. So, it's very impressive when you first arrive. If I tell a French person that I'm a cyclist, they will very quickly bring up the Tour de France. And then they will tell me how cyclists suck on the road, but at the same time how they enjoy being on the side of the road to see the Tour de France.
Have you seen the Tour in person?
I remember going to see the Tour de France a few years ago. I went to Le Puy-en-Velay, which is close to Sainte-Etienne. We went and watched them pass by, and that's actually the only time I went to see them physically. So, here's going to be the second time!
What does the Tour mean to you now?
I always feel connected through the memories. Everybody's been to see it at some point in their life. The fact that it's coming here is connecting me to all of the French people I know who will go to see it in France or watch it on TV. I'm not going to cry over it, but if it was cancelled, I would be a bit sad! I'm very happy that it's coming here.