Things to do
Roskilde 2022: Drew Sycamore schmoozes the crowd
---
This article is more than 1 year old.
Drew Sycamore pandered to crowd and gave a concert the concert-goers could sing a long to – ★★★★☆☆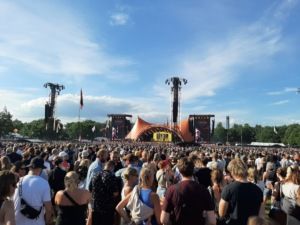 Roskilde Festival had been waiting for three years. And Wednesday the magic words were finally heard again.
'What's up Roskilde?' Drew Sycamore yelled.
She had the honour of being the first act on Roskilde Festival's iconic Orange Stage in three long years. And the first Danish woman in 37 years – the last time it happened was when Anne Linnet and the band Marquis de Sade opened in 1985.
"I take the task very seriously," she announced in a body armour that was reminiscent of Madonna in the '90s. Later she told the crowd she had dreamed of this moment since she was a little girl.
But the task at hand was a challenging one. Opening concerts at Roskilde Festival are rarely moments of musical bliss. The audience needs to get warmed up first – and that unforgiving task fell upon Drew Sycamore this year.
Schmoozing sing-along
With a glam attitude, funky band and confident stage presence she showed she has had a long build-up to this moment. Drew Sycamore has been here, there and everywhere over the last year – playing loads of concerts and having her hits on constant rotation on the radio. A fact that was seen when the huge crowd roared along on her major hits 'Take It Back', '45 Fahrenheit Girl' and 'I Wanna Be Dancing'.
Although she seemed to be in full control with a cool attitude and stylish presence, it did at times feel like she was trying to please the crowd a tad too much. When she asked the crowd "Do you like draft beer?" one got the sense she interpreted the task of opening the Orange Stage as schmoozing the concert-goers.
A slow rendition of 'Let Me Love You' by Mario – a song she says she wished she wrote – delivered the sing-a-long energy the festival-goers had been anticipatingly yearning for years. And they finally got it.