Things to do
Roskilde 2022: Alogte Oho & His Sounds of Joy woo Roskilde's Avalon audience with a masterful performance 
---
This article is more than 1 year old.
Ghanaian gospel-style funk, groove and instrumental sophistication to a sweltering evening at Roskilde Festival – ★★★★☆☆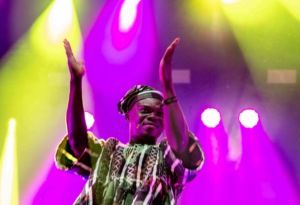 This year's Roskilde Festival, the 50th edition of the annual stalwart, means so many things – to so many different people, given the state of play in the world at present. With more changes than the mind can possibly muster impacting the return of Roskilde after its three-year imposed hiatus, this reviewer was particularly keen on hitting the ground running again.
Much can be said about this year's line-up: a hit or miss ensemble that just about made it over the line in time to please a voracious crowd whose register of emotions over the past few years has spanned every avenue imaginable. Thankfully, when it comes to Ghana's Alogte Oho, there can be little doubt as to just how emphatic, meaningful, joyous and emotionally-laden a music experience this year's guests were treated to. And yes, such were the expectations from the partisan crowd from the start but even so – few would have expected the execution of the concert would have been as masterful as it was.
A match made in heaven
Descending onto a dusty Avalon scene that was wilting in the warm swathes of summer, Alogte wasted no time in unfurling his Ghanaian Frafra gospel blend onto an audience that was eager, if not begging to be spirited away to faraway dimensions void of familiarity or purpose.
While 'gospel' connotes choir-like chants reaching unbroken crescendos, in this case, what transpired was more akin to the most melodic fusion of reggae and rich saxophone-infused, jazz-like rhythms that would have been as at home in the warmth of Ghana as they were in the endearing Danish summer.
A well-paced affair 
Starting slowly, Alogte's band sent their two female singers to the front of the stage. Their lofty chants carried the show from the get-go, chaperones between the worlds of the audience and the ways of the music on stage. Alogte himself sauntered casually on shortly afterwards, flanked by a raucous cacophony of drumbeats and instrumental brilliance. If the start was slow, what followed was a skillfully crafted build-up that upped the tempo every so often with seldom-seen verve. There were epic vocal solos that entranced the crowd temporarily and impeccable percussive forays that hearkened echoes of Tony Allen, Fela Kuti and other Afrobeat greats. While both elements, vocals as well as instrumentation, were sublime, the link between the two was on another level – dexterously pieced together by Alogte's showmanship, which was unflinchingly casual at the best of times.