News
2022 Tour de France: The Dane who became king of the mountains
---
This article is more than 1 year old.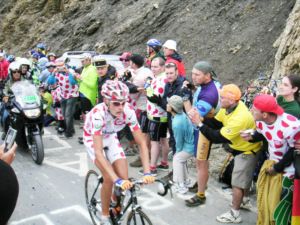 The winner of four Tour de France stages and a former mountain biking world champion, Michael Rasmussen can be counted among the legends of Danish cycling.
He also won the famed Polka Dots Jersey – the Tour de France classification awarded to the rider that gains the most points by reaching mountain summits before anyone else – in 2005 and 2006.
He remains the only Dane to ever accomplish that feat and is one of just a handful of riders to win it more than once.
The woe of 2007
He also came tantalisingly close to winning the Tour de France outright in 2007, winning two stages and looking certain to become just the second Dane in history after Bjarne Riis to win the grueling race. Back home, a riveted Denmark watched from the edge of their seats.
But with just four stages to go and holding a commanding 3-minute lead, his hopes were dashed after being suspended from the race for allegedly lying about his whereabouts earlier that summer.
To this day, Rasmussen disputes the suspension, arguing that his Dutch team at the time, Rabobank, was aware of his whereabouts.
Pedalling to this day
These days the 'Chicken from Tølløse', as he is affectionately known in Denmark, remains active in the cycling community and teaches mountain biking, sports communication and monitoring at Hald Ege efterskole, a boarding school near Viborg that is dedicated to sports.
On the side, he will cover the Tour de France for Ekstra Bladet this summer, bringing his wealth of knowledge and experience to the newspaper's readers.
CPH Post got in on the action, sitting down for a chat with the cycling legend.
---
How important is it for Denmark to host the Tour de France?
Everybody probably has their own perspective and relationship with the Tour de France in some regard. But for many it will be a once in a lifetime experience to have the biggest annual sports event passing by their house – or at least very nearby. And it's definitely an experience that nobody should miss out on.
Do you have any plans for the race?
I am covering the entire Tour de France for Ekstra Bladet newspaper. So I'll be working for 24 days straight. As a reporter it's certainly long days that's for sure. Our day usually ends with, on a good day, us sitting at a restaurant at 21:00. And on a bad day, we are passing through a drive-in McDonalds at 23:30 at night. So in that sense, the days are very long, but nevertheless if you're into cycling that's the place to be. You want to be on the Tour.
As a rider that's also where you want to be. All teams line up with their best possible eight riders in the best possible shape so that's really where you discover who the best cyclist in the world is.
Denmark seems to be brimming with talent at the moment. Is this a golden age for Danish cycling?
Yeah it's a very unique situation and it's been like that for the past four or five seasons. It certainly is the best generation ever for Danish cycling. Not only in terms of results but also in terms of the numbers. Never before has Denmark had so many riders at the World Tour level so they must really be doing something right in the Danish cycling clubs to cultivate all this talent.
Jonas Vingegaard finished runner-up last year. Do you expect him to go for the top spot this year?
No, that would be a very tall task, even though he was the prime contender last year to Pogacar. But Pogacar has been riding this year, last year and the year before for that matter, so he'll certainly be the man to beat and it will take nothing short of a miracle for Vingegaard to win the Tour. The way I see it, Pogacar is head and shoulders above everybody.
Are there any other prospective performers?
In terms of winning it all, Vingegaard is the only one to watch, but aside from him you have a handful of riders who could pull off stage wins and it's very likely that one of them will succeed. Magnus Cort won a stage last year and Søren Kragh Andersen won two, for instance. And you have other guys like Mads Pedersen who came close with a couple of second places. And Jakob Fuglsang came very close to winning a stage. There are several riders capable of doing it.
Of the three stages in Denmark, which one stands out the most to you?
Like most people, I'm looking forward to the peloton crossing the Great Belt Bridge [Storebæltsbroen], which I think will be quite spectacular. Obviously we'll need some help from the wind, but the TV images will be amazing regardless. It's quite a demanding trip down the coast from Kalundborg to Korsør to get to the bridge, and if they see headwinds there, they will have a crosswind when they traverse the bridge. It will be a very demanding day for the peloton since the wind does blow there 90 out of 100 days.
And then the time trial in Copenhagen will be a determining factor for the result of the final Tour winner because, as with every time trial, you can see quite significant time gaps in just 13km of racing.
How did you get into cycling in the first place?
I started as a road rider when I was eight years old and switched to mountain biking in my late teens. I was quite good at it and stuck around for ten years before going back to the road to pursue the childhood dream of winning the Tour de France.
How has the sport changed since you were a rider?
Oh it's much more monitored now than it was back then. Now it's very data driven, like Formula 1. When the British team Sky came into cycling, they started optimising so many different parameters and everybody followed suit so I think the general level in cycling now is very high. Everyone knows that you can't leave anything to chance. You need to flip all the stones to optimise whatever can be optimised. Now they have coaches monitoring heart rates, wattages, sleeping patterns and whatnot and they can actually predict how hard they can push each rider, for how long and when they need to be taken out of the battle to save them for later stages. It's quite amazing, but it also maybe sometimes takes the anarchy out of cycling which is why it is so wonderful that you have guys like Pogacar, Van der Poel and Wout van Aert, who don't give a shit about tactics sometimes and just race.
Has that made the sport more watchable?
There are certainly more than a handful of riders these days who are performing at the highest level and who are not using the Sky tactic of monitoring everything until the finish line. Riders who are not afraid of attacking 50km from the line, instead of sitting there and watching their power readers and waiting until the last 4-5 km. That makes it much more watchable.
Who were the characters on the Tour back when you were racing? Did you have any idols growing up?
I was fortunate enough to compete against Lance Armstrong and Jan Ullrich and to me those two guys remain some of the biggest characters in cycling. Growing up, I was very fond of Greg Lemond. He was certainly one of my favourites and eventually he became my coach when I was a mountain biker.