Things to do
Roskilde 2022: Kings of Convenience proves quiet is the new loud
---
This article is more than 1 year old.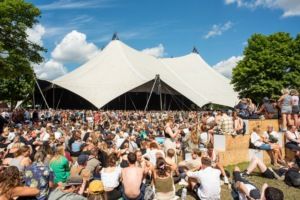 Roskilde Festival is long, and it is loud. With nearly non-stop performances, as well festival-goers bringing concert-grade speakers into the campsites, you'll sleep little, and your ears will ache.
Today, the last day of Roskilde 2022, the exhaustion felt by the attendees – particularly those most ardent participants who have barely left the festival site for the seven days – could be plainly seen.
Kings of Convenience – the indie folk-pop duo from Norway – came at the perfect time. Performing at noon, the pair began with a series of quiet, calming and deceptively effortless melodies that gave the tired crowd relief.
Then, with rousing instrumentalism, charismatic presence, and a surprise guest appearance, they breathed life back into that crowd, leaving them with almost as much energy as they began the week with.
"The quietest song of the whole festival"
"This will probably be the quietest song of the whole festival," said Erlend Øye, one half of Kings of Convenience, along with Eirik Glambek Bøe.
"But, as you know," he added. "Quiet is the new loud."
The duo then launched into their fourth song of the show, 'Killers', a tender and serenely complex tune about lost love. The track comes off their fourth studio album, Peace or Love, which was released in 2021 after a 12-year hiatus. Øye's preceding remark, however, was a reference to the pair's debut album, Quiet is the New Loud, released in 2001.
In either decade, the statement rings true, especially today at Roskilde. For many, a bit of quiet was sorely needed. And as the group's performance picked up pace, it only made more sense. Staying somehow quiet, it revitalised that crowd, bringing them to their feet, clapping, snapping and jumping by the end of the show.
A surprise appearance  
'Boat Behind' marked the transition from soothing to rousing, finishing off with an impressive act of vocal percussion by Øye.
Afterwards, he announced that the members of The Whitest Boy Alive – another project of Øye's – would be joining Kings of Convenience on stage. For three more songs – with the addition of bass, drums, and keyboard – the offbeat supergroup stepped up the energy once again.
Finishing with an intense, extended riff on guitar, but somehow not betraying the quality of quietness, the performance – and Roskilde – ended on a high. And the applause that followed was most certainly loud.