Things to do
Roskilde 2022: Samba Touré brings the desert blues to the Pavilion Stage 
---
This article is more than 1 year old.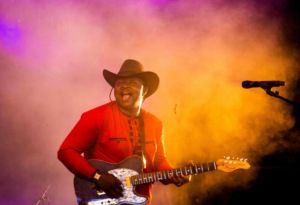 Mali's cultural and musical heritage has been hailed the world over for its unique qualities – with musicians such as Ali Farka Touré, Rokia Traoré, Tinariwen, and Amadou & Mariam flying the flag high for the desert nation's musical legacy.
Beyond the diversity of styles and the musicianship, the conflict-ridden nation is far from the ideal environment to produce music in. Adversity and dangers to one's life are never far from the Malian musician, who carries a charged burden in the hopes and dreams of the nation's people squarely on their shoulders. 
Steeped in Malian musical heritage
Samba Touré is the latest name in Malian music circles to bear the burden of his people, further encumbered or blessed, depending on how you see it, by the fact that he shares a surname and thereby a perennial association with one of the greatest Malian musicians of all time, if not the greatest: the late Ali Farka Touré. Samba actually played on Ali's band during the '90s before venturing off with his own solo exploits, which have since gained him fame and respect in his home nation and abroad.
Clad in a red suit and a bowler hat, Touré strutted cautiously to the front of the smoky pavilion stage and got to it straight away, evanescing the audience to the dusty, hazy Malian desert landscapes miles away metaphorically and literally from the audience.
In the warm Danish summer, the lazy Mali blues would invariably risk creating an atmosphere that would verge on lethargy and ultimate relaxation – as was the case for the first half of the show. Indeed at times it seemed that the vast majority of the audience were merely here looking for shade before they wandered en-masse to the Orange Scene to see rock sensation St Vincent.
Thankfully, this changed as Samba grew into his groove – a seminal moment being him losing his hat after a smiling boogie with his fellow guitarist / second drummer. 
Manic guitar riffs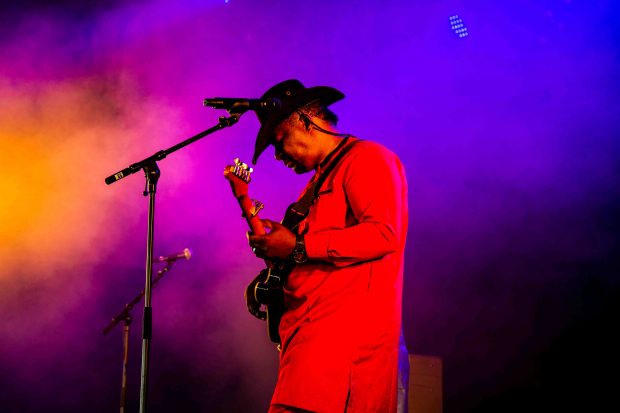 From there, Samba never looked back, interacting more frequently with the crowd with a phrase that would become iconic for this particular show ("I'm very happy here, thank you, merci!"). What started as a classic masterclass in the Mali Blues recoiled, not in dissimilar fashion to a desert cobra, and took on a more venomous form.
We were treated to complex musical renditions, from rock-guitar drenched salvos to reverb-ridden riffs. All of this was cast against a thundering percussive backdrop orchestrated by the third drummer who remained at the back of the stage, engulfed in a sea of mist that only cemented his mysterious status and quality. 
This raucous display culminated in an audience sing-along late on, as chants of "ahaaa" rung through the warm afternoon air, before a psychotic light show that would not have been out of place at a heavy metal show ran rampant, flanked by the every-present raging rock guitar.
Samba left the Pavilion Stage to the chants of a small group at the front of the stage who screamed his name and cheered him off, triggering fond memories of the days of encores at Roskilde Festival (sadly no longer a feature.)