Things to do
July and Early August Events: Finally a proper British afternoon tea!
---
This article is more than 1 year old.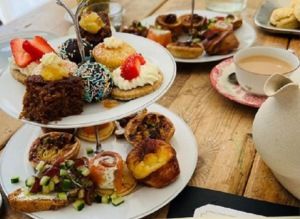 Proper British Afternoon Tea
July 10 & 31, Aug 14 & 28; Kogebogeriet, Guldbergsgade 10, Cph N
If you're looking for an authentic British afternoon tea, then Kogebogeriet is the place to go. Enjoy a menu that includes roast beef with Yorkshire pudding, freshly-baked scones and clotted cream, along with unlimited tea.
AiaSound Festival
Aug 11-13; Tiøren, Amager Strandvej 246, Cph S; festival pass: 1,299kr, one-day tickets: 599kr; aiasoundfestival.dk
With the purpose to create an urban environment featuring mainstream and international music, Aia Sound Festival is hosting this year several acclaimed artists and bands such as Tyga, Donkey Sound, Tobias Rahim and Hans Phillip.
Haegue Yang: Double Soul Exhibition
ongoing, ends July 31; National Gallery of Denmark, Sølvgade 48-50, Cph K; 120kr, smk.dk
This is the first solo exhibition by South Korean artist Haegue Yang. Her artwork is said to involve multiple human senses, focusing on illumination, scent and movement.
Bork Festival
Aug 3-6; Bork Havn; festival pass: 1,400kr, one-day tickets 515-575kr; borkfestival.dk
Bork Festival returns this year with a fun atmosphere and cool concerts featuring multiple Danish soloists and bands such as Tobias Rahim, Malte Ebert, Poul Krebs and Jonah Blacksmith. The festival is also well known for offering a delicious food experience.
Copenhagen Jazz Festival
ongoing, ends July 10; multiple locations in Cph; prices vary
Jazz music events will be held throughout the city, bringing some of the best jazz musicians to the city of Copenhagen.
Gilleleje Festival
July 8-10; Bøgebakken 19C, Gilleleje; 100kr
The annual music festival held in Gilleleje is back and will have appearances from several top Danish artists, including Tessa and Tobias Rahim.
CTC Play Reading
July 18; Bootleggers Craft Beer Bar, Falkoner Alle 17, Frederiksberg; free adm
This is an English language and volunteer-led theatre group and their play readings are a perfect opportunity for anyone looking to get involved in acting.
Grimfest (The Ugliest Festival)
Aug 4-6; Brabrand; festival pass: 795kr, one-day tickets: 375kr; grimfest.dk
It will get ugly at Denmark's Ugliest Festival! Bring your fun spirit and spend your weekend enjoying the outdoor concerts of some of the best local and international artists.
Jazz Cruise
July 6-Aug 28; Ved Stranden 26, Cph K; 175kr, ticketmaster.dk
The Copenhagen Jazz Cruise allows you to listen to great music while on the water and for anyone who is new to Copenhagen this is a perfect way to experience the city's sights while sailing through the canals.
PASSAGE Festival
July 25-31; various locations in Helsingør; prices vary and some performances are free; passagefestival.nu
With more than 30 European theatre groups, PASSAGE Festival is the place to be for anyone with a passion for theatre. Every year these groups come to Helsingør and transform the different buildings and sites of the city into a stage.
Suzanne Valadon
ongoing, ends July 31; Ny Carlsberg Glyptotek, Dantes Plads 7, Cph K; 125kr, free entry on Tuesdays
French artist Suzanne Valadon looks at the breaking of social norms. Many credit her with paving the way for other female artists.
2022 Shakespeare Festival
Romeo and Juliet from July 30-31, Hamlet from Aug 3-7; Kronborg Castle; from 160kr
For all Shakespeare fans, this festival is known for its open air theatre and can be enjoyed with family and friends, as well as a picnic before the show starts.
Red Bull Cliff Diving
July 16; Opera House, Ekvipagemestervej 10, Cph K; redbullcliffdiving.com/inismor
Returning to Copenhagen for the fifth time since 2013, divers jump off the roof of the famous Opera House in the middle of Copenhagen. Tickets can be won by participating in their online challenge.
Vildskud Festival
Aug 2-6; Teaterhuset, 13 Rådhus Stræde, Vildskud; prices vary
This festival gives Danish theatre, music, and art a platform like no other. It allows theatre groups to come together and celebrate the art of theatre and learn from one another.
Copenhagen Fashion Week
Aug 9-12; venues TBC
This is a biannual event, and the year of 2022 has a focus on sustainability. Copenhagen Fashion Week aims to inspire anyone hoping to work in the fashion industry on how to be more sustainable.
Copenhagen Summer Dance
July 7-10; in vicinity of Kvæsthusbroen, Cph K
This is Denmark's largest dance festival. Several dance companies, both national and international, gather to perform and teach near the harbour in Copenhagen.
Aarhus Jazz Festival
July 9-16; Aarhus; tickets sold per concert; jazzfest.dk
Celebrating one of the city's strongest traditions, the Aarhus Jazz festival will fill up the neighbourhoods of Denmark's second-biggest city Aarhus with live jazz. For eight days, the festival will host Danish jazz and classical music concerts. Among the headliners are Sam and the Soulmate, the Aarhus Jazz Orchestra and Human being Human.
Wildlife Photographer of the Year
ongoing, ends Aug 28; Natural History Museum of Denmark, Øster Voldgade 5-7, Cph K, 105kr
This annual exhibition showcases the 100 top wildlife photos.
Gentofte Market
every Sun 07:00-14:00; Bregnegårdsvej, Gentofte
Happening every Sunday, Gentofte Market is a great place to go to for a weekend shopping trip for antique or vintage goods.
Nørrebro Flea Market
every Sat 09:00-17:00; Nørrebrogade, Cph N
Norrebro Flea Market is a local flea market with several different vendors and is especially a great spot for buying second-hand clothing.
Opera in the Open Air
Aug 7, 18:00; Fredensborg Slotshave ved Mindestenen, Fredensborg; free adm
Be part of an experience that gathers about 15,000-20,000 people around the country each year when you listen to live opera music outside in the gardens of Fredensborg Castle courtesy of Opera i det fri.
Strøm Festival
Aug 13-27; various venues in Cph; strm.dk
The music festival is made up of more than 20 Danish and international electronic music artists. This year there will be several performances as well as a huge roller-rink for dancing.
Stella Polaris
Aug 6, 12:00-21:00; Frederiksberg Have
Celebrating its 25th anniversary, Stella Polaris is back following the pandemic. The nature of Frederiksberg Have is the perfect back-drop for this music festival.
Copenhagen Summer Festival
Aug 7-18; Charlotte Festsal, Kgs Nytorv, Cph K; 160kr
This classical music festival for aspiring musicians reveals the musical talent of the younger generation.
Copenhagen's Historic Grand Prix
Aug 5-7; Hulgårdsvej 72, Cph NV; from 175kr; chgp.dk
Held every year, this event features legions of classic and vintage motor cars.
Opera Tours in English
Wed & Sun in July & Aug, also July 30 & Aug 8; Ekvipagemestervej 10, Cph K; 135kr, under-12s 60kr, kglteater.dk
Discover the Opera's beautiful foyer with its clean lines, Olafur Eliasson's light sculptures, and views over Copenhagen Harbour that embrace the shiny maple shell around the Main Stage. There are also weekly tours of Gamle Scene on Saturdays and Tuesdays in July, as well as August 6 and 7.
Globe Quiz
July 14 & Aug 11; Globe Irish Pub, Nørregade 43-45, Cph K; 50 kroner per person to enter
Game night's on at this pub on Nørregade! The winners will be awarded 1,200 kroner, and there are plenty of spot prizes too. UPDATED: there is no quiz on July 28!
Gravens Rand Quiz
July 19, Aug 2; Søndre Fasanvej 24, Frederiksberg; entry 30kr
Maximum of four per team, it's 1,000 kroner for the winners and a crate of beer for second. Two beer rounds, and shots for last place!
Sand Sculpture Festival
ongoing, ends Aug 31, daily from 10:00; Kajgaden 7, Hundested; sandskulptur.dk
Local and international sand sculptors, including several world champions, will display their biodegradable masterworks.
Kennedy's Quiz
Aug 1, 19:30; Kennedy's Irish Bar,Gammel Kongevej 23, Cph V
Quiz night at Kennedy's Irish Bar includes raffles, cash prizes, and drinks rounds.
Science and Cocktails
July 13; Koncertsalen, DR Koncerthuset, Ørestads Boulevard 13, Cph S; 145-195kr, drkoncerthuset.dk
World-renowned physicist Hiroshi Ooguri takes us on a journey through the mysteries of the universe, including gravity, the forces of nature, black holes and string theory.
Grøn Festival
July 21-31; ten-day concert tour; festival pass: 799kr, one-day tickets: 350kr; groenkoncert.dk
Over 10 days, Grøn Festival will tour eight venues in Denmark, starting with Amager and then passing through Kolding, Aarhus, Aalborg, Esbjerg, Odense, Næstved, and finally reaching Valby. The festival will present a line-up of well-known local and international artists such as Andreas Odbjerg, Tessa, and Deed.
Femø Jazz Festival
Aug 2-7; Darrehøjsvej, Femø; festival pass 1,700 kr; femoejazz.dk
For all the jazz lovers out there, head to the Femø Jazz Festival located near the Småland Sea north of Lolland and enjoy traditional jazz music on a beautiful beach meadow.
Samsø Festival
July 20-23; Strandskoven ved Ballen, Samsø; festival pass: 1650 kr, one-day tickets: 675kr; samfest.dk
From 1989 to 2022, Samsø Festival has always succeeded in bringing cosy and chilled vibes to Denmark's summer. Some of Denmark's most talented musicians are playing this year, including the likes of Benjam Hav and Familien, Det vildeste band, Disco Dasco med Swingtime, Samsø Pink Floyd and Tobias Rahim. Relax in the exquisite nature of the island and its delightful beaches.
Frederikssund Festival
Aug 4-6; Kalvøvej, Frederikssund; festival pass: 975kr, one-day tickets: 500kr; frederikssund-festival.dk
Spreading joy and knowledge of music, Frederikssund Festival offers a wide range of old and new along with multiple music genres. Featured artists include Go Go Berlin, Walter Trout and Patina.
Smukfest Festival
July 31-Aug 7; Skanderborg; festival pass 2,995kr, one-day tickets: 1,250-1,495kr; smukfest.dk
Amidst beautiful scenery with a line-up featuring talented Danish and international music artists and speakers, Smukfest is considered one of the best festivals in Denmark. The majority of the tickets to Smukfest have been sold out but you might still be able to put yourself on the waiting list or work as a volunteer. The headliners include Rick Astley, Steve Harley & Cockney Rebel, Limp Bizkit, Melanie C and Justin Bieber.
Varde Open Air
July 28-30: Varde; festival pass: 950kr, one-day tickets: 400-600kr; open-air.dk
Varde Open Air started in 1978, making it one of Denmark's oldest festivals,
and it continues to this day to offer a great program for both adults and children. Held in Arnbjerg Parken, which is well-known for its scenic nature.