News
To avoid an environment of bullying, are Prince Christian's folks seriously considering the British private school system?
---
Eton and Gordonstoun apparently in the frame, but then again, it is a shortlist compiled by the Daily Mail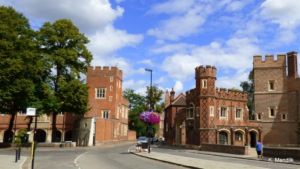 Most internationals, particularly Brits, are often struck by how little bullying there is at school in Denmark. Barely any name calling or nicknames, or loud cheering when somebody drops a plate, instead it's all empathy and equality.
Any conversation comparing notes with Danish parents tends to mirror David Mamet's legendary lines for the 1986 film 'The Untouchables', as spoken by Sean Connery to Kevin Costner.
"Here's the difference: Danish children throw paper-mâché at one another, our kids hurl Chinese deathstars. They'll send one of yours to the school infirmary, in Britain they go straight to the morgue. That's the British way! And that's what won us the war …"
Surely a surprising shortlist?
So why on earth is an English newspaper, the Daily Mail, suggesting the Danish Crown Prince Couple are seriously considering sending their eldest son and heir Prince Christian to a British boarding school after removing him from Herlufsholm, the country's most (and only) prestigious establishment, following incidents of "bullying, violence or sexual abuse".
The allegation that "younger pupils were allegedly woken up in the middle of the night and subjected to assaults as a matter of routine, with one hurt so badly he could not even crawl back to his bed" sounds relatively tame compared to the horror stories to emerge from British private schools over the years.
Where the Wellington boots fit: For generals and PMs, and even generals who become PMs
Some Brits, although a significantly smaller proportion than in yesteryear, might concur that the tough upbringing of British officers contributed to the country's military success in the 19th and 20th centuries.
In 1825, the Duke of Wellington famously remarked: "The battle of Waterloo was won on the playing fields of Eton," although it's widely thought he was misquoted. He was watching a game of cricket at the time at Eton, his former school.
Eton is one of the British schools shortlisted by the Daily Mail as the future destination of Prince Christian. Famous for schooling both Prince William and Prince Harry, along with departing PM Boris Johnson and 19 other British premiers – it would appear to have excellent credentials.
History of bullying episodes
It also has a relatively recent history of bullying episodes. During the princes' time at the school alone, there were several: in 1999, a 15-year-old hanged himself; in 1998, a pupil shot another in the face with an airgun; and in 2004, a teacher alleged bullying from her peers, although her claim she wrote part of Prince Harry's A level art coursework was rejected by a tribunal.  
Actor Tom Hiddleston, a pupil in the 1990s, recalls a rhyme made up by his fellow pupils within weeks of starting at the school: "Hiddle Piddle did a widdle in the middle of the night." It staye with him for years.
But he can laugh about it today, as was the case on The Graham Norton Show, and that ultimately is the point, say proponents of such schools: It makes you stronger.
But times have changed …
However, a recent pupil at the school tells CPH POST that bullying is no longer an issue at the school, and certainly for a 16-year-old entering the sixth form, the final two years of education when privileges tend to be stepped up a notch.
"He's unlikely to be bullied badly; they're very onto that at Eton," he said.
"If he was at Harrow it would be another story!"
Too much time at Colditz with kilts and he'll return with a hankering for haggis
Another school shortlisted by the Daily Mail is Gordonstoun, the Scottish establishment attended by Prince Philip, as well as Prince Charles and his brothers, which Charles and Diana agreed was not the right fit for their sons.
Charles, who famously referred to it as 'Colditz with kilts' when he attended Gordonstoun during the early to mid 1960s, recalls being routinely punched as he slept in a dormitory, having his ears pulled mercilessly on occasion and witnessing new boy initiations that involved pliers tearing into flesh.
But in recent years, it has softened up. The compulsory cold showers in the morning – pupils are still encouraged to run around the extensive grounds – have been discontinued.
Or maybe Switzerland or Canada?
Other "royal-approved schools" mentioned on the list included UWC Atlantic College in Wales, Institut Le Rosey in Rolle and Collège Alpin International Beau Soleil in Switzerland – ideally placed so Mary can enjoy more fancy skiing holidays – and Lakefield College School in Ontario.
Which one the Crown Prince Couple end up choosing remains to be seen. Should they opt for Eton, it would mean Prince Christian will end up at a different school to his sister Princess Isabella, who was also removed from Herlufsholm.
Sorry Princess, but Eton remains 'boys only' for the foreseeable future.