News
Boost for camping: 300 new shelters on the way!
---
First batch should be ready by the end of August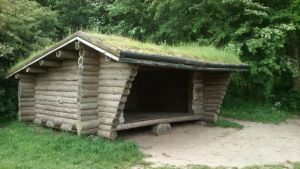 An appealing aspect of camping in Denmark is that you don't need a tent. Instead you can stay in a shelter: a covered, open-air area, often dug into the earth and timbered, or a purpose-build wooden structure. The country has around 750 of them.
But all too often – particularly during the nature craze brought on by the pandemic – they tend to be booked out months in advance.
Fortunately, thanks to 16 million kroner in funding from the AP Moller Foundation, a further 300 shelters are opening across Denmark. The first should be ready by the end of August.
It's great news for spontaneous hikers! Finally, there might be room in the inn for people turning up out of nowhere in the middle of nowhere.
Will satisfy increase in demand
Campsite and shelter bookings have been rapidly increasing of late, according to the Naturstyrelsen nature agency, which is responsible for the shelters' maintenance.
Last year, bookings totalled 270,000 – an approximate 100,000 rise over the last five years.
Increasingly, people in Denmark are being drawn to the quiet shelters in close proximity to nature, Naturstyrelsen ranger Paul Andersen told DR, and they are generally respectful of their surroundings, cleaning up well after their visit.
Andersen rejects the notion their visits or the shelters could be detrimental to the environment. "Nature is robust," he reasoned.