General
Business Round-Up: Cycling leads to fewer sick days and increased savings – Dansk Industri
---
In other news, SAS is still having a bad year. As the pilots' strike continues, flight cancellations have left thousands of passengers stranded. They'll be back at the barganing table tomorrow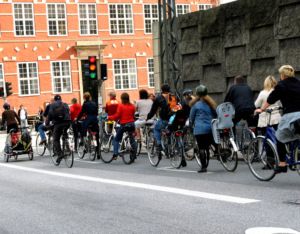 If people in Denmark were to cycle 10 percent more than they do now, it would result in over 235,000 fewer sick days, 12.5 million liters of saved petrol and diesel, and 2.5 billion kroner of socio-economic health benefits, according to an analysis by Dansk Industri (DI) Transport.
However, even though Denmark has one of the highest rates of everyday cycling in the world, more Danes are buying cars. According to DI, 20 percent fewer Danes cycle today than eight years ago. 
"I do not think it has fully dawned on the politicians yet how big and growing a societal problem it is. This is something that should concern politicians who work with health, climate, the environment, energy, transport and not least the economy," said Karsten Lauritzen, the head of industry at DI Transport.
"This is good business"
In addition to calling for political action, Lauritzen has urged businessowners to take note of how increasing cycling could affect their bottom line. According to DI's analysis, the reduction in sick days alone could save employers 223 million kroner every year.
"Unfortunately, many employers do not see it as their task and responsibility to influence employees' transport habits. But they probably should. This is good business – both for the individual, the company and society, because it leads to fewer sick days," said Lauritzen.
"Maybe companies can even save on parking spaces, which is a big expense," he added.
---
SAS negotations resume tomorrow
Tomorrow, negotiations will begin again for a new collective bargaining agreement between SAS and its pilots. Since the strike began, the airline has been forced to cancel hundreds of flights. According to TV2, one travel agency received nearly 300 inquiries from customers affected by cancellations in just four hours. In addition, SAS pilots had dropped a concession to carry out a limited number of charter flights during the strike, leaving as many as 10,000 Scandinavian vacation-goers in Albania, Cyprus, Greece, Croatia and Turkey over the weekend. SAS says that it will be fully operational within two to three days of an agreement – if one is reached.
Windfarm development too slow, says Sørensen
Lars Sandahl Sørensen, head of Dansk Industri, has said the authorities should spend a maximum of two years planning offshore wind farm projects. According to Sørensen, if the regulatory processing, supply and construction of future offshore wind farms takes as long as it has in the past, none will be operational by 2030 – the year by which the government hopes to quintuple the country's electricity output coming from offshore wind turbines.
On the heels of EU candidacy, labour market reform in Moldova
As of June 23, Moldova has been granted candidate status in the European Union. To prepare for its eventual accession to the EU, Dansk Industri is working to strengthen local labour organisations in the country – in particular to help people transition from informal to formal labour. Officially, only 40 percent of the working-age population in Moldova are employed, but experts estimate that many people work in the informal labour market, where they do not benefit from sick pay, retirement benefits and safety regulations.
More Danish companies going bankrupt
Bankruptcies are on the rise in Denmark – 259 companies filed for bankruptcy in June. According to Allan Sørensen, chief economist at Dansk Industri, price increases and material shortages are behind Danish companies' financial woes, with construction companies being particularly hard hit. He said the continued economic fallout from the COVID-19 pandemic is also a factor.
Foreclosure rates low for now
The number of foreclosures in Denmark rose to 342 in the second quarter of 2022 – up from 309 in the first quarter. However, the number of foreclosures remains low compared to historical levels, reported Danmarks Statistik, despite increased inflation and rising interest rates. However, according to Dansk Industri, the housing market is slow to respond to economic shocks, and the foreclosure rate is likely to increase in 2023 and 2024.
MeeW offers solution to IT specialist shortage
After struggling to find new employees, the IT company MeeW has started its own training course to teach young and unemployed people IT skills. According to a survey conducted by Rambøll for DI Digital, 8 out of 10 IT companies have experienced similar challenges recruiting IT specialists. MeeW says its course has effectively halved the mistakes made by new developers, and those who complete the course are either hired by MeeW or referred to other Danish companies in need of IT support.
Tax code revised for workers from abroad
The Danish tax agency has updated its rules to so that companies can make mid-year salary adjustments for employees recruited from abroad. According to Jacob Bræstrup, the head of tax policy at Dansk Industri, the new rules are important because they help Danish companies attract specialists from abroad. In the past, salary adjustments for international employees could only be made at the beginning of the calendar year.
French wind power expansion creates opportunity for Danish companies
France plans to upgrade its offshore wind capacity to 40 gigawatts by 2050 – equal to 20 percent of the country's total current electricity consumption – and Dansk Industri says it's the perfect opportunity for Danish companies to offer their services. Currently, projects under consideration include two 250-megawatt offshore wind turbine projects in the Mediterranean, both with the potential for expansion, as well as one 250-megawatt farm off France's west coast. The Danish Embassy in Paris is prepared to assist Danish companies wishing to enter the French market.
Labour shortages hurting Danish business
New figures from STAR, the Danish Agency for Labor Market and Recruitment, show an increase in the number of positions that companies completely give up filling. The number has risen to 13,000 in June – up from 12,000 in March. According to Peter Halkjær, labor market manager at Dansk Erhverv, the trend is costing companies revenue and growth, as well as causing Denmark to miss out on tax revenue and jobs. He has said that Parliament's recent decision to lower the minimum income required for a foreigner to apply for a residence and work permit is a step in the right direction.
Foreign tourists returning to DK
The number of foreigners staying overnight in Danish hotels, campsites, and other accommodation has increased significantly in 2022. With 7.4 million overnight stays from January to May, the number is up 3 percent from pre-pandemic levels – and is more than ten times the 700,000 overnight stays recorded in the first five months of 2021. Dansk Erhverv expects the trend to continue but says that labour shortages in the tourism industry may make it difficult for some companies to meet increased demand.
Danske Bank lowers its expectations
Danske Bank has downgraded its earnings expectations by 3 billion kroner, blaming "unfavourable conditions in the financial markets".  In February, the bank had predicted its 2022 profits would be between 13 and 15 billion kroner, but the most recent projections forecast profits between 10 and 12 billion kroner. Danske Bank expects that income from the bank's core activities will be higher in 2022 than in 2021, but that its income from trading and insurance will fall.
Mine-hunting robots on the way from Canada
The Royal Danish Navy has purchased underwater mine-hunting equipment from a Canadian robotics company. Kraken Robotics Inc announced the sale of its 'KATFISH towed synthetic aperture sonar' yesterday. The transaction is the result of a previously signed contract, which also indicates Denmark's intention to purchase autonomous launch and recovery systems from the company. The systems will be integrated onboard the navy's optionally unmanned surface vessels. Testing of the systems is expected to be finished later this year.
Employment among "non-western" immigrants at all-time high
"Non-Western" immigrants are employed at a historically high rate, according to Dansk Metal's analysis of data from Danmarks Statistik. Nearly 60 percent of non-Western immigrants between the ages of 15 and 64 were employed in a salaried job in the first quarter of 2022 – the highest proportion since measurements began 14 years ago. In addition, the proportion of non-Western immigrant women that were employed increased by 8 percentage points compared to two years ago.
Danish company files anti-trust action against Google
The Danish online job-search tool Jobindex has filed an anti-trust complaint against Google, saying the search engine has unfairly favoured its own job search service in results. The European Commission said it would assess the complaint according to standard procedures. It is not the first time Google has come up again EU antitrust efforts. A German media group filed a similar complaint against Google four years ago, and the company has been fined more than 8 billion euros by Margrethe Vestager, the European Commissioner for Competition, in recent years for various anti-competitive practices.