News
Danish company to supply US with monkeypox vaccine
---
This article is more than 1 year old.
Bavarian Nordic will deliver 4.4 million units by the end of 2023.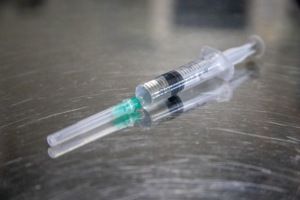 Following a contract signed by the US government, the Danish company Bavarian Nordic is set to supply the US with a total of 4.4 million monkeypox vaccines.
This number represents the composite of several orders placed by the US Biomedical Advanced Research and Development Authority – the most recent one being for 2.5 million liquid-frozen doses.
Favourable approval for Jynneos
The vaccine, named Jynneos, protects against non-replicating smallpox, a disease so similar to monkeypox that it can be fought using the same technology. Jynneos is the only monkeypox vaccine to have been approved by the US Food and Drug Administration so far.
"The monkeypox outbreak continues to develop at an unprecedented rate, and we applaud the US government's decision to prioritise the supply of our vaccine to enable broader access for those at risk of infections," said Paul Chaplin, the president and CEO of Bavarian Nordic.
The newest order of 2.5 million Jynneos doses will be delivered over the course of 2022 and 2023.
Rising case count
Nearly 10,000 monkeypox cases have been detected around the world amid the ongoing outbreak, with approximately 900 of those cases being in the US, according to the Center for Disease Control.
The World Health Organization has referred to monkeypox as an "evolving health threat" that needs a collective response.
In accordance, Bavairan Nordic has also entered into vaccine supply agreements with countries outside the US, including European Union member states and Canada.