News
14-year-old girl dies after accident at Tivoli Friheden in Aarhus
---
This article is more than 1 year old.
In addition, a 13-year-old boy has been injured. Police are now investigating the cause of the accident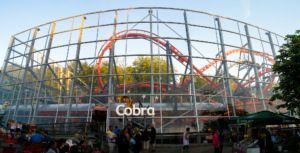 A 14-year-old girl from Copenhagen has died this afternoon after an accident at Tivoli Friheden in Aarhus. The girl's relatives have been notified.
The accident happened on the 'Cobra' rollercoaster. According to Tivoli Friheden, the rear car broke off from the rest of the train and was left suspended from the ride, leaving several people trapped.
East Jutland Police has said that the exact cause of the accident and the girl's death will be determined following an investigation and the questioning of witnesses.
A 13-year-old boy sustained injuries to his hand. The boy's parents have been notified.
Not the first accident
This is not the first time an accident has happened at Tivoli Friheden involving the 'Cobra' rollercoaster.
In 2008, an accident left four young people with serious fractures to their legs and feet, while one suffered a concussion.
At the time, the ride was the park's newest. The rollercoaster is 25 metres at its highest point and goes as fast as 70 kilometres per hour.
Park emptied for investigation
Tivoli Friheden remains closed while the police conduct their investigation. The themepark said on Facebook that it has called in technical experts to assist in the investigation.
"We have emptied the park and offer psychological help to the people who have been near it. Both staff, guests and relatives," Henrik Ragborg Olesen, Tivoli Friheden's CEO, told DR.
East Jutland Police strongly urges guests who were present during the accident to avoid sharing photos or videos on social media. If you have material that could benefit the investigation, however, the police ask that you contact them via 114.