News
Danish News Round-Up: Successful deployment of defibrillator drone to Aalborg bodes well for possibility of nationwide roll-out
---
This article is more than 1 year old.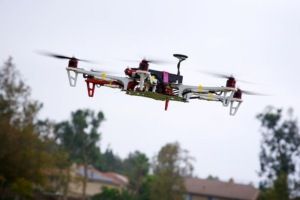 A drone carrying a defibrillator operated by Region North Jutland was dispatched for its very first time on Tuesday after a man had a heart attack in Aalborg.
Just seven minutes after the emergency services were notified, the drone arrived at the scene of the cardiac arrest.
A success
While an ambulance was even quicker and managed to revive the man, emergency centre co-ordinator Jan Lindberg hailed the rapid response as a success.
"All technical elements went as they should on the flight of the defibrillator," he told nordjyske.dk.
Good prospects
The success of the project – which has the backing of the Capital Region's Emergency Preparedness Centre, Den Præhospitale Virksomhed, Karolinska Instituttet and Everdrone – will determine whether the pilot is extended across the whole country.
The survival rate of people who have cardiac arrests is 15 percent, but in highly frequented areas around 50 percent.
---
Priests call for independent centre where church-related abuse cases can be reported
Seven priests from Folkekirken, the Evangelical-Lutheran Danish church, have joined forces to call for a national independent centre where violations within the church can be reported. However, Folkekirke bishops, along with representatives of parish councils, oppose such a centre. According to the church minister, Ane Halsboe-Jørgensen, there have been 29 cases of sexual abuse committed by priests and employees of Folkekirken within the last ten years. Writing in Kristeligt Dagblad, the seven priests describe the stance of their superiors as "naive and outdated". Norway has had such a centre for 25 years.
Nye Borgelige raises funds to carry out assessment of possible Minkgate lawsuits
Right-wing party Nye Borgelige yesterday confirmed it has raised its target of 750,000 kroner to pay a law firm to carry out an independent assessment of whether a lawsuit can be filed against PM Mette Frederiksen, or other members of the government, in relation to the illegal order to cull 17 million mink in November 2020. In total, it is thought 7,100 people made contributions. Nye Borgelige leader Pernille Vermund took to Twitter to confirm she will reveal the results of the assessment to Parliament in the autumn. 
European Court of Justice increases heat on removal of Danish products claiming they're feta
You might have heard that the EU made it illegal to sell cheese marked as 'feta' that does not originate from Greece, but been confused when you saw the continued sale of Danish 'feta' products in the supermarkets. Well, the European Court of Justice has now ruled that the Danish authorities have "breached their obligations" by not intervening in such cases. Fines will follow if Denmark does not take swift action. 
How yesterday's Tour de France heroics could have ended very differently
The organisers of the Tour de France took to Twitter last night to appeal to spectators to be careful when they support the cyclists from the roadside. Yesterday, one flag-waving supporter got dangerously close to Denmark's Jonas Vingegaard as he made his heroic bid to win the Yellow Jersey on the last climb of the day, Col du Granon. The man's flag pole came within 5-10 centimetres of coming into contact with the spokes of Vingegaard's back wheel, prompting the Dane to wave him away. Vingegaard leads the tour by over two minutes, but it could have been very different had the flag pole made contact. Another major mountain stage beckons today. 
Bornholm's dystopian city-state future … according to a computer game
A new computer game, Born Punk, which is set in the year 2155, depicts the Danish island of Bornholm as a dystopian city-state where corporations control the people with a heavy hand. Apparently the founder of the Australian producer Insert Disk 22 was married on Bornholm – and this is how he repays his gratitude! However, Allan Christophersen from Det Kongelige Bibliotek views it positively. "We do not see many computer games based in Denmark, and I think it is the first time that Bornholm has been portrayed in a computer game," he told DR.