Sport
True sportsmanship: Jonas Vingegaard takes the stage win only after ensuring a fair fight
---
This article is more than 1 year old.
When Tadej Pogačar fell during the final leg of yesterday's race, it provided the Danish cyclist Jonas Vingegaard the perfect opporunity to secure victory in the Tour's 18th stage. Instead, however, he chose to wait for Pogačar to get back on his back – and he still took the win.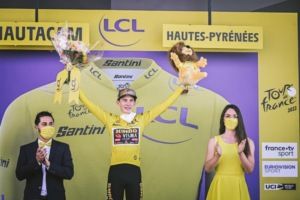 The 25-year-old Danish cyclist Jonas Vingegaard has won the 18th stage of the Tour de France, stretching his lead over Slovenian rival Tadej Pogačar to 3 minutes and 26 seconds.
And, in a stunning display of sportsmanship, he claimed victory only after allowing Pogačar to recover from a crash on one of the final descents of the stage.
"Jonas Vingegaard finished the race in the most beautiful manner and showed everyone what real sportsmanship is!" exclaimed DR Sport's host Brian Nygaard as he reported Vingegaard's win.
A dramatic scene on the track
Pogačar and Vingegaard were neck-and-neck through most of yesterday's race, with the Danish cyclist practically glued to the Slovenian's wheel.
On the downhill section of the penultimate hill, Vingegaard nearly fell to the ground after taking the lead, but miraculous held on. Shortly after, however, Pogačar lost control and went down.
In a dramatic turn of events, the Danish cyclist did not choose to take advantage of his rival's fall but immediately slowed down until he caught up. The act of sportsmanship did not keep him from taking the stage win, however, and has set him up to be the overall victor in this year's Tour de France.
"The win meant Jonas Vingegaard opened up a further gap between him and his rivals," explained Nygaard after yesterday's race. "He has a good chance of winning the title if he can play properly in the next races."