News
Vingegaard wins the 2022 Tour de France: a foregone conclusion, perhaps, but still one of Denmark's sweetest sporting moments
---
This article is more than 1 year old.
The French love affair is complete with the most fulfilling of conclusions!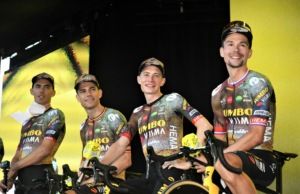 The DIF, the Danish sports confederation, wasted little time in hailing Jonas Vingegaard for winning the Tour de France – an achievement all the more compelling given that it was partly staged in Denmark for the first time in its 118-year history.
As is always expected when the 21st stage is a conventional road stage with minimal climbing – as opposed to 1989 when it was a time trial, enabling Greg Lemond to overhaul Laurent Fignon's 50-second lead to triumph by eight – Vingegaard was untroubled on the final day, becoming the second Danish winner of the race in 109 runnings, after Bjarne Riis in 1996.
The foregone conclusion enables the world's cycling media to prepare their copy for the victory the night before, leaving them free to join Vingegaard and his fellow jersey holders with an early-doors champagne snifter.
As long as they're capable of spelling the stage winner's name correctly and pushing the 'publish' button once they're done, it's all good.
Let's get it in early, Hans!
DIF was no exception, releasing a lengthy adulation a few hours before Vingegaard had even crossed the finish line!
"From DIF, a huge congratulations to Jonas Vingegaard on his powerful performance, which has gathered and captivated most of Denmark. It is difficult to find words that can describe his achievement, but there is no doubt that it belongs on the very top shelf of prominent Danish sports results of all time," praised DIF chair Hans Natorp.
"Vingegaard's triumph sets a beautiful framework for a Tour de France, which will go down in Danish sports history with at least four great Danish stage victories and a phenomenal start in Denmark. It has been both moving and breathtaking to follow."
Along with Vingegaard's wins in Stages 11 and 18, Magnus Cort (10) and Mads Pedersen (13) were also triumphant.
Clips the eagle's wings, somewhat
No doubt, 2022 has had a considerable edge over 1996 – not least because it started in Denmark and gripped the entire nation in a French frenzy.
Both Riis and Vingegaard pulled off improbable victories by defeating previously considered immortal opponents, Miguel Indurain and Tadej Pogačar.
But ask the average Dane about Riis today, and most prefer to forget his victory.
Doping allegations, first aired in 1998 but never proven, have somewhat tainted the achievement of The Eagle from Herning, although he remains a highly prominent name within the sport as the owner and then manager of the successful Tinkoff–Saxo team.
Set your alarm for Wednesday morning!
It is fitting, therefore, that Vingegaard's tour will come full circle on Wednesday when he attends an official celebration in Copenhagen, the city where the race began over three weeks ago on July 1.
At around 13:30, he will appear on the balcony of City Hall – a customary appearance reserved for the country's biggest triumphs, from Caroline Wozniacki winning the 2018 Australian Open to the various major handball victories and the men's football team following their triumph at Euro 1992. Later in the afternoon, he will appear at Tivoli.
This will be followed by a reception on Thursday in his home town of Glyngøre, a fishing village 12 km south of Nykøbing Mors in north Jutland.
First call, however, is Den Bosch, the Dutch base of his team Jumbo-Visma, which he will be visiting on Tuesday. It explains why Vingegaard and his team held their first knees-up of the week at the Dutch Embassy in Paris last night.
"On Tuesday I am going to a celebration in the Netherlands, on Wednesday to Copenhagen, and on Thursday I am going home to the town where I come from. And then I'll hit the sofa on Friday," Vingegaard told media.