News
Future Danish king's new school might be free to attend, but its prestige guarantees it won't be struggling to recruit qualified teachers
---
This article is more than 1 year old.
Prince Christian is one of hundreds of thousands resuming their education today amid fears there aren't enough qualified teachers to go around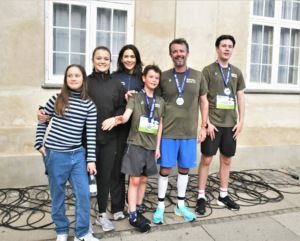 You might have this morning noticed there are more cyclists, more cars, more commuters, and clear signs your neighbours have returned from their annual six-week stay in their summerhouse, even if it is just an allotment shed in Gladsaxe.
But while many people in Denmark, after three weeks of holiday and three weeks of working remotely/skiving, haven't seen the inside of their office for a while, they're not rushing back today, as it's also the first day of school for the nation's children in the majority of Denmark's municipalities.
For six-year-olds starting the kindergarten class at public school (ages 6-16), and teens generally aged 16-17 beginning their high school studies at a gymnasium (16-20), this is as big a school day as it gets, with many parents taking the day off to help them.
Among the 'the freshers' are Prince Christian and Princess Isabella, the eldest children of the Crown Prince Couple, who are starting their studies at Ordrup Gymnasium and Ingrid Jespersens Gymnasieskole respectively, after being removed from Herlufsholm following its bullying scandal.
READ MORE: To avoid an environment of bullying, are Prince Christian's folks seriously considering the British private school system?
Concerns about teaching quality
The kids aren't the only ones nervous, as there are growing concerns that the state's public schools do not have enough qualified teachers at their disposal. This year's university teacher training admissions were down 11 percent compared to 2019.
According to Arbejderbevægelsens Erhvervsråd, only 60 percent of newly-qualified teachers are employed by the public schools five years after their graduation.
"I believe that the public school system is having a crisis. It is a big problem that we do not have enough trained teachers and that the ones we have may not stay there, but look elsewhere," Andreas Rasch-Christensen from VIA University College told DR.
"Too few choose teacher training. Too many drop out of teacher training. And too large a number of those who complete their education do not choose the public school system, or at least do not stay there. And all these things mean that the shortage of teachers will be massive in some areas."
Royals' choice is free to attend
The royals, meanwhile, were late confirming to the media the schools of choice for Prince Christian and Princess Isabella, leaving it until July 18 to make it official. 
While Christian is beginning his second year at gymnasium level, out of a standard three, Isabella will be sitting the ninth grade – the final year of elementary schooling.
It might be remarkable to overseas observers that the royals are sending Christian, a future king of Denmark, to Ordrup Gymnasium as, unlike Herlufsholm, it is free to attend, even though it is independent and self-owned.
Not comparable to the local comp!
But before the Brits compare it to sending Prince George to the local comprehensive, it must be conceded that some of Denmark's most prestigious schools, of which Ordrup is one, are free to enter. Additionally, Ordrup is located in Denmark's richest municipality, Gentofte. 
Among its alumni, Ordrup has scores of famous academics, several of the country's top journalists (Paul Hammerich and Martin Krasnik) and Holger Nielsen, the inventor of handball.
Christian's father Prince Frederik, the heir to the Danish throne, also attended a free-to-attend school in Gentofte in his late teens: Øregaard Gymnasium, from where he graduated in 1986.