News
Foxes in the box, Vikings too inviting and disco dancing divas
---
This article is more than 1 year old.
Once again, the Copenhagen Celtic Summer Tournament proved to be a fantastic day for the international football community and their families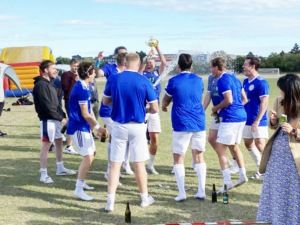 The Copenhagen Celtic Summer Tournament on Saturday August 6, just two years shy of celebrating its 20th anniversary, was another fantastic festival of football at Kløvermarken Idrætsanlæg in Amager, as ten seven-a-side teams – four over-40s and six under-40s – competed from 10 to 5 for the honour of calling themselves 'best in club'. '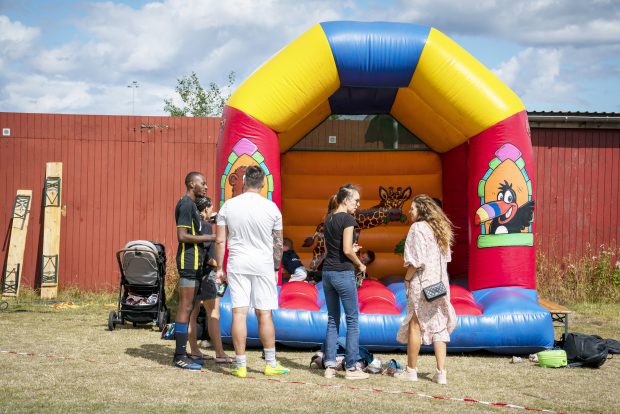 In total, well over 150 people enjoyed sunny weather, fierce football, children's activities (including a bouncy castle), street food served by Wild Kiwi Pies in Valby, and fun and games, but it is no exaggeration to say it was all thanks to two individuals, who August to August every year never stop planning these gatherings.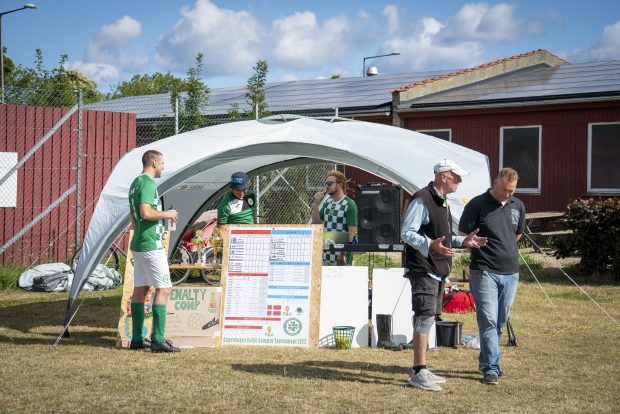 Take a bow Jon Treacher (centre left) and Chris Pilbeam (centre), pictured here at the control tent with team-mate Lloyd Martin (left) and Coogan (centre right), the founder of the club back in 1982. Yeah, 40 years old this year – not bad Celtic, not bad at all.
The under-40s consisted of a monster 15-group stage as every side played five games in a bid to make it to the semi-finals. At 20 minutes a game, the semis were effectively 100-120 on the clock, with penalties to dream off after 150 should it go that far.
The Rest of the World team, easily the most represented in the tournament's history now that most national sides have packed it in, topped the group but could not contain the young legs of the Foxes who prevailed 3-0.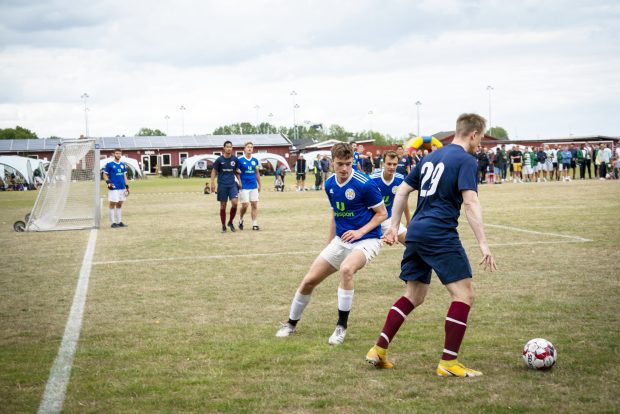 Likewise, Hale & No Pace, another team mostly in their late 30s and early 40s, could not topple the token Scandi offering Vikings, although they did name themselves slightly more originally, losing 2-3. In a frenetic final, the Foxes in the box outthought the Vikings too inviting to lift the cup with a convincing 2-0 win.
Slightly more pedestrian was the final of the over-40s tournament between Vern Baby Vern and Kenny's Kings. In fact, in the photo above the winning goal is being played out in slow motion.
"Mark him," goalkeeper Thomas Jørgensen is clearly saying. "The one standing right next to me in front of the goal with nobody else within miles of him." Jonjo McCool promptly found Roberto Montella, whose day job is general-secretary of the Organization for Security and Co-operation in Europe Parliamentary Assembly.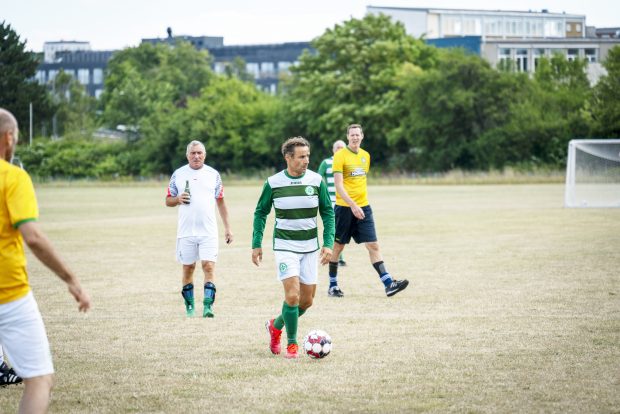 Off duty, he is the 'Italian Stallion' (centre) and he scored all three of his side's goals on their way to winning the final. An official complaint claiming the ref was drunk was duly quashed.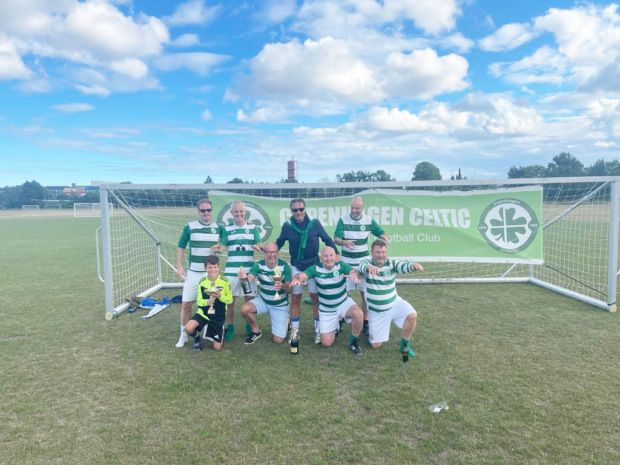 Picking up the cup with Roberto after the game were (right: clockwise from top left) John Lambert, [Kjartan Rist not present], Chris Morton, Roberto, Jonjo, manager Vernon Jones, Jim Macpherson, Ben Hamilton and Arthur Morton – Chris's 12-year-old son and player of the tournament for his performances in goal. Health and safety have been informed.
One curiosity heading into the final of the over-40s was who would become the ultimate winner. The 2022 edition was the tournament's third, and heading into the big day, three returning players had a third title in their sights, having won with Cafe Svejk in 2020 and 2021.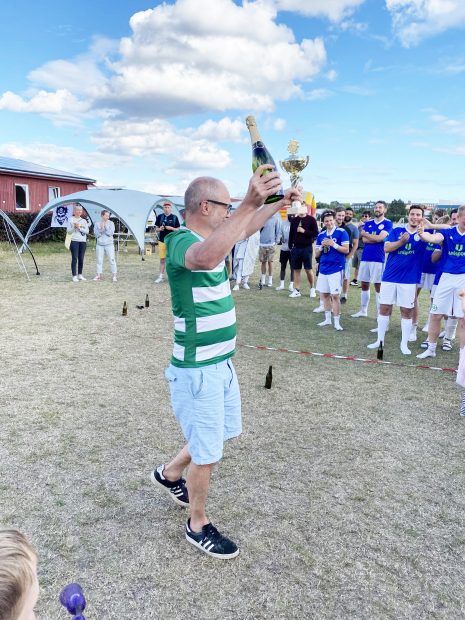 Darren Beynon's hopes ended when Martin's Martyrs finished last, leaving Pat Sheridan, a co-owner of the Irish bar Gravens Rand, and CPH POST editor Ben Hamilton as the only players in contention.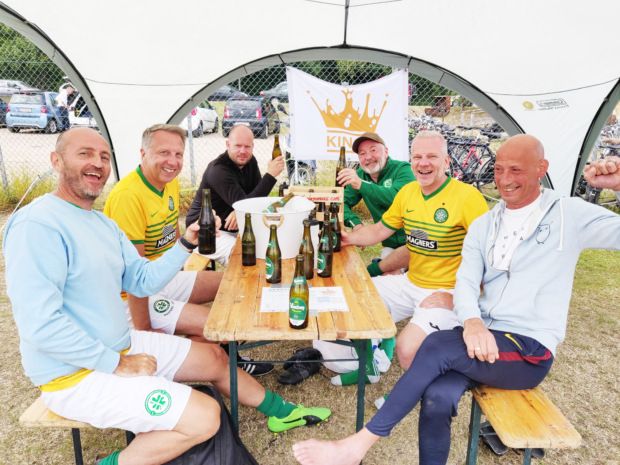 In the end it was Ben's day, lifting a trophy for an award that many club members concluded he had just improvised. Commiserations to Pat and his side Kenny's Kings (left-right Roy Cork, Aaron Constable, Heimir Pétursson, Pat, Kenneth Pedersen and Thomas Jørgensen).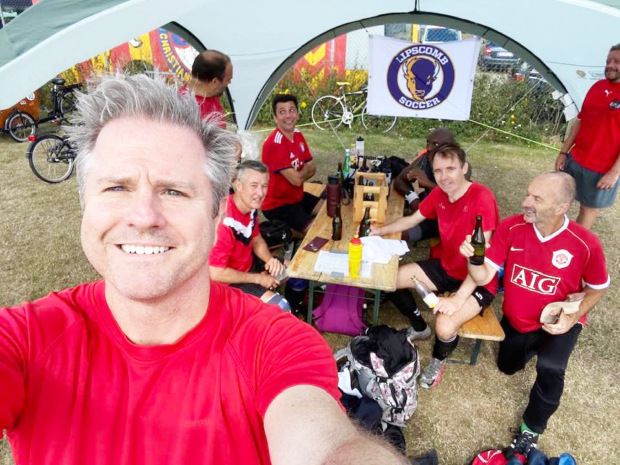 Also just outside the prizes in the Over-40s were Lipscomb Soccer (left-right): Brendan Williams, Craig Parkins, Radovan Glamoclija, Adam Lipscomb and Pete Denham.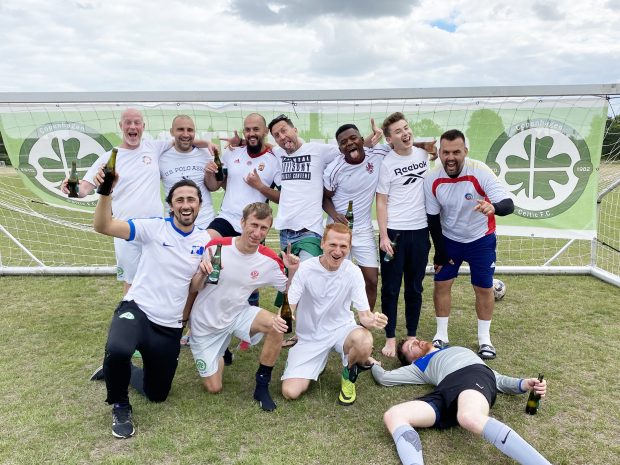 Meanwhile, bridesmaids in the under-40s were Rest of the World gathering (clockwise from top left) Christian Wenande, George Anghelina, Gabriel Peres, Anders Nash (who turned up five minutes before the end but remained under the impression he had earned the right to be in the photo), Tiki Ebun-Cole, Jannis Wittmann, Robert Peres, Brian Swanson, Miguel Garcia, Andrei Shabunevich and David Araque.
So who does that leave us to feature?
The legends of course, and the whisper around the club is there might be an over-60s tournament next year to accommodate them: (left) Ian Quintana, Neil Jones, Ciaran Dunbar and Pat Sheridan, and (final photo) Ronnie Wilson and Ray Leighton. But on second thoughts, Ronnie in his wheelchair might have an unfair speed advantage.