News
Municipality seeks to remove memorial for Danes who died fighting for Nazis
---
This article is more than 1 year old.
Historian says the memorial stone should stay as it represents an important part of Danish history … even if it is a dark chapter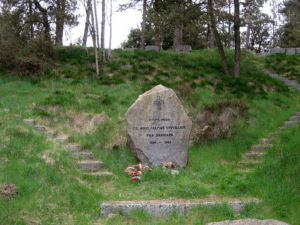 Stories in the news about statues and memorials being removed seem to be quite common these days.
From colonial-related memorials in the West to ex-Soviet Bloc countries tearing down statues of oppressors, everyone seems to be getting in on the act … including Denmark.
The latest case involves Silkeborg Municipality looking into removing a memorial stone dedicated to Danish soldiers who died fighting for the Nazis in WWII.
The memorial is located near Kongensbro and Johan Brødsgaard, the deputy mayor of Silkeborg Municipality, wants it gone.
"I don't think our municipality should have a memorial stone for people who fought for the Germans. I don't think it's right, morally or historically," Brødsgaard told TV2 News.
READ ALSO: Nazi Germany to Danish Navy: "You sank my battleship"
Whitewashing history?
However, not everyone is keen to remove the memorial, including amateur historian Lars Larsen, who contends that it offers a valuable lesson in history.
Larsen doesn't support Naziism by any stretch of the imagination, but he thinks it's important for future generations to learn about history so as to not repeat it.
"It belongs, even if it's not the part we are most proud of. We need to be careful about removing things we don't like, because we risk warping our history," Larsen told TV2 News.
READ ALSO: Nazi hunters zeroing in on more suspects in Denmark
A quarter of Danish dead
Brødsgaard, however, refutes that argument as the memorial was erected in 1971 – well after the end of WWII.
"Those who put up the stone celebrate those who were on the side of the Nazis: those who fought voluntarily for the Germans. We're not talking about some poor souls who were forced to do so, for instance," he said. 
Brødsgaard has put forward his desire to see the memorial be removed and he thinks he has a majority at the municipality behind him. The municipality will vote on the issue in two weeks. 
Around 12,000 Danes signed up to fight for the Germans in WWII, with 6,000 being accepted. Of those, 2,000 were killed, which makes up about 25 percent of all Danes killed during the war. Another 2,000 were injured.