News
FC Copenhagen handed tough Champions League group
---
This article is more than 1 year old.
Fans can look forward to some tasty matches with Manchester City, Sevilla and Borussia Dortmund coming to town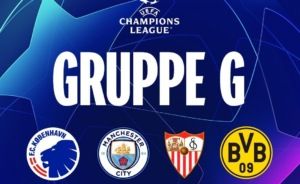 When you're seeded fourth in an international football competition draw, you're probably going to end up facing some formidable opponents.
And that's just what happened to FC Copenhagen for the Champions League group stage draw yesterday evening.
Indeed, the Lions will have to conjure up heroics similar to those displayed against Trabzonspor on Wednesday night.
No doubt it will be an uphill struggle for FCK after being bunched in with Manchester City, Sevilla and Borussia Dortmund in Group G.
READ ALSO: FC Copenhagen back in Champions League heaven
Stars galore coming to town
But fans will be licking their lips with world stars like Erling Haaland, Kevin de Bruyne and Marco Reus coming to town.
FCK fans will also appreciate the return of FCK legend Thomas Delaney (with Sevilla).
"These are three big European clubs. Manchester City are one of the favourites to win the tournament, Sevilla will be special as we potentially face Thomas Delaney, while they're also a club with a great European tradition. And then there is Dortmund, whose quality everyone knows," said coach Jess Thorup.
"Obviously it will be a huge challenge for us, but we are not taking part just to get an experience. We are there to compete and create great performances and experiences for our fans, not least Parken."
Check out all the groups in the image below.
The fixtures have yet to be released, but the matchdays are as follows:
Matchday 1: 6/7 September
Matchday 2: 13/14 September
Matchday 3: 4/5 October
Matchday 4: 11/12 October
Matchday 5: 25/26 October
Matchday 6: 1/2 November