News
Offices need to raise the bar and become more environmentally-friendly, complain employees
---
This article is more than 1 year old.
Nearly two-thirds say they have had to implement measures themselves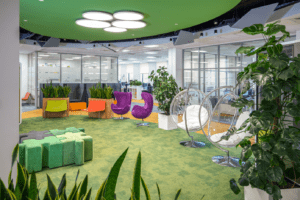 As more workers return to their office following the pandemic, there has been a marked increase in what people expect in terms of workplace sustainability, reports Kompas Kommunikation.
According to a new study conducted by Tork Eco Office on behalf of the global health company Essity, 54 percent of office workers in Denmark are more conscious of their work environment and around a half are disappointed that their employers did nothing to improve it during the pandemic.
The survey is based on responses from 12,000 office workers in Denmark and six other European countries.
It also revealed that 91 percent of the Danes surveyed would like to have a more environmentally friendly office.
Taking environmental measures into their own hands
The survey revealed that 61 percent of people in Denmark have already tried to implement greener practices in their offices themselves, as their bosses don't seem to care about the planet.
Topics such as recycling and reducing waste (like printing paper and paper towels), reducing energy consumption (such as solar cells on the roof) and better internal communication on sustainability are top priorities for employees that companies can address.
"There has been a noticeable shift in our overall attitude over the last 18 months as employees are taking sustainability more seriously than ever before," said Maria Frommelt, the customer success manager at Tork PaperCircle, who advises employers to actively communicate with their employees on the topic.
"There are clear expectations and requirements for an environmentally-friendly office, but not all employers take the issue seriously."