News
Sports Round-Up: Critical European campaign in store
---
This article is more than 1 year old.
One of Denmark's Champions League spots hangs in the balance and tough draws did them no favours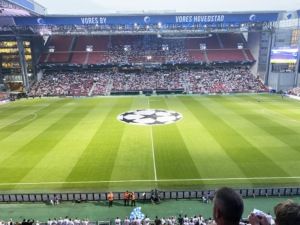 Denmark is at risk of losing one of its two Champions League qualification spots next season unless the Danish teams can pull off a few improbable runs in Europe this season.
The country currently sits 19th in the European Club Coefficient Rankings and is far from reaching the top-15 placement required to maintain two CL spots.
Norway, the Czech Republic, Switzerland and Ukraine are all miles ahead of the Danes, and it looks unlikely that they will be caught for two key reasons.
READ ALSO: FC Copenhagen back in Champions League heaven
Tough draws for all
Firstly, the four countries mentioned above all have at least two teams qualified for a European group stage – Norway and the Czechs have three and the others have two.
Denmark also has three, but they received little luck during the draws and all landed in tough groups.
FC Copenhagen – Denmark's flagship in Europe for years now – most likely won't scrape many points together against the likes of Manchester City, Dortmund and Sevilla in the Champions League.
FC Midtjylland won't get much out of the Europa League either. Lazio and Feyenoord are formidable foes, although there is potential to take a few points from Austrian outfit Sturm Graz.
Finally, Silkeborg probably won't get much out of their Conference League group, which includes West Ham, Anderlecht and Steaua Bucharest. Some points may come against the Romanians, but it's slim pickings at best.
READ ALSO: Foxes in the box, Vikings too inviting and disco dancing divas
Looking for a miracle
Realistically, perhaps only FCM have a chance of European football after Christmas if they can finish third in their group and qualify for the Conference League knockout stage.
If Denmark fails to make up the lost ground in the coefficient rankings, they will lose a CL spot and go from having five teams in Europe to four.
So they will go from having two CL, one EL and two CNL places to having one CL and three CNL places.
In other words, there's a lot at stake for Danish football in Europe this season.
---
Ever the Viktor
Viktor Axelsen cemented his position as the world's best men's singles badminton player by winning the World Championships in Tokyo on August 28. Axelsen didn't drop a single set on his way to the final, where he beat Kunlavut Vitidsarn from Thailand 21-5, 21-16. He becomes the first Dane to win the world championships twice in singles, having also won in 2017. He has now won 37 matches in a row.
France sells out quick
Denmark's Nation's League game against France in Copenhagen on September 25 sold out in record time. According to the DBU football association, all the tickets were snapped up within three hours. Denmark could win their group by beating France.
Boxing legend dies
Legendary boxing promoter Mogens Palle passed away on August 27 following a long bout with cancer. Palle, who was 88, managed a long line of Danish boxing greats over the course of this 65-year career, including Mikkel Kessler, Jimmi Bredahl, Gert Bo Jacobsen and Brian Nielsen.
Froholdt makes NFL cut
Hjalte Froholdt has another shot at playing time in the NFL after he made the final 53-man squad for the Cleveland Browns this week. The 26-year-old was drafted in 2019 by the New England Patriots and became the first Dane to play in the NFL since Morten Andersen.
Troest sets 1 km record
The Danish 1,000m record for women has been broken for the first time in over 30 years. Gitte Karlshøj had held the record since 1990 with a time of two minutes, 43 seconds. But on August 28, Stina Troest, 28, smashed the mark by almost two seconds during a race in Belgium.
Woe for ice hockey ladies
The Danish hosts crashed out of the women's Ice Hockey World Championship following a brutal loss to Germany on August 30. Leading 2-1 and needing just a draw to progress to the knock-out stage, the Germans scored two goals in the final five minutes, including a winner with just one second left.