News
Education: It's the Veale Deal for CIS!
---
This article is more than 1 year old.
Canadian by birth, an expat by choice, Tim Veale brings a wealth of international experience to the campus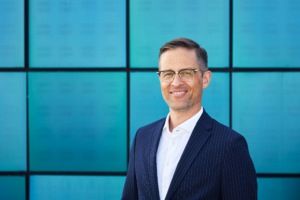 You can hardly contend that the new director of Copenhagen International School lacks international pedigree.
Since leaving his home in Canada in 1998, Tim Veale has worked at eight international schools across seven countries.
Indeed, what started out as a search for a part-time job in Moscow has turned into a full-blown career, which has taken him across the world from Thailand, the US and Pakistan to Turkey and Germany.
A family affair 
Veale also brings ample links to Denmark to the table. 
He's married to a Dane and spent eight rewarding years as the founding director of the Esbjerg International School from 2009-2017.
Now, he's back – this time assuming the reins at the most prestigious international school in the country.
Earlier this week, Veale sat down with CPH Post to talk a bit about himself, international education and his already considerable connection to Denmark.
---
You grew up in Vancouver but left in 1998 and never looked back. How did you get into a career in education abroad?
I had an opportunity to go to Russia or China and I figured that, being a hockey-playing nation, Russia appealed to me. I studied Russian at Moscow State University and ended up finding a part-time job at the Anglo-American School in the Russian yellow pages as playground teacher. Because they had staggered recesses, I was out on the playground for hours in the middle of the Russian winter with temperatures down to -25 degrees. I played a lot of soccer in the snow with the kids, stayed warm and had a blast. It was a good opportunity to get my foot in the door of international schooling. An assistant's job came up and I did some substitute teaching, after which I decided that this was what I wanted to do with my career.
You've been on quite a journey since then. International schools in Thailand, Pakistan, the US and Turkey, to mention a few. And it's not your first rodeo in Denmark either. 
I had this opportunity in Esbjerg to start an international school. We had six kids when it began and 300 with waiting lists when I left. It was an incredible opportunity and learning experience about how to run a school and start it from scratch. I was there for eight years before leaving for the US and then Hamburg. Then this opportunity at CIS came up and it was hard not to throw my name in the hat. I was really fortunate to get it.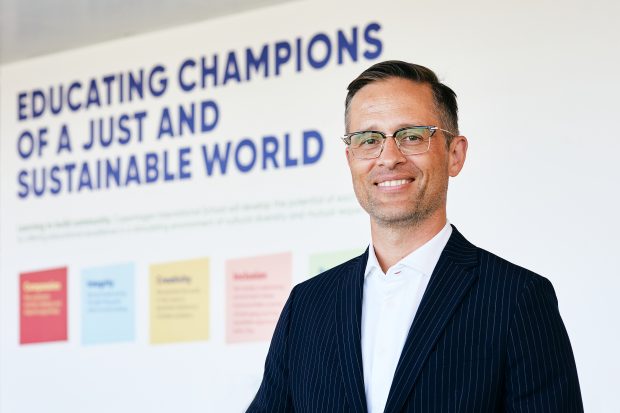 You've worked for almost 25 years at numerous international schools. How has that helped shape you in becoming a school leader?
It's shaped me enormously. Regular life circumstances happen, whether you're living as a local in your home country or as an expat in different countries. Life happens and you learn to adapt to the lifestyle. I probably didn't realise until I was a few countries in, not only WHAT I was learning along the way, but THAT I was learning. You don't realise how much you are learning at the time, and that can be the case with the best kind of learning in the classroom with our students as well. When they are just doing their thing, enjoying what they're doing and are engaged, the learning is just kind of coincidental. And that's probably what the case was for me in the first half of my career. During the second half I became much more aware of what I was learning and how it was shaping me.
I suppose the pandemic has presented challenges in relation to your work?
It's been especially difficult for a lot of people, but one of the things that came up for me was that we need to take care of ourselves and look out for others in a way that wasn't happening at the same scale that I think it is now – especially in schooling around the world. So this is something that I've learned has a lot of importance in my position as director. One of my many roles is to help take care of other people and I take that responsibility very seriously. But I learned that I also have to take better care of myself because if I'm not well, it's hard to ensure I can support others in that way.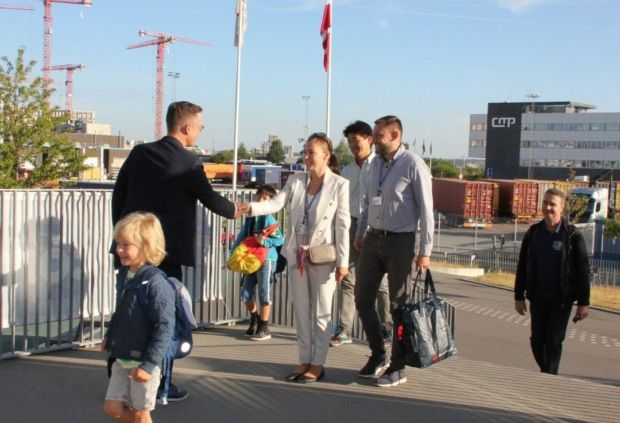 Did your stint in Esbjerg influence your return to Denmark? 
Absolutely. I had an amazing experience there. The people are fantastic, the community is really tight, but at the same time welcoming. I have nothing but good memories from my experience there. The opportunities I had in Esbjerg gave me a chance to cut my teeth in international school leadership in a way that I didn't get prior to that. I was on my way, but it was my first senior level experience. I'm really proud of what we all accomplished together in achieving the growth of that school.
You've never deviated from the international school sector during your career. What's the reason behind that?
It's given me the opportunity to live in a unique way that, at the scale it is now, hasn't been available to any group of people in history. Since the end of the Cold War, the middle classes have grown around the world and consequently the demand for international education has risen as expatriate numbers increased. There's more trade and so there is more demand for the language of trade , which is English. It's allowed me to experience insights that otherwise wouldn't be available to me if I had stayed home in Canada. We have students from over 70 countries. You can't get that from working in public school. It's been pretty cool for me to have lived in all these countries, travel near and around them and have friends there now. That feels pretty special to me. I also know from colleagues from other schools that there can be a common theme of reverse culture shock – people having difficulty going back to their home countries.
Having spent over a quarter of a century working at international schools, have you seen much change in the scene over the years?
I've seen a big change. There are a lot more local students attending the international schools and I think that trend is only going to continue. The classic international schools often started in a capital city, as CIS did, and largely served children of embassy staff largely hailing from western countries. That's changing and as the middle classes grow around the world, local parents in countries are demanding higher quality education for their children. So what's happening in every country that I've worked in is that there is a lot of pressure from local parents on public schools. I've seen it in Denmark, the US, Germany and also Canada. Public schools are under pressure as parents have more disposable income to afford private schools for their kids. And there are more international schools than ever before. Since the late '90s their number has doubled multiple times, and they are increasingly being attended by local students.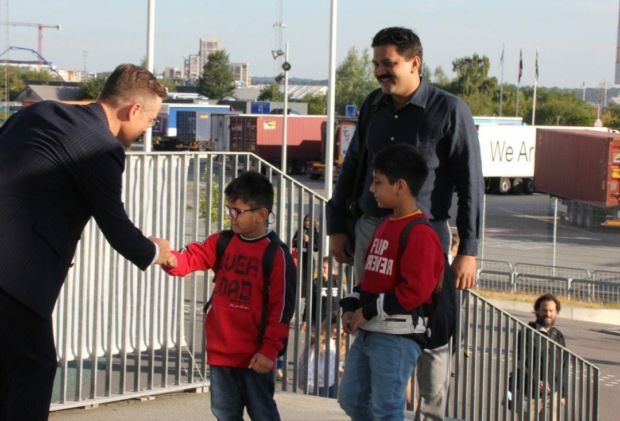 You got your Master's in 2008 and you're currently working on a PhD. What's behind this seemingly insatiable thirst for knowledge?
I love asking questions and learning by observing, and if I'm not feeling challenged, I start to feel restless and my feet get itchy. But it has also allowed me to put some theory behind what I was trying to do in practice. So there is a lot of learning-by-doing there, and it very much came to the fore when I was the founding head of school at Esbjerg International School. I realised that there were gaps in the knowledge that I had acquired, even with the Master's. So this PhD option came up and I realised it was an opportunity to further my learning. It gave me more, not only theory, but practical support to take it to the next level. It's been excellent preparation for me to lead schools better than I'd previously known how.
These days, the IB is the cornerstone of many international schools around the world, CIS included. What's the upside of that?
Well, I got to the point where, both as a parent and a professional, I didn't want to work in any school other than an IB school. My past few schools have been IB schools for that reason. I've got two kids in this school – aged 5 and 15 – so as a parent it means a lot to me that they get an IB education. The reason for this is that it is subject to peer review … and that drives self-improvement. Anyone who works at an IB school with a certain level of experience and qualifications can become part of the official peer-review process. IB schools focus much more on process than product, which differentiates it so much from so many other learning programs. If you get the process right, the outcomes usually take care of themselves. It teaches reflection, which is probably the most powerful tool we as adults use to teach ourselves what it is we have to learn as we prepare students for life-long learning. The IB has us teaching students how to reflect. Not only how, but that they HAVE to reflect. And when they are reflecting, they become cognisant and ask themselves questions after having done something. What did I learn? The process of doing is important, but it's what follows that I think will drive their life-long learning.
What does Mr Tim Veale do outside of running the school and rustling through PhD papers? 
I'm into fitness and for me that takes on a various forms. I play men's league ice hockey. I haven't found a team here yet, but I fully intend to. It's a good outlet for me. It's been a way for me to learn Danish as well. In Esbjerg, for instance, the guys on the team could all speak English, but we agreed that they wouldn't do so in order to help me plod along with Danish. Otherwise, I do some running and cycling to try to maintain fitness. It goes back to taking care of myself.